La Torre
82, Avenue du Bois, L-1250 Luxembourg (Luxembourg)
(83)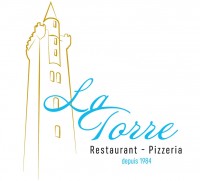 La Torre
+352 47 18 71
82, Avenue du Bois, L-1250 Luxembourg (Luxembourg)
Italian
Pasta
Pizza
Delivery times
| | |
| --- | --- |
| Monday: | Closed |
| Tuesday: | Closed |
| Wednesday: | 11:00-13:30 18:00-21:30 |
| Thursday: | 11:00-13:30 18:00-21:30 |
| Friday: | 11:00-13:30 18:00-21:30 |
| Saturday: | 12:00-13:30 18:00-21:45 |
| Sunday: | 12:00-13:30 18:00-21:30 |
Users' reviews
Mean of the reviews
(83)
The pizzas sadly were so soggy it was hard to look past that, the taste was alright. might try again on a less busy day
Excellentes pizza,dommage la garniture était peu présente comparée aux autres fois
The quality went down in these few months. Pizza arrived on time, but very salty, and pizza bufala these days is just a small margherita with cold bufala in a box on the side. Hoping for better times
la meilleure pizza au Luxembourg même si une fois tu as fait une erreur avec ma commande mais rien de grave
Toujours excellent. La pizza à la mortadelle, pistaches et provolone est irrésistible
Pizza pas conforme avec ce que j'ai commandé! Quatre stagioni avec que des olives comme « légumes »
Pizza excellent! Je recommande souvent
maybe the best pizza in Luxembourg
Attesa lunga, ma pizza ottima.
Pizza leider 30min. verspätet und nicht mehr besonders warm geliefert.
Delicious spaghetti with scampi!! The food was warm and the delivery even faster than schedulled 😀 I highly recommend this restaurant!
Pizza well prepared. It was tasty! Good service.
La pizza è stata consegnata in orario e ancora calda
Pizza arrivée froide, et minuscule.
was disappointed of the taste of my meal (lasagna with not really meat in it) but my boyfriend liked his one. It was ok but not great so i give 3 stars....
Pizza was excellent but unfortunately it was cold
Nous ne connaissions pas ce restaurant et sommes tombés dessus grâce au bouche-à-oreille d'un ami qui est fan. On s'était commandé pizza et pâtes - Bonne pâte pour la pizza, bonne taille des plats et bonne sauce pour les pâtes. On trouvait juste dommage qu'il n'y avait pas de parmesan pour les pâtes. Pas la meilleure pizza du Luxembourg pour nous mais quand-même placée très haute maintenant! :-)
Pizza was on time, but the saddest pizza I've seen. Huge chunks of onions, uncut veggies and soggy crust. Not what I expect from La Torre.
Looking forward for the restaurant to reopen. Pizza was really good
Simply the best pizza in town
Delivered with 20 minutes delay (over and above the 90 minutes waiting time). I took first an "arancino", for a cost of EUR 4,90. It had more the size of a "suppli" (quite small ball of rise then) and It arrived cold. Not worth even the half of the price. The "pizza bufala" I also ordered was overall not too bad, but salty and it was chewy on the boarders, probably because of the delay in the delivery. Most probably I will not order anymore to delivery to this restaurant.
Ottimo servizio. Si conferma la migliore pizza in citta'
Nos pizzas ont fait une escale chez des clients... elles s'en sont retrouvées ramollies. Mais elles sont très bonnes quand même.
Good quality and very fast delivery. Delicious ravioli with ricotta, spinach and salmon, the best I've ever eaten. Also both pizza Diavola and Nappoli were very delicious, very italian style. Thank You!
Excellent Pizza & Service
Une pizza était bonne l'autre en grande partie carbonisée avec une pâte entièrement noire sur les bords et en dessous, je trouve ça limite de laisser partir une pizza beaucoup trop cuite chez le client. Globalement déçu
Driver mixed up our order with another one - restaurant immediately prepared a new order. Both correct and incorrect orders were great! :)
Best original napoli pizza in the city from La Torre, delivery within 20 minutes on a sunday. Just perfect
Very good pizza! tasty dough, great ingredients. Jut overpriced! But definitely one of the best in Luxembourg.
Just the best pizza in town.
Despite a fault of mine with the address, the delivery was perfect.
Champignons en boîte sur les pizzas??? Bof...