Vapiano - Gare
Cuisine italienne
Place de la Gare 28, L-1616 Luxembourg (Luxembourg)
(69)

Attention!
This restaurant is temporarily closed, you can make an order anyway for a following date or time.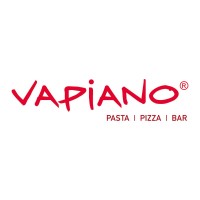 Vapiano - Gare
+352 26 48 39 22
Place de la Gare 28, L-1616 Luxembourg (Luxembourg)
Italian
Pasta
Pizza
Delivery times
| | |
| --- | --- |
| Monday: | 11:00-21:45 |
| Tuesday: | 11:00-21:45 |
| Wednesday: | 11:00-21:45 |
| Thursday: | 11:00-21:45 |
| Friday: | 11:00-21:45 |
| Saturday: | 12:00-21:45 |
| Sunday: | 12:00-21:30 |
Users' reviews
Mean of the reviews
(69)
The food was tasty as always but the dessert really was a joke this time. I ordered a Panna Cotta and got one without any sauce. The quantity of the dessert was zero to none. It is sad that one can not upload a photo because you should have seen what you get for 3.40€...
Temps de préparation très long et panna cotta livré sans coulis. Quantités moindres que lorsqu'en restaurant. Je ne recommendrai plus à cet endroit.
As always very good quality ! What really sticks out is their amazing reusable packaging. I got my noodles in a sort of Tupperware and my dessert in a glass. :-)
very disappointing, no well seasoned and very overcooked.
Mangeable mais rien d'exceptionnel. Plat non-assaisonné, faible quantité, beaucoup de matière grasse, pas de fromage, pas de pain, peu de piment, peu d'ail.. Bref des pâtes à l'eau non salées avec de l'huile. Heureusement que j'ai demandé un supplément saumon..
Livraison rapide, commande conforme
Order received incomplete
Catastrophique. Repas incomplet à la première livraison et on attend encore la suite. Pourtant total bien facturé!
Order not corresponding to what we asked for. Wrong type of pasta. Seriously how hard can it be ????
Where is the salmon??? Really dissapointed!
The pasta we ordered didn't arrived as it was supposed to. We ordered caprese no cheese with chicken, it arrived with cheese without chicken.
I did not select cheese, but my pasta had cheese all over.
Temps de livraison relativement élevé sinon très bien
Pizza arrivée froide. les scampis à peine cuits... Clairement la première et dernière fois!
hello I just received food from Vapiano which is tasteless. I cannot rely on the quality at all when the food is ordered for delivery.
Bon risotto! Arrivé chaud et dans un conditionnement pratique
Ordered 3 things: - Pizza Chicken BBQ: good - Pasta: very poor quality - Salad: so-so
Deeply disappointed as I ordered a large "fusilli pesto rosso" and not only it s not large (but standard!) and but it's also normal pesto (green)! I took a picture of the plastic box and can send it to you if needed!
Fast Delivery - very friendly person who has delivered us the order.
So this was a second time order after completely satisfactory first time order. The same pizza tasted nothing like the first time, very badly made. They are definitely not consistent with their food
Pizza and Pasta were both great, will definitely order again
Toujours pareil! c'etait la derniere fois qu'on commande chez eux! plats qui arrivent froids, erreur dans les commandes, pas de pain bref de pire en pire
Geradw bei Vapiano bestellt. Fusili Pesto basilico, hab extra boule de mozzarella di bufala und extra tomates cerises bestellt. Ich finde nur leider keine extras in meinen Nudeln.. schade :/
The restaurant prepared the wrong food! I ordered pasta Fusilli Caprese, and get pasta with meet and onion!
Supplement garniture facturé et pas reçu.
Delivery guy arrived 15min earlier. Not that it's really bad but pizzas are better warm and we were having a lunch meeting at 12. The food was good though. Thanks
The pizzas were really small, I prefer eating at Vapiano instead of ordering from there!
Article missing but paid for !
We ordered pizza Bbq chicken, but it was not what we usually have. There was ordinary tomato sauce instead of bbq sauce. The pizza had strange kind of smoked cheese on it a completely different tomatoes. Usually it is chopped tomatoes with garlic, but we had a few not rape cherry tomatoes with sour taste.
I had specifically requested to give bread on the side. The receipt upon delivery states that as well. But of course, I did not receive it. Not only that, spending a reasonable amount of money, I expected a reasonable serving quantity. The risotto was much less than the usual ! Barely filling. Am extremely disappointed in this service.
Food is very good. Pasta sometimes arrives a little cold - otherwise 5/5 for me.
Toujours aussi bon, la cuisson des pates est parfaite
Pizza très agréable mais pas chaude, dommage.
Please avoid ordering from this restaurant completely, i have now ordered multiple times from this place, who have messed up the order every time and i have ended up paying for items i never receive. After this restaurant has taken your money they no longer care what they send you and will refuse to fix in anyway. S'il vous plaît éviter de commander de ce restaurant complètement, j'ai maintenant commandé plusieurs fois de cet endroit, qui ont foiré la commande à chaque fois et j'ai fini par payer pour les articles que je ne reçois jamais. Après que ce restaurant ait pris votre argent, ils ne se soucient plus de ce qu'ils vous envoient et refuseront de le réparer de toute façon.
Ordered here 3 times now and every time, no cheese cake (why do you even have this on the menu...) and every time i order my food with extra's end up paying for them and then don't actually get them. Please don't order from this place there are so many other better choices, don't waste your money..
pizzas froides, pas assez cuites et manque un supplément œuf à 1.50€. à éviter donc.