Ninja House - Gare
43, Rue de Strasbourg, L-2561 Luxembourg (Luxembourg)
(58)

Attention!
This restaurant is temporarily closed, you can make an order anyway for a following date or time.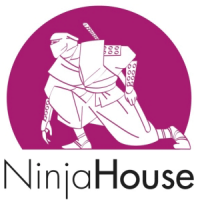 Ninja House - Gare
+352 26 18 75 10
43, Rue de Strasbourg, L-2561 Luxembourg (Luxembourg)
Asian
Japanese
Thai
Chinese
Delivery times
| | |
| --- | --- |
| Monday: | 10:30-14:30 17:30-22:00 |
| Tuesday: | 10:30-14:30 17:30-22:00 |
| Wednesday: | 10:30-14:30 17:30-22:00 |
| Thursday: | 10:30-14:30 17:30-22:00 |
| Friday: | 10:30-14:30 17:30-22:30 |
| Saturday: | 10:30-14:30 17:30-22:30 |
| Sunday: | 10:30-14:30 17:30-22:30 |
Users' reviews
Mean of the reviews
(58)
Good quality, fast delivery, friendly staff, good price-quality/quantity ratio. They even included a couple of free beers with our order. Will definitely order again!
The orange duck is very delicious!
Impeccable. Très bon, cuisson parfaite, bien emballé et livraison très rapide. Ils ont bien pris note de mes commentaires lors de la commande. Meilleur qu'au moins 2 de leur concurrent (Jing Do et Sushi restaurant). Merci pour le service (Les tempura étaient super ;)) Je recommanderai chez vous sans soucis
Ordered the noodles and poulet aux aux legumes. Food was really delicious and light. Got some spring rolls as surprise :) Really recommend trying.
Très bien ! Très rapide et très généreux ! Nous avons reçu des boissons gratuites ! Je recommande ce restaurant
Always perfect, including delivery!
Food was tasty, delivery was in time and friendly. Thank you!
Great sushi and great service!
Great sushi and great service!
Great sushi and great service!
Very good sushi, a lot of condiments, very fast delivery and friendly driver- recommended!
Very good sushi, fresh, nicely rolled. Fast delivery and very nice service
Fast delivery, tasty food, good portions and fair price!
The best take-out burgers I know of in Luxembourg. Usually pretty quick. Always make a note not to forget the condiments to your fries - they will forget this 4 out of five times otherwise.
Very good food and service. Congrats to the restaurant. Amazing quality
Too long delivery !!!! But good sushi
Good quality and quantity for the price.
Always on time and even early most of the time. We can always count on Ninja house to bring us good food and help us have the nicest Sunday.
Déçue La qualité du saumon n'est pas top. Les Nigiris sont trop gros, presque impossible de le mettre en bouche en entier....
Marchandise pas livrée - malgré l'indication donnée sur le système. C'est du vol pur et simple !
Encore une fois, ceci n'est pas un commentaire sur la nourriture mais sur le timing de la livraison. Commande passée à 11h pour une livraison au plus tard pour 12h10. Livraison effective avec 25 minutes de retard à 12h35... dommage!
La commande est arrivée avec plus de 30 minutes de retard! L'horaire indiqué dans le récapitulatif est incorrect! Elle est arrivée à 19h23, pas 19h12. Pour une commande placée à 17h59 et sensée arriver au plus tard à 18h50. Ironiquement j'avais passé cette commande suite à des excuses de wedely pour un retard de livraison de 45 minutes la veille. C'est vraiment inadmissible!
Order came fast and food was ok for the price
Food is good quality. Quantity is also good but the sushi rolls are basically all rice!
Fast delivered and delicious
Really don't recommend!! After waiting for 1h20min, the restaurant has changed the status of my order to delivered without having trying to delivered it. I had to call them so they would try to deliver at my hotel. Finally, they delivered the order without any soy sauce and gave me 2 beers to compensate for their fault.
5 deliveries, every time tasty and fresh, def recommend
Ganz gudde chinees! Lecker an grouss portiounen
Really good sushis, a bit better than the leader of the market, and also a bit cheaper. Delivery a bit slow (estimated at 12:10, status changed to delivered at 12:31 but received at 12:49), but it was worth the wait
Livré sans couvert ni baguette
Niquel, servit à l'heure (+- 5min). Cuisine japonaise toujours aussi bonne. Merci.
Niquel, servit à l'heure (+- 5min). Cuisine japonaise toujours aussi bonne. Merci.
Catastrophe. Nourriture froide et moyenne. Livraison mentionnée comme étant faite sur le site mais nous n'avions rien reçu. Le livreur qui se perd trois fois dans notre immeuble ... commande qui devait arriver à 21h30 et qui est arrivée à 23h30. 4 appels avec le restaurant à partir de 22h00, le patron ma proposé un repas gratuit mais je nai plus envie de commander chez eux.