Kathy's Deli & Cupcakery
Simply good food
9, Rue de strasbourg, L-2561 Luxembourg (Luxembourg)
(107)

Attention!
This restaurant is temporarily closed, you can make an order anyway for a following date or time.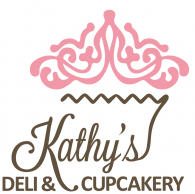 Kathy's Deli & Cupcakery
+352 26 12 31 86
9, Rue de strasbourg, L-2561 Luxembourg (Luxembourg)
Bagels
Salads
Cupcakes
Delivery times
| | |
| --- | --- |
| Monday: | Closed |
| Tuesday: | 11:00-14:00 |
| Wednesday: | 11:00-14:00 |
| Thursday: | 11:00-14:00 |
| Friday: | 11:00-14:00 |
| Saturday: | 12:00-14:00 |
| Sunday: | Closed |
Users' reviews
Mean of the reviews
(107)
Delicious and very on time!
The cesar chicken avocado bacon salad is amazing! Thanks!!
Thanks thanks thanks thanks!! Amazing!
Superschnell Liwwerung an mega gudden Chili ! Richtech lecker.
Vanilla cupcake is to die for. Avocado toast always delicious!
Avocado toast amazing as the vanilla cupcake. We won't ever thank you enough!
Delicious as usual. Vegan cupcake really good!
Everything great as always! Thanks
Delicious as usual and thank you for the "just for you :-)"! Very appreciated!
Definitely recommend the blueberry cupcakes! Drinks were packaged well and delicious - overall really recommend this place although everything on their Wedely menu is more expensive (by 1€ if not more) than if you go in store
Vanilla and vegan cupcakes were terrific!
Thanks thanks thanks! Nice and lovely
Soup was super, I'll order again for sure! Everything super good as usual.
Très bon, frais et de bonne quantité. À recommander 👍🔝 et les cape cakes sont une tuerie. À recommander
Absolutely delicious, as usual! We absolutely adore the Arizone Wrap!
Thanks for always being here for us with your lovely food!
Excellent, tasty and healthy, not your regular salad
Despite the little problem (promptly solved!!!) the brunch was delicious as always. Kudos to the vanilla cupcake!!
Love Kathy's both through delivery or in person (when able). Good service and delicious sweet treats as well as brunch options. A favorite in Luxembourg.
Thank you for the delicious brownies!
Timely and wonderful as usual. Thanks for the surprise! Elisa&Marco
Super formule du midi. Délicieux
Come sempre tutto al top. Il vegan cupcake questa settimana è eccezionale
The most delicious food! I absolutely adore the wonderful bagels (the Arizona Bagel is amazing)! Fresh, tasty and yummy!
Le bagel "The Hemingway", la soupe étaient excellents. Le "Blueberry swirl" était quand-même un peu "trop"... la crème (crème au beurre ?) était trop sucrée ou trop... je ne sais pas, je n'ai pas pu le manger.
Very good! Thanks for being there for us!!
Tutto buonissimo come sempre!
Lovely and timely as usual with a nice surprise. Elisa&Marco
Très très bien et très bon! Vegan brownie super!
delicious soups, as usual !
Super and always on time!!
Amazing! The baked potato was lovely, the vegan brownie very good!
Very on time and very good! The vegan cupcake was terrific!!