Kathy's Deli & Cupcakery
Simply good food
9, Rue de strasbourg, L-2561 Luxembourg (Luxembourg)
(75)

Attention!
This restaurant is temporarily closed, you can make an order anyway for a following date or time.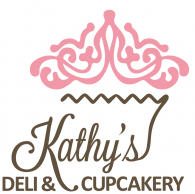 Kathy's Deli & Cupcakery
+352 26 12 31 86
9, Rue de strasbourg, L-2561 Luxembourg (Luxembourg)
Bagels
Salads
Cupcakes
Delivery times
| | |
| --- | --- |
| Monday: | Closed |
| Tuesday: | 11:00-14:00 |
| Wednesday: | 11:00-14:00 |
| Thursday: | 11:00-14:00 |
| Friday: | 11:00-14:00 |
| Saturday: | 12:00-14:00 |
| Sunday: | Closed |
Users' reviews
Mean of the reviews
(75)
Timely and wonderful as usual. Thanks for the surprise! Elisa&Marco
Super formule du midi. Délicieux
Come sempre tutto al top. Il vegan cupcake questa settimana è eccezionale
The most delicious food! I absolutely adore the wonderful bagels (the Arizona Bagel is amazing)! Fresh, tasty and yummy!
Le bagel "The Hemingway", la soupe étaient excellents. Le "Blueberry swirl" était quand-même un peu "trop"... la crème (crème au beurre ?) était trop sucrée ou trop... je ne sais pas, je n'ai pas pu le manger.
Very good! Thanks for being there for us!!
Tutto buonissimo come sempre!
Lovely and timely as usual with a nice surprise. Elisa&Marco
Très très bien et très bon! Vegan brownie super!
delicious soups, as usual !
Super and always on time!!
Amazing! The baked potato was lovely, the vegan brownie very good!
Very on time and very good! The vegan cupcake was terrific!!
Toady some minutes of delay but always very good! We love Friday's lunch with Kathy's!
Disappointed by my first experience (I ordered the brunch last Sunday). Delivery was chaotic, finally got everything and it tasted okay but not so good as to justify the super high prices. Can't recommend this takeaway unfortunately.
Bonne soupe et excellente salade
Delicious as always, the carrot cupcake is the best!
Wie immer super geklappt!
pour mon gout personnel, le chili con carne était beaucoup trop piquant, j'ai manger que la moitié, et la viande était pas tout a fait cuite. les plats sont devenus plus petits aussi, je comprends que tout le monde doit épargner avec le covid… :) et en plus on avait commander du pain avec, mais on a pas reçu. cela peut arriver, mais c'était dommage.
great fresh food and the cupcakes are delicious
great fresh food and the cupcakes are delicious
great fresh food and the cupcakes are delicious
great fresh food and the cupcakes are delicious
great fresh food and the cupcakes are delicious
I ordered some cupcakes and they look so delicious! Shipping worked perfectly Can't wait to try them! Thanks a lot
we've been regular customers and each time, each order is simply delicious! yes it doesn't come cheap, but the quality is really worth it
le chili etait juste divin!
I was craving for desserts and looked up on wedely to find an option. Luckily, Kathy's deli & cupcakery was open. I ordered a box of 6 cupcakes (vanilla, blueberry, red velvet, cookie & cream, chocolate and cupcake of the day) from here and absolutely loved it. My favourites were red velvet, cookie & cream cupcakes (must try!). The cream on blueberry cupcake was too sweet for my liking and I'm not a big fan of chocolate cupcakes in general. Cupcakes were nicely packed and delivered. Thanks for satisfying my dessert craving 😁.
Super as always! First time ordering a smoothie and not disappointed! Thanks
Once again a wonderful lunch! Super fast delivery, delicious BLT bagel and oreo cupcake. Thank you!
Fresh Bagel and excellent gluten free brownie !!"Do't hesitate to order : )
Delivered earlier than expected, food was delicious and serving size just perfect. Thank you, will order again! (only note: please don't include paper menus in the bags, we can order online so no need to kill more trees, thank you!)
Absolutely the best in town. I can wait for the quarantine to end to order from them again.
First food order in Lux, best bagel I had in my life for sure! Thanks
The Absolute Best Bagels in Luxembourg
pour le Prix je trouve qu'elles sont petites les Cupcakes. la crème déco un peu trop
Coca normal au lieu de coca zero… vu le prix de cette boisson, il faut avoir la bonne!
Ordered cupcakes to be delivered to my place of work and in both instances they were a hit! I think it speaks even more to the quality of the cupcakes as, neither time, were the cupcakes eaten on the day they were delivered but rather the day after! Will continue to purchase birthday cupcakes from here. Thank you :)