Bistro Le Duc
107, Rue de la Tour Jacob, L-1831 Luxembourg (Luxembourg)
(37)

Attention!
This restaurant can't offer a delivery service today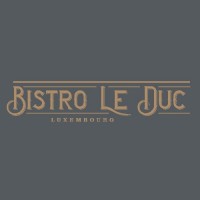 Bistro Le Duc
+352 691 136 630
107, Rue de la Tour Jacob, L-1831 Luxembourg (Luxembourg)
American
French
Luxembourgish
Wine
Delivery times
| | |
| --- | --- |
| Monday: | Closed |
| Tuesday: | Closed |
| Wednesday: | 11:45-14:00 18:30-21:30 |
| Thursday: | 11:45-14:00 18:30-21:30 |
| Friday: | 11:45-14:00 18:30-21:30 |
| Saturday: | 18:30-21:30 |
| Sunday: | 12:00-14:30 |
Users' reviews
Mean of the reviews
(37)
Le demi-poulet est divin et très goûtu. La purée maison un vrai délice. Ce dîner était un parfait régal ! Je recommanderai 😋
Great food. Received the wrong wings though
A bit expensive but very tasty quality food. We tried the two burgers (pulled pork & beef) : at first they look small, but they are SO DELICIOUS and nourishing. A very good address to keep in mind ☺️
Meilleure bouchée mangée au Luxembourg, bravo.
Le meilleur pulled pork burger !!!!! Top ! Mais frites complètement crus ! 4,50€ quand même
Lobster Roll OMG, AMAZING. Also great 1/2 Chicken very jucy and awesome sauce
Délicieux, je suis d'avis qu'on ne peut faire mieux 👍
What a nice experience. Amazing food
Excellent chili végétarien ! Un vrai délice et on sent bien la fraîcheur des ingrédients. Je recommande :)
Ribs très bien cuites et jolie portion. Bon goût. Sauce BBQ ajustée: ni trop piquante, ni pas assez. J'aurai même aimé un petit pot de sauce en plus pour déverser.
I've had the Salt & Pepper Chicken wings. Crispy, fresh & well seasoned. Pure bliss :o) Thank you, Bistro le Duc
Homemade fries are really good. Chicken wings with HOT sauce, I got 13 pieces :),... I can only say one thing about that ... oh my gosh! Whoever orders hot gets hot here! The sauce serves only one purpose: BURN! Definitely not for wimps :) Gladly again
Rossini Burger, woooow Immens, weider esou
Tried the ribs, tender, juicy, absolutely delicious.
Best chicken I ever had delivered, comes with homemade chicken jus, amazing.
Very Good food, I recommend it to everyone!
Jolie surprise - un bon Poulet qui mériterait d'être un peu croustillant / suite rôtissoire - frites sympa - si tout ceci pouvait arriver bien chaud ce serait top
Excellent et authentique! Ribs et frites (au gras de bœuf) pour madame et saucisses purée pour monsieur. Très bon avec de bonnes portions, en guest star la très bonne mayonnaise maison qui se fait de plus en plus rare dans les restaurants. Merci beaucoup
One of the, if not THE, best ribs and chicken wings I have tried in Luxembourg. Great value for its quality and portion. Highly recommended.
Fantastic food & super fast delivery
Very good wings and ribs. The food still had great temperature when it arrived.
Un delice! le seul bemol la sauce de l'hamburger pulled pork que j'ai trouvee trop sucree a mon gout. Sinon, tout etait bon
Excellent ribs, and cripsy chips - great meal
Livraison rapide. Frites maison de qualité et belle quantité. La bouché à la reine, viande de qualité, dommage le feuilleté était sec.
Super bon et preparation rapide