N'Bistro
6, Rue du Fort Niedergrünewald, L-2226 Luxembourg (Luxembourg)
(11)

Attention!
This restaurant is temporarily closed, you can make an order anyway for a following date or time.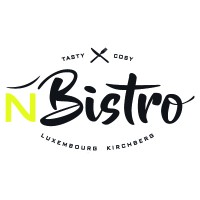 N'Bistro
+352 42 98 48 833
6, Rue du Fort Niedergrünewald, L-2226 Luxembourg (Luxembourg)
Burgers
Healthy
Salads
Delivery times
| | |
| --- | --- |
| Monday: | 11:00-14:00 19:00-21:45 |
| Tuesday: | 11:00-14:00 19:00-21:45 |
| Wednesday: | 11:00-14:00 18:00-21:45 |
| Thursday: | 11:00-14:00 19:00-21:45 |
| Friday: | 11:00-14:00 19:00-21:45 |
| Saturday: | 19:00-21:45 |
| Sunday: | 19:00-21:30 |
Users' reviews
Mean of the reviews
(11)
Frites très bonnes et faites maison Burger Top viande cuite à la perfection J
j'avais commandé ée burger bien cuit mais il est cuit seulement ä l'extérieur
Order incorrect - Order chicken and hamburger menu but chicken burger was missing and ended up with two hamburgers, other than that good quality
Good cheesburger. Decent prices.
Excellent burgers, will definately order again
Burger est tres bon mais je n ai jamais vu une portion de frites aussi petite
Loved the taste. Adequate size.
Livré rapidement et chaud. Bonne quantité et super qualité. Je recommande!
By far the most delicious burger I've had in Luxembourg so far. The meat was top, and the fries were pretty good too.
Un cheeseburger et un baconburger chacun avec ses frites. Les deux bien emballés sėparément. A noter la mayonnaise et la moutarde 'made in Luxembourg. Ça vaut une étoile en plus. Chauds ? Sujet délicat pour toute livraison à domicile...
Thank you... it was great!