Bosso
7, Bisserweg, L-1238 (Luxembourg)
(40)

Attention!
This restaurant is temporarily closed, you can make an order anyway for a following date or time.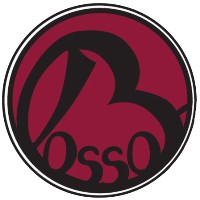 Bosso
+352 26 86 41 55
7, Bisserweg, L-1238 (Luxembourg)
Mediterranean
Pasta
Luxembourgish
Delivery times
| | |
| --- | --- |
| Monday: | 12:00-21:45 |
| Tuesday: | 12:00-21:45 |
| Wednesday: | 12:00-21:45 |
| Thursday: | 12:00-21:45 |
| Friday: | 12:00-21:45 |
| Saturday: | 12:00-21:45 |
| Sunday: | 12:00-21:30 |
Users' reviews
Mean of the reviews
(40)
Always great. Love the personalized messages on the bag.
Great delivery service, as usual. Delicious food, as usual, gulasch, and new dish tried and approved, penne pesto shrimps. Gorgeous frites and wedges. Lovely and funny message written. Thank you and keep safe!
Delicious :) thank you Bosso
Speedy delivery. Delicious and generous portions. The real king prawns very much appreciated - as well as the dessert on the house. Keep the good job and sense of humour too. Thank you!
Excellent food like always & we love little messages left on the box they always make us laugh :)We Thank u for the little sweet gift. Hakuna Matata :)we will come back very soon :)
Tasty Coconut Chicken and Tiramisu Cake - recommended
Another great order. They never forget anything !!
Food and delivery deserve 8 stars. The best king prawns I have had in a long time. The Gulasch seems to be done by different chefs but it's always good. Delicious frites and potato wedges. The flammekuchen were as tasty as ever. Fresh salads and lovely bread too. Thank you!
Tasted like reheated, mushy goo. Big portion as usual though and coke offered which was nice.
E grousse Merci fir ärt richteg leckert Iessen an dofir dat ech ee Gedrenks a Schokola geschenkt krut! Dir sidd déi Bescht!
C'était excellent ! Comme au restaurant, des portions énormes, du pain, des sauces ! Bref toujours aussi délicieux ! Bravos à l'équipe !
Big portions, hearty and tasty! Goulash recommended. We recieved two side salads in addition to what we ordered. We also recieved a bottle of wine as a gift for over EUR 50 purchase (they called to say that this promotion is valid over christmas period). We are very satisfied.
Can I give 8 stars? Lovely food, efficiently arranged and shipped. Speedy delivery. Keep safe and sane. We loved the messages written on the bags!
Salade de poulet au curry toujours aussi excellente.
Everything was perfect: food, portions, fast delivery. Even ketchup and mayo was included. Thanks so much! I don't think I'll be ordering from any other place now.
Tasty, but tarte flambée a little on the small side.
Food arrived very well packaged and delicious.
Great service. The schnitzel was delicious :) We highly recommend restaurants to everyone!
Top service!! We loved the food:)
Delicious food, in particular the gulasch. Lovely potato wedges as usual. Generous portions. Fast delivery service. Thank you and keep safe and sane!
Awesome food and very good portions!
Big portion and good quality. Adviced!
This is heaven on order ! Great food, good portions, fresh bread... All good :-)
Food delicious, quite fast delivery and normal portions. Highly recommend !!!
Finally a restaurant that delivers delicious food (good quality, great taste & quick delivery) throughout the day. This is just what was missing in Luxembourg. Thank you.
Wow I love Bosso. Their food is delicious. We got the shrimp scampi and the gyros, and they were both out of this world. Made with quality ingredients and care. I recommend this place to everyone, and today just confirmed why I love this place so much.
Excellent ! Big portions (we like that), fresh tasty food & fast delivery :-)))
Super experience! The food was flavorful, savory, and succulent. Try out the huge selection of incredible appetizers. 5 stars!
First time eating from Bosso, was really delicious 🤤 ! highly recommended !
Delicious food, recommend 100%
Excellent food! There were a gazillion boxes so at first it was not clear what goes with what, but in the end we just each had some of everything and it was great. Kudos for message on the bag! :)
Great value for money! Also, salted butter and bread included, which is a big plus :)
Awesome food! Such a great variety of dishes, killer flavors and speedy delivery! Highly recommend.
Can just restate previous comments ! Was the first time I ordered at Bosso and the food looked and tasted great ! Was a really good surprise. Thanks also for the little message, made me laugh :) Will be ordering here again definetly ! Thanks Bosso. Je peux que réitérer les commentaires positives antérieurs. Le repas étair super ! Cela a été une très bonne surprise, une fois qu'il s'agissait de ma 1ere commande chez Bosso. Merci aussi pour le petit message :) Je commanderais ici de nouveau c'est sûr ! Merci Bosso.
Top quality service - thank you, Bosso! Delicious is an understatement - everything we ordered was excellent. The cheerful presentation made our day too - the hand-written messages inside the box and on the bag were a lovely surprise. We´re already thinking of the next order:) Delivery service competent and fast.
Awesome food, fast delivery! I can only recommend
Loved the Veggie cheese Spätzle! Proper meal to still any hunger - Recommended :)