GRUMPY JAY'S
107, Rue de la Tour Jacob, L-1831 (Luxembourg)
(56)

Attention!
This restaurant can't offer a delivery service today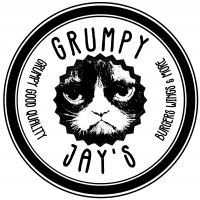 GRUMPY JAY'S
+352 691 136 630
107, Rue de la Tour Jacob, L-1831 (Luxembourg)
BBQ/Grill
Burgers
Chicken wings
Delivery times
| | |
| --- | --- |
| Monday: | 18:30-21:30 |
| Tuesday: | 11:45-14:00 18:30-21:30 |
| Wednesday: | 11:45-14:00 18:30-21:30 |
| Thursday: | 11:45-14:00 18:30-21:30 |
| Friday: | 11:45-14:00 18:30-21:30 |
| Saturday: | 18:30-21:30 |
| Sunday: | 12:00-14:30 |
Users' reviews
Mean of the reviews
(56)
Toujours un délice et à temps
Très très bon rapport qualité prix. A recommander
Their pulled pork burger is UNREAL
Best loaded fries in Town, and great Burgers
Frites immangeables dû à la présence excessive de gros grains de sel. Quantité de homard ridicule vu le prix ! Première et dernière fois que je commande.
BEST BURGER IN TOWN AND AMAZING RIBS
Do not order here, at least not on Sunday. Food arrived cold, fries where so dry they seemed made the day before. The burger tastes ok, but is fairly small and for that price other restaurants offer also fries and sauces included Disappointing, hopefully you get a better experience eating on site
Parfait et livraison très rapide
Food seems like it would have been tasty... if it were hot. But have never experienced a delivery from these guys in less than an hour and a half, which when combined with their late opening times, does not make this restaurant an option for families. Such a shame...
Ribs = fall off the bone and are delicious
Super burger et salade 👍livraison rapide
Awsome burgers, Thank you Grumpy
Delicious ribs and the loaded supreme fries OMG. Just amazing
Super tasty, but very small burger for the price. It was delicious, but not a value for money.
Awesome Wings, great fries, and smoking good smokey mayo
Very nice burger and fries, chicken wings just ok.
Best wings in Luxembourg by far! Delivery is speedy too
Best delivery burger I have had in recent memory. Good home made fries and great wings. Even the coleslaw was very nice (not drowning in Mayo). Bonus points for the packaging boxes which kept the burger in perfect shape which is rare for a delivery burger. Final note, you can tell it is a quality burger when they go through the trouble of seasoning well the salad in the burger, which they do. I never leave reviews but felt it was only fair here. Great job, keep the quality as it is as you will have great success
Excellent food, I just love it. Fast delivery and very tasty comfort food.
Best bang for you buck, great burgers for a fair price.
Ordered a couple of times from them now and the food is absolutely delicious. Juicy burgers and tender ribs, the wings are great too.
Tasty burger & homemade sauces. I loved the loaded fries. I will definitely order again.
Too expensive for what is being delivered.
The burger was tasty and not overcooked! However, the fries are the industrial type and not the best quality. But overall good. I would order from them again :)
Oh thank you for putting coleslaw to the menu! Good burger and wings as always.
Grumpy Jay's was a tester for me and my opinion - meh. Nothing to write home about. Burgers were good but did not wow me.
Had some reservations after reading the less positive review but very pleased to be able to say that our meal was super. Ribs were succulent and tasty, Burger was equally as good, wings were some of the best around and love the fact that we could order some coleslaw. Will oder again !
Great Burgers, perfect wings.
Best Burger in Luxembourg.
The ribs were great as usual but the wings barely had any sauce on it despite a request for extra sauce.
The ribs were great! The Chicken wings were well cooked and the buffalo sauce was tasty!
My favorite place to order burgers in Luxembourg. Love the sauce on the burgers. Good quality & nice packaging.
I absolutely love the burgers. But this time my burger was not edible. It wasn't rare. It was raw. Had to throw it away. :(
Best burger that I had in Lux, very much recommended
I've ordered from GJ several times and loved the food each time. Can I make a wish though? I would love to have the possibility of ordering a small salad to go with all that meat. Whatever you put into the burgers or something. Coleslaw. Anything vegetably. If you want to do it.
Everything was perfect: food, portions, fast delivery. Homemade mayo Thank you :)