Chez Tuca
16, Rue Xavier Brasseur, L-4040 Esch-sur-Alzette (Luxembourg)
(2)

Attention!
This restaurant is temporarily closed, you can make an order anyway for a following date or time.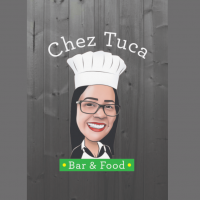 Chez Tuca
+352 27 99 07 27
16, Rue Xavier Brasseur, L-4040 Esch-sur-Alzette (Luxembourg)
BBQ/Grill
Burgers
Pasta
Delivery times
| | |
| --- | --- |
| Monday: | 11:30-13:45 18:30-21:45 |
| Tuesday: | 11:30-13:45 18:30-21:45 |
| Wednesday: | 11:30-13:45 18:30-21:45 |
| Thursday: | 11:30-13:45 18:30-21:45 |
| Friday: | 11:30-13:45 18:30-21:45 |
| Saturday: | 12:00-13:45 18:30-21:45 |
| Sunday: | Closed |
Users' reviews
Mean of the reviews
(2)
The order arrived a little early. The double cheeseburger with potatoes was delicious. There seemed to be paprika on the potatoes and they were mouth-watering and crispy. The cordon bleu was packaged separately to the sauce, which was great for reheating the next day. The fries which came with that weren't as nice as the potatoes, but they were okay. The salad was very tasty though, and it had a sauce in it. The fondant chocolat was very rich, and could have done with some ice cream or whipped cream, but was delicious nonetheless. The Tartuffo was also very tasty, but I prefered the fondant. My partner had the tiramisu and greatly enjoyed it. The second tiramisu was saved for the next day, but he said that it was just as nice 24 hours later as it was soon after delivery. My partner is vegetarian, so Chez Tuca's menu isn't as good for him, but I will certainly be ordering from them again for myself sometime.
Tout était parfait! Livraison très rapide! C'était la première commande et sûrement pas la dernière.