Beet
Conscious Food and Beverages
26, Place Guillaume II, L-1648 Luxembourg (Luxembourg)
(95)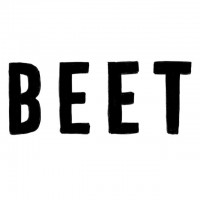 Beet
+352 26 20 13 75
26, Place Guillaume II, L-1648 Luxembourg (Luxembourg)
Burgers
Gluten-Free
Vegan
Beet is a restaurant and cafe located in the centrum of Luxembourg City with a relaxing ambiance offering vegetarian and vegan food cooked with mostly organic, consciously-sourced, local and seasonal ingredients. We love our planet and we believe that simple acts can help to preserve it and that each one of us is able to contribute. This is why we support local producers, recycle a lot and fight against unnecessary waste on a daily basis.

Delivery times
| | |
| --- | --- |
| Monday: | Closed |
| Tuesday: | 11:30-21:00 |
| Wednesday: | 11:30-21:00 |
| Thursday: | 11:30-21:00 |
| Friday: | 11:30-21:00 |
| Saturday: | 12:00-21:00 |
| Sunday: | Closed |
Users' reviews
Mean of the reviews
(95)
Frites très bonnes, burger aubergine pas convaincant (mais une affaire de goût). Le gateau triple chocolat était trop sec : soit il faut revoir la recette (huile de coco, yaourt au soja ou à la coco pour rendre le gateau bien moist), soit le gateau a été préparé il y a plusieurs jours... Beet/Seed, SVP, faites quelque chose pour améliorer cela. Il y a des gateaux vegans bien meilleurs dans d'autres salons de thés de la ville ! C'est quand même dommage.
Very good. I am addicted to the lemon cake, that unfortunately is sometimes a little dry
Beet has upped its game and we're happy to see it. Order arrived very quickly and nothing was missing. It was even still quite warm! We'll order again.
Fast and still warm - great delivery
Food is average. Delivery is super slow. It took 90 mins for food to arrive. Wouldn't have ordered if I knew it will take 90 mins
Really delicious just a bit overpriced..
Très bon restaurant tant sur place qu'avec Wedely. Je regrette juste de ne pas pouvoir commander le pain sans gluten via le site, il faut appeler.
A little pricey but good quality
Je suis obligée de laisser un commentaire (chose que je ne fais jamais) tellement mon plat était délicieux! Des saveurs que je n'ai jamais réussi à trouver ici au Luxembourg, j'avais l'impression de voyager 🤩 En plus le portions sont bien copieuses, moi qui suis une bonne mangeuse, j'ai eu du mal à finir mon plat! Merci merci merci! E.
Vegan: a must ! Swift, easy, and mouth watering GOOOOD
Gudden Owend, Bei menger Bestellung haut war leider den Carottenjus vergies gin. Ech géif en dann einfach bei der nächster Bestellung huelen. Dat wier fein. Soss war Alles lecker, mfG Virginie
Énième fois que l'on reçoit notre commande sans les sauces. D'ailleurs, il y a eu erreur dans les burgers. Je précise que l'on a dû attendre 1h15 pour recevoir notre commande…
Déçu, et plus jamais. Il manquais les frites pour la fille. La boite avec le burger était ouverte il cela ce voyait qu'il maquais la moitie de frites. Qui est parti a l'école sans manger. En plus tout était froid. Le livreur m'a livrer sans la boite hermétique, La ma poser les sachets dans la main. Alors c'est un zéro pour le resto et pour le livreur.
I'm not even vegan, and I LOVED the food!! I'm absolutely recommending it!
Emmer top! néicht ze meckeren! :)
Pas vraiment enthousiasmant. Commande un Burrito & un jus. Le burrito était... bof, moyen. Pas mauvais, mais ... Je m'attendais à mieux, et il était froid. Le jus, par contre était EXCELLENT !
Great Cheesy Fries with the Chili Burger, all in eco friendly paper food containers, perfect!
Thank you ! Very happy with the service!
Nodeems no enger Stonn just Fritten ukomm sinn ouni Burger huet er nach emol 50 Minütte gedauert bis d'Burger ukoumen. D'Fritten waren entretemps äiskal, mä de Burger, deen duerno komm ass och!! Ech war nach ni enttäuscht vum Beet, mä dat doten mécht een net! Absolut net ze recommandéieren fir Livraison!
Missing items in the order ( 1x French fries) and two different burguers to those ordered. Quite disappointed!
Terrible I didn't get what I ordered, I didn't get the fries and either the pumpkin Soup and paid for it. Try to call the restaurant no one answers. How can i get a refund?
Les deux panacottas manquaient à la commande, et il y avait une seule portion de cookie sur les deux commandées.
I ordered a pumpkin soup , same as yesterday- whilst yesterday's was delicious- tonight's delivery was pathetic! It was watery and dint taste at all like pumpkin soup - think I got delivered watery onion soup or something! Pathetic service, highly disappointed ! Not ordering again.
Items missing (the drink) and delivery man quite rude and unhelpful about it. Tried to call the resteraunt - no answer
Nice food, mango burguer was quite spicy but overall great flavours.
Very disappointed as when we eat in Beet is fantastic. For the price we expected the same portion sizes as when eating in but it seems they are smaller. The food was delivered cold and the Burrito which said "black beans" had kidney beans/red beans. We won't have Beet deliver again and will wait to eat in if COVID ever ends and restaurants open up....
The lentils were not fresly prepared and did not taste good.
Livreur ne m'a pas contacté..Livraison complète.
I did not receive the juice
Great food, I love the truffle burger and the delicious tropical juice. It was delivered very fast.