Côté Sushi
7, Av. John F. Kennedy, L-1855 Luxembourg (Luxembourg)
(18)

Attention!
This restaurant is temporarily closed, you can make an order anyway for a following date or time.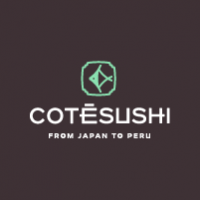 Côté Sushi
+352 20 33 19 98
7, Av. John F. Kennedy, L-1855 Luxembourg (Luxembourg)
Asian
Japanese
Sushi
Delivery times
| | |
| --- | --- |
| Monday: | 11:00-14:45 18:00-21:45 |
| Tuesday: | 11:00-14:45 18:00-21:45 |
| Wednesday: | 11:00-14:45 18:00-21:45 |
| Thursday: | 11:00-14:45 18:00-21:45 |
| Friday: | 11:00-14:45 18:00-21:45 |
| Saturday: | 18:00-21:45 |
| Sunday: | 18:00-21:30 |
Users' reviews
Mean of the reviews
(18)
Sad to say that the rice of the sushi was tasteless and the fried food was over fried most probably in an old, too used oil.
The taste is perfect! But I have ordered two times and you didn't send chopsticks!
Very tasty, and very nice comment left on the ticket, thank you Paul for the 2 mocchis! :) a bientôt
very yummy and super fresh! looking forward to our next order! THANK YOU!
The order arrived without sushi sticks and soy sauce.
Small portions for the cost (relative to other sushi restaurants nearby) and made me really frustrated by serving salmon that had gone off in the (otherwise tasty) poke bowl. Just because I am not physically in your restaurant and can't send it back is not reason to feed me spoiled food. Taste it if you are not sure!
Bonjour, On ne m'a pas livré le coca zéro. Pouvez-vous s'il vous plaît le faire rembourser? Merci et bien à vous, Jeremy
Pas très sérieux. N'ont pas respecté les demandes d'adaptation d'ingrédients pour allergies pourtant indiqués en commentaire sur Wedely. Il manquait également une soupe de la commande
I liked the rolls very much, thank you! Fresh fish, yummy!
There is no chopsticks, can't eat it unless is with the hands Additionally should mention beers can't be open by turning the cap, also can't drink it cause I can't open it.
Rice tasted old, we ordered wasabi but none came with the order, soja sauce didn't have a lot in it. On the positive side: the delivery came earlier than expected.
Mauvais rapport qualité prix... 47.70€ pour ce résultat, même pas de baguettes, ni serviettes et aucunes sauces et la boîte avec les sashimis retourné... Très grosse déception
Rice was not good. Il all seemed pre made. Store bought
there is no Gyozas Poulet included in the delivery
I ordered a vegetarian sushi menu. The combination of ingredients is very well done, good balance of interesting flavours. But the rice was not fresh at all and it killed all the magic. I was a bit disappointed.
Good food, good delivery.
Fast correct and cleanly delivered. I'd order again