La Torre
82, Avenue du Bois, L-1250 Luxembourg (Luxembourg)
(210)

Attention!
This restaurant is temporarily closed, you can make an order anyway for a following date or time.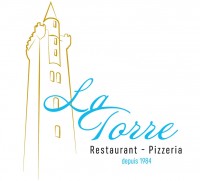 La Torre
+352 47 18 71
82, Avenue du Bois, L-1250 Luxembourg (Luxembourg)
Italian
Pasta
Pizza
Delivery times
| | |
| --- | --- |
| Monday: | Closed |
| Tuesday: | Closed |
| Wednesday: | 11:15-13:15 18:15-21:15 |
| Thursday: | 11:15-13:15 18:15-21:15 |
| Friday: | 11:15-13:15 18:15-21:15 |
| Saturday: | 12:00-13:15 18:15-21:15 |
| Sunday: | 12:00-13:15 18:15-21:15 |
Users' reviews
Mean of the reviews
(210)
Livraison relativement vite, qualité exceptionnelle et mange super délicieux. Absolument a recommander!
Très bonne Pizzas le tout est bon, équipe symphatique.Merci
Meilleures Pizzas au Luxembourg
On adore la Torre, mais il fait absolument pas commander le vendredi soir... ce soir jai commande 3 pizzas. La 1er pizza pleine d'eau... la 2e tres bonne, la 3e pizza au Nutella avec un arriere gout tres bizarre. On commande régulièrement depuis 3 ans et vu le prix ( qui augmente ) on aurait aime que la qualite soit au moins la meme que celle de nos debuts.
Always good and timely! To me, it's one of the best pizzas! I order here way too much :-)
Excellent . Je recommande chaudement
Ils sont toujours très bon les pizzas mais une petite remarque à faire...je demande toujours un pizza salami doux et en commentaire je demande le supplément jambon cuit car il y a pas d un choix des suppléments. Malheureusement souvent, comme aussi cett fois ci.. j ai que eu la salami. Il serait bien de mettre une case avec les différents choix de supplément à chaque pizza... moi et aussi les autres clients seraient sûrement très heureux....
Une des meilleures pizzas de Luxembourg
Pizza not cut, other places always offer a little something when you order for bigger amounts. Pizza is good but not worth the global rating. 👍🏻
Fresh ingredients but the pizza was cold and undercooked
Pizza meilleure de LUX. Livraison trop en avance (20 minutes) encore une fois.
Pizza was not well cooked underneath, nothing special
La meilleure pizza au luxembourg
Ingredients tasted so good and fresh, will order again
Always great! Only place where the fries arrive crispy
Food was quite tasty, and arrived sill hot
Love this place! The diavala pizza is awesome and love the tagliatelle with beef and mozzarella, too. Nice quick delivery as well!
Pizzas délicieuses, le canolo est un délice!!
La pizza più buona del Lux! The best Pizza in Lux!
Pizza is very tasty as always. But…I ordered Lasagnes today and The Lasagnes tastes bland. Tasteless! The Lasagnes tomate sauce is like a water… never order again. My kids were really disappointed.