La Torre
82, Avenue du Bois, L-1250 Luxembourg (Luxembourg)
(219)

Attention!
This restaurant is temporarily closed, you can make an order anyway for a following date or time.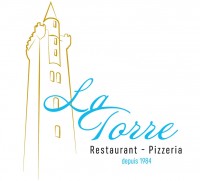 La Torre
+352 47 18 71
82, Avenue du Bois, L-1250 Luxembourg (Luxembourg)
Italian
Pasta
Pizza
Delivery times
| | |
| --- | --- |
| Monday: | Closed |
| Tuesday: | Closed |
| Wednesday: | 11:15-13:15 18:15-21:15 |
| Thursday: | 11:15-13:15 18:15-21:15 |
| Friday: | 11:15-13:15 18:15-21:15 |
| Saturday: | 12:00-13:15 18:15-21:15 |
| Sunday: | 12:00-13:15 18:15-21:15 |
Users' reviews
Mean of the reviews
(219)
Pizza, Lieferung: TUTTO BENE!!
Definitely try the pizzas they're delicious
The best pizza in luxembourg.. quality, originality and taste …
Bei der lieferung war das essen noch schön heiß Super essen immer wieder gerne
Pizza super bonne mais a chaque fois que je demande coupe est l'œuf bien cuit ça bien toujours cru… pas génial …
Livraison relativement vite, qualité exceptionnelle et mange super délicieux. Absolument a recommander!
Très bonne Pizzas le tout est bon, équipe symphatique.Merci
Meilleures Pizzas au Luxembourg
On adore la Torre, mais il fait absolument pas commander le vendredi soir... ce soir jai commande 3 pizzas. La 1er pizza pleine d'eau... la 2e tres bonne, la 3e pizza au Nutella avec un arriere gout tres bizarre. On commande régulièrement depuis 3 ans et vu le prix ( qui augmente ) on aurait aime que la qualite soit au moins la meme que celle de nos debuts.
Always good and timely! To me, it's one of the best pizzas! I order here way too much :-)
Excellent . Je recommande chaudement
Ils sont toujours très bon les pizzas mais une petite remarque à faire...je demande toujours un pizza salami doux et en commentaire je demande le supplément jambon cuit car il y a pas d un choix des suppléments. Malheureusement souvent, comme aussi cett fois ci.. j ai que eu la salami. Il serait bien de mettre une case avec les différents choix de supplément à chaque pizza... moi et aussi les autres clients seraient sûrement très heureux....
Une des meilleures pizzas de Luxembourg
Pizza not cut, other places always offer a little something when you order for bigger amounts. Pizza is good but not worth the global rating. 👍🏻
Fresh ingredients but the pizza was cold and undercooked
Pizza meilleure de LUX. Livraison trop en avance (20 minutes) encore une fois.