La Torre
82, Avenue du Bois, L-1250 Luxembourg (Luxembourg)
(138)

Attention!
This restaurant can't offer a delivery service today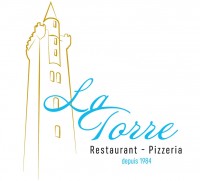 La Torre
+352 47 18 71
82, Avenue du Bois, L-1250 Luxembourg (Luxembourg)
Italian
Pasta
Pizza
Delivery times
| | |
| --- | --- |
| Monday: | Closed |
| Tuesday: | Closed |
| Wednesday: | 11:00-13:30 18:00-21:30 |
| Thursday: | 11:00-13:30 18:00-21:30 |
| Friday: | 11:00-13:30 18:00-21:30 |
| Saturday: | 12:00-13:30 18:00-21:45 |
| Sunday: | 12:00-13:30 18:00-21:30 |
Users' reviews
Mean of the reviews
(138)
The food was tasty, but too expensive for what it was. The pizza and the side were very small, and not filling for one person. The side - a potato croquet - would be expensive at half the price, and there was only one of them. I paid €21.80 for the pizza and croquet (not including delivery), but I think that €15 would be a reasonable price.
Best italian restaurant in Luxembourg. I love the food and their service
De loin les pizzas les plus goûtues et originales ! J'apprécie les suggestions et le fait de pouvoir malgré tout personnaliser. Pour moi une valeur sûre que je recommande.
They sent me the wrong pizza, so I called the restaurant, and not only they sent me the correct pizza, they also sent complimentary desserts. Thank you!
Great carpaccio, great delivery.
Félicitations pour vos repas qui sont copieux et délicieux.Meme le livreur vous livre directement en chambre et ai très professionnel. Nous les recommandons fortement
Je le recommande, trés bonne pizza et livraison dans les temps!
très bonne pizza , comme d'habitude :-) livraison dans les temps !
Scalopina milanaise accompagnée de pâtes, excellent! préparation, goût, portion, emballage... de a à z: mille grazie!
Pizzas are very delicious.
On time, excellent service even if due to a misunderstanding the food was initially delivered to a wrong address (all my fault).
Still the best pizza in town.
The order was not deliver in the exactly address indicated . We always Have a problem with the GPS that wedely is using, I would recommend to use google maps to arrive to the point of deliver.
Perfect Napolitan Pizza! Never tried main courses. Starters and desserts are a bit overpriced given the quantity but the pizza is absolutely amazing.
Probably one of the best pizzas in Luxembourg!
Qualità più bassa rispetto ai loro standard!
Comme toujours très bon !