Snooze
27, Rue Philippe II, L-2340 Luxembourg (Luxembourg)
(17)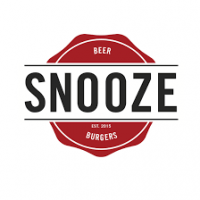 Snooze
+352 26 20 33 31
27, Rue Philippe II, L-2340 Luxembourg (Luxembourg)
Burgers
Delivery times
| | |
| --- | --- |
| Monday: | 11:30-14:30 18:30-21:30 |
| Tuesday: | 11:30-14:30 18:30-21:30 |
| Wednesday: | 11:30-14:30 18:30-21:30 |
| Thursday: | 11:30-14:30 18:30-21:30 |
| Friday: | 11:30-14:30 18:30-21:30 |
| Saturday: | 12:00-21:30 |
| Sunday: | 12:00-21:30 |
Users' reviews
Mean of the reviews
(17)
Hi It's good but they forgot the asked extra (Bacon) to one of the burgers. Sincerely
The burgers are juicy, very tasty and the fries always arrive crunchy and flavorful!
Burgers are good, but worst fries I ever had
We were missing parts of our order, the twister fries were all quite hard and just crunch and the burgers were average so overall we were disappointed as we have enjoyed eating in the restaurant so hoped the delivery would be just as good.
I ordered and paid for extra cheese, extra bacon and asked for medium rare, All of what I DID NOT received.
Wie immer gut, nur halt teurer geworden. Aber super dass es wieder eine lieferung gibt.
Cheeseburger with extra cheese. Brought me through my shift + I loved the crispy fries. Delivery guy is a hero. Thank you
Que passa burger is something from another world! 10 stars
The "Que Pasa" burger came wrapped in a dough crust, like a pie. The burger inside was gooey, mushy, as if it had been boiled. I just wanted a nice, grilled burger, and this was the opposite. Very expensive too ! It tasted so bad I barely ate a third of it and threw the rest away. The burger was a 0/5, but the fries were good 4/5, so I'm rating this 2/5.
sehr gutes essen, Lieferant unfreundlich
Not bad, but generally tasteless. Low quality steak
Okay food, rubbish customer service.