Vapiano - Kirchberg
Cuisine italienne
44, Avenue J-F Kennedy, L-1855 Kirchberg (Luxembourg)
(53)

Attention!
This restaurant is temporarily closed, you can make an order anyway for a following date or time.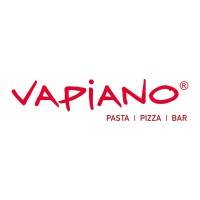 Vapiano - Kirchberg
+352 27 84 82 84
44, Avenue J-F Kennedy, L-1855 Kirchberg (Luxembourg)
Italian
Pasta
Pizza
Delivery times
| | |
| --- | --- |
| Monday: | 11:30-13:30 18:00-20:00 |
| Tuesday: | 11:30-13:30 18:00-20:00 |
| Wednesday: | 11:30-13:30 18:00-20:00 |
| Thursday: | 11:30-13:30 18:00-20:00 |
| Friday: | 11:30-14:30 18:00-20:00 |
| Saturday: | 12:00-20:00 |
| Sunday: | 12:00-19:45 |
Users' reviews
Mean of the reviews
(53)
- Menu etais è temps. - Les pâtes etais pas bon. ( plein d'oignons, le gôut etais misérable acause des oignons, la quantité très faible. Désolé, mais pour moi le restaurant est pas à recommander
DECUE, UNE HONTE, un plat qui est arrivé cramer sur le dessus, des pates tellement cuite qu'on aurait dit de la purée. la truffe??? inexistante, pas de goût, une demi tranche de prosciutto collée sur le dessous de la chapelure cramée. Du coup le prix n'est pas du tout justifié. je comprends pas pourquoi vouloir faire des plats en edition limitée si ils ne sont pas faot avec soin et gout!!! je ne reviendrais pas de si tot chez vapiano.
Very small portion with chicken half cooked, but overall tasty hence 3 stars...
Ordered normal pizza but it was very doughy.
nous avons commandé 2 portions de pâtes carbonara. Il manquait le fromage italien et une des deux portions était clairement plus petite que l'autre. Pour le prix c'est vraiment une déception. Rien à voir avec les pâtes servies sur place
Leaking pizza and inedible (Montagna from Vapiano). Threw away the pizza
Of 5 itens, just one (a pizza) arrived. And it was over burnt. Later, after one hour and 30 min, the order was finally delivered (after lots of phone calls). Take your conclusion about the service.
1st and last time ordering. scamp piccante wasn't spicy even with extra spice. no cheese sent. wasn't creamy. all'arrabiata with barely any sauce and not spicy at all. plain taste. next time I'll cook my own Italian for less money!!
I had ordered a chicken Cesar salad and got some Greek salad wit chicken. Useless!
Wrong service this time ! I haven't received the 2 correct pizzas. I haven't received what I have ordered !
Bon repas par contre livré sans couverts
they only delivered the drink but not the food
Rien à redire, plat similaire à ce que lon reçoit sur place. Commande bien préparée et livrée à l'heure.
Fast delivery! I made a change to the noodle types which was fulfilled. Fantastic thank you! BUT the coulis for my panna cotta that I ordered was missing, which is very unfortunate
Jamais décue par les plats
Arrived quicker than estimated and the food was warm, but I live near so that helps. Delicious and tasted even better than some of the dishes I had made whilst waiting there personally.
+ Delivered in 45 minutes, with a smile; thanks + More or less within advertised delivery speed. + Dessert (Tiramisu) had been kept far from heat sources, so good state - Pizza was close to being plain cold. Too bad I had not thought of turning the oven on. - Egg supplement was barely cooked. This is actually fine by me, but it could put some people off... Quality standards of pizza dough and toppings as expected from Vapiano: very good.
There was no chicken in the Ceasar Pollo salad, but huge amount of bread instead!
Vapiano quality delivered
Very, very good! Unfortunately some of the chicken was not cooked properly in one of the dishes so we had to throw it in the frying pan.
Service et qualité des plats impeccables!
Je n'ai rien reçu, pourriez vous me rembourser merci
My pizza arrived cold, rigid and with nothing less that three large burnt holes. We called the restaurant and they offered a "reduction", we had to insist for them to offer to make another pizza free of charge, and of course we had to go and get it ourselves (so much for the confortable delivery part). I guess the service and quality of the dishes depends who's on charge. Obviously that Sunday we were unlucky because whoever that was thought it was ok to deliver burnt pizza to customers.
1. pizza ordered: capricciosa with extra egg - pizza delivered: margherita with rocket salad and parmigian... 2. man gone before check done 3. pizza delivered within 30 minutes... but dead cold... so... must improve a lot before I recommend the experience
Risotto très bien comme d'hab. Cheesecake, complètement détruit dans l'emballage. Dommage
Très bien. La livraison a été réalisée dans les délais et les plats sont arrivés chauds ... et bons (comme toujours chez Vapiano !)
Pizza délicieuse et livraison impeccable. Merci!