Brauerei
The big beer company
12, Rives de Clausen, L-2165 Luxembourg (Luxembourg)
(9)

Attention!
This restaurant is temporarily closed, you can make an order anyway for a following date or time.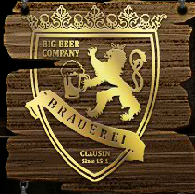 Brauerei
+352 26 20 10 17
12, Rives de Clausen, L-2165 Luxembourg (Luxembourg)
Chicken
Luxembourgish
Delivery times
| | |
| --- | --- |
| Monday: | 18:00-21:45 |
| Tuesday: | 18:00-21:45 |
| Wednesday: | 18:00-21:45 |
| Thursday: | 18:00-21:45 |
| Friday: | 18:00-21:45 |
| Saturday: | 18:00-21:45 |
| Sunday: | Closed |
Users' reviews
Mean of the reviews
(9)
Very nice! Good portion, very tasty. Will certainly order again.
Nice schnitzel, even better than last order before!
Nice schnitzel, very tasty!
Ordered the scampi in garlic sauce which came with boiled rice and side salad. The food was clean, simple, no frills but delicious, a bit pricey for what it's worth but I would recommend. The crème brûlée with orange was yummy.
It was good food and also fresh. However the price is set to high when lookimg at the quality and quantity. 4 out of 5 is very respectable and I will order again there.
Very disappointed. If you can't make a simple onion soup, or a cordon blue, better close the kitchen. Both were almost uneatable quality. It's a pity Luxemburg doesn't have a food testing laboratory, cause I would have liked to send samples to them. Dessert was o.k. Maybe the chef was ill, but man, if this happens and you can't find qualified replacing staff, you should better stay closed.
Très bien, comme sur place!
Rien à dire, qualité excellente.