Brauerei
The big beer company
12, Rives de Clausen, L-2165 Luxembourg (Luxembourg)
(33)

Attention!
This restaurant is temporarily closed, you can make an order anyway for a following date or time.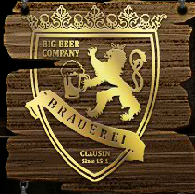 Brauerei
+352 26 20 10 17
12, Rives de Clausen, L-2165 Luxembourg (Luxembourg)
Chicken
Luxembourgish
Delivery times
| | |
| --- | --- |
| Monday: | Closed |
| Tuesday: | 18:00-21:30 |
| Wednesday: | 18:00-21:30 |
| Thursday: | 18:00-21:30 |
| Friday: | 18:00-21:45 |
| Saturday: | 12:00-21:45 |
| Sunday: | 12:00-21:30 |
Users' reviews
Mean of the reviews
(33)
Fast alles in Ordnung, nur die Portionen sind leider viel zu klein, und somit kein gutes Preis/Leistungs-Verhältnis, Lieferung/Fahrer super zuvor kommend und professionel... :-)
Schnitzel war super, Liwwerung mat Zait ... just dFritten waren latschesch. Mettlerweilen ginn et Kartons-Kontainer dofir, Alu-Keschten sinn naischt fir Fritten
Very Good food but a bit pricey… Forgot to put my dessert in the order. Everything else is good
Brauerei always a good choice. The food is excellent.
Spicy Chicken always delicious!
etwas zu kleine portionen bei sehr teurem preis also preisleistung ist hier deutlich ausbaufähig, ansonsten alles super...
The perfect pork knuckle was really Perfect. I love it! Glad to had choose this one!
Fish & Chips and Bouchée à la Reine were delicious (and more than enough)
Fish&Chips: 2 filets that are enough for 2 people even. Put the chips in the air fryer quickly so they were nice and crispy again (chips never deliver well). Kniddelen: Super yummy and filling. That smokey bacon is delicious. Everything arrived super fast, well wrapped up and warm! Great delivery experience overall.
Perfect pork knuckle with potatoes and Sauerkraut. Quick and hot delivery.
The chicken was not eatable. Barely cooked, not properly cleaned, and not at all crunchy. The fries were soft and not particularly good neither. For 20€, that is a shame.
Pigs knuckles and sauerkraut were excellent
Comme demandé, parfait ! Merci
C'est la 2ème fois que en accompagnement de ce menu, en guise de salade le restaurant ne met que des feuilles vertes sans tomates ni rien d'autre.
J'ai commandé un fish and chips. Livraison rapide. Le poisson pané était bon mais froid. Les frites étaient plates et froides. Mauvais emballages dans du plastique et du styropore. Dommage
Very tasty food and big quantity
Le restaurateur n'a pas pris en compte la requête concernant l'accompagnement, et ce pour la 2ème fois consécutive. J'aurais apprécié qu'ils me disent si la requête n'était pas faisable avant d'accepter la commande.
Merci beaucoup, c'était super bon. Et le garçon qui est venu livré le diné était super gentil, à la prochaine.
Toujours très très bon!!!
Client habituel, je dois constater qu'au niveau de la préparation et de la présentation des viandés panées, cela va du meilleur au pire. Ce soir, veille de jour férié, c'était malheureusement un mauvais jour pour commander un cordon bleu. Pas mauvais mais noyé dans la sauce pour la livraison (au lieu d'une sauce à part comme d'ordinaire), la panure, plutôt grasse, en lambeaux, a fini dans la poubelle. J'ai réussi à sauvé la viande ou presque. Une quinzaine de minute dans ces conditions ont rendu le pauvre cordon bleu presque immangeable. Dommage pour lui et pour moi, mais il faut se rendre à l'évidence: commander une viande pannée est un gros risque, d'être déçu et de recevoir une viande pannée noyée dans la sauce pour tout son transport.
Assiette de charcuterie sans pâté de campagne, aucune sauce avec le fish and chips, portion de scampis ridicule. A fuir
Very nice! Good portion, very tasty. Will certainly order again.
Nice schnitzel, even better than last order before!
Nice schnitzel, very tasty!
Ordered the scampi in garlic sauce which came with boiled rice and side salad. The food was clean, simple, no frills but delicious, a bit pricey for what it's worth but I would recommend. The crème brûlée with orange was yummy.
It was good food and also fresh. However the price is set to high when lookimg at the quality and quantity. 4 out of 5 is very respectable and I will order again there.
Very disappointed. If you can't make a simple onion soup, or a cordon blue, better close the kitchen. Both were almost uneatable quality. It's a pity Luxemburg doesn't have a food testing laboratory, cause I would have liked to send samples to them. Dessert was o.k. Maybe the chef was ill, but man, if this happens and you can't find qualified replacing staff, you should better stay closed.
Très bien, comme sur place!
Rien à dire, qualité excellente.