Mousel's Cantine
Lëtzebuergesch Spezialitéiten
46, Montée de Clausen, 1343 Luxembourg (Luxembourg)
(4)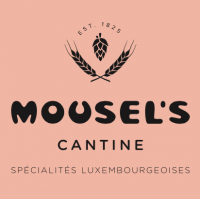 Mousel's Cantine
+352 470198
46, Montée de Clausen, 1343 Luxembourg (Luxembourg)
Luxembourgish
Delivery times
| | |
| --- | --- |
| Monday: | 11:00-13:30 18:00-21:00 |
| Tuesday: | 11:00-13:30 17:30-21:00 |
| Wednesday: | 11:00-13:30 17:30-21:00 |
| Thursday: | 11:00-13:30 17:30-21:00 |
| Friday: | 11:00-13:30 17:30-21:00 |
| Saturday: | 17:30-21:00 |
| Sunday: | Closed |
Users' reviews
Mean of the reviews
(4)
D´ZUPAAAA LECKER ! Kniddelen mat 2x wainzosiss! mmmmmh.
3.5 Stären. Zimlech deier fir dat wat een kritt an d'Verpackung war och wäit ewech vun nohalteg. D'Iessen selwer ass net iwwel.
The Kniddelen with Wäinzoossis were pretty good (a little bit too much fat but it also depends on your preferences) BUT: I ordered 2 Moelleux for 21€ (!!) so I was expecting at least a selfmade one.. I thought ok they're gluten free and they're probably making it theirselves. But it was a moelleux from the supermarket, and it was so small and there wasn't even liquid chocolate inside... there was whipped cream all around the moelleux.. was really disappointing and I would not recommend to buy one for 10,50€. It's just too expensive for a supermarket moelleux.
Fast delivery, delicious food.