Mousel's Cantine
Lëtzebuergesch Spezialitéiten
46, Montée de Clausen, 1343 Luxembourg (Luxembourg)
(12)

Attention!
This restaurant is temporarily closed, you can make an order anyway for a following date or time.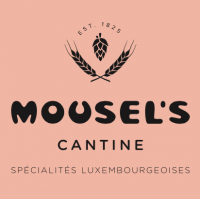 Mousel's Cantine
+352 470198
46, Montée de Clausen, 1343 Luxembourg (Luxembourg)
Luxembourgish
Delivery times
| | |
| --- | --- |
| Monday: | Closed |
| Tuesday: | 11:00-13:45 19:00-21:00 |
| Wednesday: | 11:00-13:45 19:00-21:00 |
| Thursday: | 11:00-13:45 19:00-21:00 |
| Friday: | 11:00-13:45 19:00-21:00 |
| Saturday: | 12:00-13:45 19:00-21:00 |
| Sunday: | Closed |
Users' reviews
Mean of the reviews
(12)
Supposed to be a main menu but is more like an entry. Not enough for the price and very tasteless. Verry dissapointing.
haxe was excellent - thank you
Livraison rapide, menu "kniddelen" très bon mais les portions sont tellement petits (entrée?) que le prix n'est pas justifié:/
tres petit portion ( 1 dm au carré) pour le prix, la boite a la taille d un tasty bacon, beaucoup trop de sauce.
Unsavory appearance. Food looked like it had already been predigested. Not edible. The worst food I ever ordered.
Super service an ganz gutt
The Mousel's Cantine has been an established reference for Luxembourgish food for as long as I can remember, so imagine my surprise when the 2 traditional Luxembourgish dishes I ordered arrived looking like a nightmarish, caricatural version of the original. The Judd came with mushy peas, without potatoes and with the meat covered in some sort of BBQ sauce (I mean, what?). The slow-cooked Jarret looked somewhat better but still paled in comparison to my normal expectations as a Luxembourgish person. It had been deconstructed, served with mash and slathered in sauce. Not only will I not recommend this restaurant, but I'll make sure to actively dissuade people from stepping foot in it. If you can't deliver food that is up to proper standards, I kindly but firmly suggest you stay away from delivery services altogether.
D´ZUPAAAA LECKER ! Kniddelen mat 2x wainzosiss! mmmmmh.
3.5 Stären. Zimlech deier fir dat wat een kritt an d'Verpackung war och wäit ewech vun nohalteg. D'Iessen selwer ass net iwwel.
The Kniddelen with Wäinzoossis were pretty good (a little bit too much fat but it also depends on your preferences) BUT: I ordered 2 Moelleux for 21€ (!!) so I was expecting at least a selfmade one.. I thought ok they're gluten free and they're probably making it theirselves. But it was a moelleux from the supermarket, and it was so small and there wasn't even liquid chocolate inside... there was whipped cream all around the moelleux.. was really disappointing and I would not recommend to buy one for 10,50€. It's just too expensive for a supermarket moelleux.
Fast delivery, delicious food.