55, Avenue de la Gare, L-1611 Luxembourg (Luxembourg)
(16)

Attention!
This restaurant is temporarily closed, you can make an order anyway for a following date or time.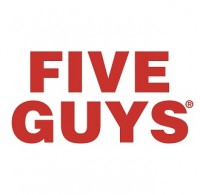 Five Guys
+352 28 12 84 21
55, Avenue de la Gare, L-1611 Luxembourg (Luxembourg)
American
Burgers
Fondé en 1986 par la famille Murrell, Five Guys prépare l'authentique burger américain exclusivement composé de produits frais et de qualité. Composez vous-même votre burger en choisissant parmi nos 15 ingrédients.

Delivery times
| | |
| --- | --- |
| Monday: | 11:00-21:45 |
| Tuesday: | 11:00-21:45 |
| Wednesday: | 11:00-21:45 |
| Thursday: | 11:00-21:45 |
| Friday: | 11:00-21:45 |
| Saturday: | 12:00-21:45 |
| Sunday: | 12:00-21:30 |
Users' reviews
Mean of the reviews
(16)
Produit et présentation : Conforme à la commande, chaud et très bon. Heureusement que cela est bien pensé au niveau "garde au chaud" au vue du point suivant Livraison Wedely - Très décu pour une première commande !!!! : 15 min de retard (et 25min pour faire 4km)
Meilleurs burgers, frites toujours un peu trop salées Milkshakes très agréables Qualité +++
Meilleurs burgers, frites un peu trop salées Milkshakes très agréables Qualité +++
On sent vraiment la qualité du burger et des frites pour le prix qu'on paie une expérience unique ! A tester pour tous !
Tres bon point pour la livraison. Pile poil dans les temps. Personne tres aimable. Burger vegetarien convenable. Frites dur comme du bois. Sauces manquantes. Seul point positif un bon milkshake. Au vue du prix c'est pas terrible
Fast delivery, sadly my 2 side sauces for the fries were missing, otherwise, it would have been perfect
Burger and fries were excellent! Unfortunately milkshake was not delivered!
Excellent NY style burger ! Highly recommended !!!
great taste, crunchy fries
As always the best burgers around
Good food. Perfectly delivered
Yum. Delicious! They're not stingy with the "small" fries (huge), or with the fillings.