55, Avenue de la Gare, L-1611 Luxembourg (Luxembourg)
(80)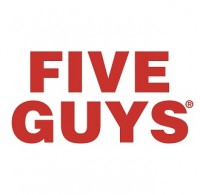 Five Guys
+352 28 12 84 21
55, Avenue de la Gare, L-1611 Luxembourg (Luxembourg)
American
Burgers
Fondé en 1986 par la famille Murrell, Five Guys prépare l'authentique burger américain exclusivement composé de produits frais et de qualité. Composez vous-même votre burger en choisissant parmi nos 15 ingrédients.

Delivery times
| | |
| --- | --- |
| Monday: | 11:00-21:45 |
| Tuesday: | 11:00-21:45 |
| Wednesday: | 11:00-21:45 |
| Thursday: | 11:00-21:45 |
| Friday: | 11:00-21:45 |
| Saturday: | 12:00-21:45 |
| Sunday: | 12:00-21:30 |
Users' reviews
Mean of the reviews
(80)
Right on time, perfect :-)
They said estimated delivery 20:13. The order arrived at 20:13. Perfect
Never disappoints. Amazing burgers.
Alles super lecker. Lieferung hat nur etwas länger gedauert als angegeben. Mayo statt Ketchup, Kleinigkeiten. 4 Sterne um noch etwas Luft nach oben zu haben, wenn alles perfekt klappt. (aber trotzdem Daumen hoch)
Thanks for the delivering!
To it in it's a great place but for delivery it's not that great - a few times food arrived cold.
Pünktliche Lieferung. Super leckere Burger und die Cajun Style Pommes sind der Hammer. Die Beschriftung der Burger war nur teilweise richtig, aber am Ende fand jeder Burger seinen richtigen Besitzer ;)
Nous Avons précisé les nom sur tous le burger parcontre il y'en a eux 4 dans laquelle les burger était mélangé. Alors on a dû s'amuser a chercher sur 4 burger qui était le sient. Veuillez prendre note et faire Attention a cela s'il vous plaît. Du reste trés bon burger. Merci
Service rapide, bières fraîches et burgers excellents (comme de coutume). Continuez !✌️
The burgers and fries are just unbelievable ! Very tasty ! Still I can't give more than 3 starts because of the pricing. Their burgers and fries are more expensive than a good italian restaurant in the center of Luxembourg city. Five Guys is wayyy too expensive !!
Very tasty burgers, only the price is horrible. It is as expensive as a good italian restaurant in Luxembourg City.
Das Essen war sehr gut, und wurde pünktlich geliefert
The burger was excellent as always, but why 3* ? I ordered 2 burgers with onions and jalapeno, both burgers i got were with mushrooms instead.
Ma commande est arrivée incomplète, dommage les Burgers sont très bons.
Super délicieux et livraison rapide
Order was very delayed, fries were cold and my burger was missing the bacon that I paid extra for. Other than that, the burger was excellent.
In time ! Quality service ;)
Beschten fast food burger zu letzebuerg
Bon, mais livraison trop long et Burger presque froid
The burger was excellent but i got the wtong fries... spicy instead of normal
Top Burger! Absolut lecker an empfehlenswert
Burger was delicious and the Fries still fresh... Perfect, no I can have a small nap ;-)
Wonderful burger, fries, Grilled Cheese Sandwich, and Bacon Hot Dog!!! :)
Great tasting food, fast service, go to place for a burger.
When I eat inside the place, never a reason to complain. Home delivery is another deal, fries were cold, fortunately the burger was good as always.
Meilleur milkshake en ville ! Mention spéciale pour le peanut butter !
Très bon produit mais la livraison reste à désirer
Very Fast delivery on point and still hot. Perfect for students that have not enough time to go to city to have a good meal✌🏼
Burger top, mais service minable ! Cela fait la deuxième fois qu'il manque des choses à la commande et il faut leur courir après pour avoir son dû !