55, Avenue de la Gare, L-1611 Luxembourg (Luxembourg)
(179)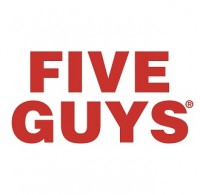 Five Guys
+352 28 12 84 21
55, Avenue de la Gare, L-1611 Luxembourg (Luxembourg)
American
Burgers
Fondé en 1986 par la famille Murrell, Five Guys prépare l'authentique burger américain exclusivement composé de produits frais et de qualité. Composez vous-même votre burger en choisissant parmi nos 15 ingrédients.

Delivery times
| | |
| --- | --- |
| Monday: | 11:00-21:45 |
| Tuesday: | 11:00-21:45 |
| Wednesday: | 11:00-21:45 |
| Thursday: | 11:00-21:45 |
| Friday: | 11:00-21:45 |
| Saturday: | 12:00-21:45 |
| Sunday: | 12:00-21:30 |
Users' reviews
Mean of the reviews
(179)
Top best hambúrguer in town!
Two of the burger orders were switched and we received 2 orders of regular fries when we ordered one normal one Cajun.
jai commandé un hotdog au boeuf, je recoit un hotdog au porc, super!! sachant que je mange pas de porc, service excecrable!!
Fast delivery and delicious as usual!
Always get something wrong with our order.
Je n'ai pas eu de sauce comme indiqué dans ma commande...
1ère commande via wedely, très satisfait, heure de livraison respectée (voire même un peu en avance), hamburgers bien chauds
Ordered two burgers but only got one.
As much as we LOVE the burgers (best in town) The sauces are never included in the order, with the yesterdays order it would be 3rd time in a row. The second time I even put an extra comment ''Please do not forget the sauces'' I will probably order again because I am addicted but alas 4 stars because I love their version of Mayo BUT THEY DO NOT GIVE ME THE OPPORTUNITY TO TASTE IT!
on time and got what we asked for!
on time and got what we asked for!
I ordered and paid for 3 sandwiches as visible on the receipt and i got 2.. amazing...
du poivrons dans mon burger alors que j'ai precisé sans!! decue!!
The burgers are fantastic and the delivery is pretty fast. Well done!
On time; good temperature. I'm very satisfied with the order and delivery.
We didn't receive the grilled cheese sandwich
The cheeseburger was absolutely delicious and the delivery was relatively quick but they forgot to send fries (frites - five guys style), part of the order. When I called the restaurant, they asked me to contact WeDely instead.
The hamburger I've been looking for. Really simple and tasty. The best
J'ai commandé trois frites avec mayonnaise et ketchup et j'ai reçu une frite sans mayonnaise ni ketchup
Il manque 2 little cheeseburgers et vous ne répondez pas au téléphone !!!!
I'm really disappointed- I received a meat with cheese instead of whole burger.
Did not receive my full order.
Malheureusement il y a eu une erreur d'ingrédient dans la préparation de mon hamburger. Dommage
Excellent! Enjoy the return of the FG!!
Disappointed as the drink was missing, unfortunately the delivery man cannot do anything despite his goodwill. Especially disappointed as the Coca Cola is 4€ and it is not the first time such thing happen
The milkshake was missing
Allez y les yeux fermés produit frais. Ce fut aussi bon que copieux. Les frites sont à tomber !
No doubt one of the best burgers and fries you can eat.
The driver was so friendly and considerate, made my evening to have such a nice person deliver my dinner!
The burger was smaller than expected, but the overall quality and the taste was good
There was an issue with the delivery (wrong quantities) but we get reimbursed so no complains. What arrived, anyway was good, a nice burger. I will order again.
Perfect delivery. Exactly on time.