55, Avenue de la Gare, L-1611 Luxembourg (Luxembourg)
(302)

Attention!
This restaurant is temporarily closed, you can make an order anyway for a following date or time.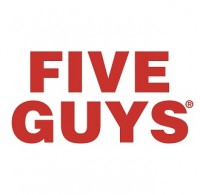 Five Guys
+352 28 12 84 21
55, Avenue de la Gare, L-1611 Luxembourg (Luxembourg)
American
Burgers
Fondé en 1986 par la famille Murrell, Five Guys prépare l'authentique burger américain exclusivement composé de produits frais et de qualité. Composez vous-même votre burger en choisissant parmi nos 15 ingrédients.

Delivery times
| | |
| --- | --- |
| Monday: | 11:30-13:30 17:00-21:15 |
| Tuesday: | 11:30-13:30 17:00-21:15 |
| Wednesday: | 11:30-13:30 17:00-21:15 |
| Thursday: | 11:30-13:30 17:00-21:15 |
| Friday: | 11:30-13:30 17:00-21:15 |
| Saturday: | 12:00-13:30 17:00-21:15 |
| Sunday: | 12:00-13:30 17:00-21:15 |
Users' reviews
Mean of the reviews
(302)
The delivery was 20 min late and they forgot all our beverages and did not pick up the phone when we tried contacting them
Mega lecker and souguer dei kleng portioun Fritten war enorm :D Definitiv net dei leschten Keier wou ech do bestellen waert.
The only problem was that paid soda was not delivered
Qualité constante mais prix (très élevés pour des burgers) qui ont tendance à augmenter et pas à diminuer. Milkshake sans goût, sauf celui du sucre. Une bombe à sucre, mauvaise pour la santé, et sans goût !
great experience, friendly people
Une fois n est pas coutume ... j ai bien spécifié dans les remarques : ne pas oubliez les sauces svp . Et aucune sauce !!! A quoi cela sert de pouvoir les demander à côté si ces dernières ne sont pas mises ????
Instead of the cheeseburger with champignon grilles we got a cheeseburger with onions. Instead of the milkshake vanilla we got a milkshake oreo.
I ordered a cheeseburger bacon with double bacon, but there was not bacon in the sandwich, with three different sauces, but there was not sauce in the sandwich, with double cheese, but there was not cheese in the sandwich. The fries have been put in a paper glass (the one for the drinks) but it is not a problem.
Bonjour, Ma commande incluait un steak supplémentaire payé 3€ et il n'y était pas. Également les sauces ketchups et mayo commandées n'étaient pas incluses. Je ne suis pas du tout satisfait de cette commande ayant normalement de bonnes expériences avec votre site...
Great burgers. Maybe too salty fries.
Bien, manquais juste la sauce des frites..
Most reliable and juiciest burger in Luxemburg. Fries are quite good and the quantity is more than ample. Kitchen delays can get weird though. Tendency to store cold drinks with the hot meal, which is counterproductive in many ways.
Tout bon mais j'ai doit attendre la livraison à l'extérieur car il m'a appelée quand il devait encore arriver. Mais ça va... j'espère serait mieux la prochaine fois.
They didn't put the patty in one of the hamburgers and the cheese sandwich was missing cheese. These are the main ingredients, you cannot forget those.
Les hamburgers ont bon gôut. Les frites, semées dans tout l'emballage étaient très succulentes. Emballage un peu limite. Pas mal, un peu mieux que les gros concurrents mais pas WoW non plus.
by far the best fast food option in Lux
Ordered 3 burger, only received 2. Called them to let them know. Sorry nothing we can do, you need to send an email. What kind of service is that????
super bon, très bonne qualité
Hambourgers ok très bon, mais les frittes sont arriver molles et le scéllé du sac avez été ouvert avant la livraison ça c'est pas ok
Kind and Helpful. My address was wrong in the order and the driver brought the food to me without any complications.
Order was delivered promptly and the burgers were like always amazing! Fries were soggy, so next time I won't be ordering them.
Je viens de recevoir ma commande et il me manque mes sauces et une petite frite. Au prix de ma commade je trouve cela vraiment regrettable de ne pas recevoir celle-ci complete. I want my french fries please.
4 eme commande de suite sans les sauces demandées. Si c est une question d argent , n hésitez pas à le mettre en supplément! Je passe les erreurs sur les boissons, sur les problèmes d accompagnement ... bref nul compte du tarif appliqué!