55, Avenue de la Gare, L-1611 Luxembourg (Luxembourg)
(127)

Attention!
This restaurant is currently closed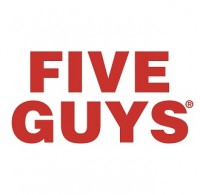 Five Guys
+352 28 12 84 21
55, Avenue de la Gare, L-1611 Luxembourg (Luxembourg)
American
Burgers
Fondé en 1986 par la famille Murrell, Five Guys prépare l'authentique burger américain exclusivement composé de produits frais et de qualité. Composez vous-même votre burger en choisissant parmi nos 15 ingrédients.

Delivery times
| | |
| --- | --- |
| Monday: | 11:30-14:00 17:30-21:30 |
| Tuesday: | 11:30-14:00 17:30-21:30 |
| Wednesday: | 11:30-14:00 17:30-21:30 |
| Thursday: | 11:30-14:00 17:30-21:30 |
| Friday: | 11:30-14:00 17:30-21:45 |
| Saturday: | 12:00-14:00 17:30-21:45 |
| Sunday: | 12:00-14:00 17:30-21:30 |
Users' reviews
Mean of the reviews
(127)
The driver was so friendly and considerate, made my evening to have such a nice person deliver my dinner!
The burger was smaller than expected, but the overall quality and the taste was good
There was an issue with the delivery (wrong quantities) but we get reimbursed so no complains. What arrived, anyway was good, a nice burger. I will order again.
Perfect delivery. Exactly on time.
Commande recu dans les temps , Point negatif : Manquer 2 Coca Cola soit 7EURO de commande . Un peut déçu, en esperant que cela ne se reproduise pas
J'ai commandé deux coca un normal et un zero. le premier livreur n'avait pas les boissons le deuxieme a ramené deux coca zero donc la mauvaise commande. je demande un remboursement de ma commande c'est inacceptable
schnelle Lieferung aber doch Pommes kalt an sonsten super lecker
Order was 35 min late (it took 95 minutes)
1 1/2 Stunde gewartet Essen war kalt Ketchup Mayo hat gefehlt
Mir hu schonn oft iwwer wedely bei Five Guys bestallt, a waren ëmmer zefridden,.... Dës Kéier awer leider net. Nodeems mir bestallt haten, krute mer Info datt de Restaurant "Delays" hätt an et 70 bis 80 Minuten mat eventuellen zousätzlechen "Delays" vun 10 Minute géif ginn. Wisou dat net am Viraus soën? Wéi du geliwwert gi war, waren d'Fritte kal, déi bestallten Saucen hu gefeelt an den Hamburger "all the way" mat alle Beilagen hat just Fleesch an eng Tranche Speck. De Rescht huet alles gefeelt. Schued. Hoffen dat war een eemolege Faux-Pas.
once again, my order was not complete and mot conform to what i asked. I got a burger with just the bread and meat, and not cheese, bacon or any cornichon and sauces asked. I already contacted the website wedely and hope for a full refund for this mistake that is not the 1st i notice with your restaurant. Thank you,
d'Bestellung as souweit ok ukomm. Me wann et iwer 20 minuten dauert(bestellung ferdeg an lifferung) ass et heiansdo baal mei einfach fier et selwer sichen ze goen, well grad e Burger dann awer latscheg gett. Haat zwar och gefroot fier salz a peffer dabei ze kreien me dat gouw wuel iwersinn/ vergies
Excellent burger... Too long for order processing
Livraison rapide , de belles quantités et de qualité! Je recommande
We ordered mayo and ketchup and they forgot to add them in the bag. One of the burgers did not have mushrooms even though we ordered it as "all in". Thanks,
Ils ont oublié ma boisson, Ils m ont mis des petites frites em place des medium. Et pendants 7mins essayer d avoir quelqu un au telephone, pas possible!
La livraison etait rapide et chaude. Plus de frites que demandé. Je recommande
Éléments manquants dans la livraison. Déçu par le service.
c'était bon mais je n'ai pas reçu ce que j'avais commandé
Great service with delivery!
Oublie constamment les sauces pour les frites, pour le prix que ça coûte ça ne devrait pas être le cas !
Arriver trop tard, frittes froides
Bonjour, Commande incomplete il manque deux burgers sur quatre et le restaurant est injoignable. Très mauvaise expérience qui risque fort d'être la dernière. J'attends un remboursement. Merci
Dear five guys, I placed an order for regular fries and spicy fries but you put them in the same bag all together and everything mixed up. My kids couldn't eat any of the fries since they were all spicy. For future it might be better to separate a spicy fry in its own bag.
I didn't receive my coca cola, although paid for.
Great food, would definitely recommend
Loved the food and it was delivered on a good time