55, Avenue de la Gare, L-1611 Luxembourg (Luxembourg)
(71)

Attention!
This restaurant is temporarily closed, you can make an order anyway for a following date or time.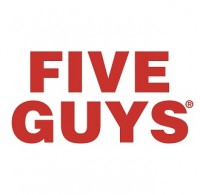 Five Guys
+352 28 12 84 21
55, Avenue de la Gare, L-1611 Luxembourg (Luxembourg)
American
Burgers
Fondé en 1986 par la famille Murrell, Five Guys prépare l'authentique burger américain exclusivement composé de produits frais et de qualité. Composez vous-même votre burger en choisissant parmi nos 15 ingrédients.

Delivery times
| | |
| --- | --- |
| Monday: | 11:00-21:45 |
| Tuesday: | 11:00-21:45 |
| Wednesday: | 11:00-21:45 |
| Thursday: | 11:00-21:45 |
| Friday: | 11:00-21:45 |
| Saturday: | 12:00-21:45 |
| Sunday: | 12:00-21:30 |
Users' reviews
Mean of the reviews
(71)
The burgers and fries are just unbelievable ! Very tasty ! Still I can't give more than 3 starts because of the pricing. Their burgers and fries are more expensive than a good italian restaurant in the center of Luxembourg city. Five Guys is wayyy too expensive !!
Very tasty burgers, only the price is horrible. It is as expensive as a good italian restaurant in Luxembourg City.
Das Essen war sehr gut, und wurde pünktlich geliefert
The burger was excellent as always, but why 3* ? I ordered 2 burgers with onions and jalapeno, both burgers i got were with mushrooms instead.
Ma commande est arrivée incomplète, dommage les Burgers sont très bons.
Super délicieux et livraison rapide
Order was very delayed, fries were cold and my burger was missing the bacon that I paid extra for. Other than that, the burger was excellent.
In time ! Quality service ;)
Beschten fast food burger zu letzebuerg
Bon, mais livraison trop long et Burger presque froid
The burger was excellent but i got the wtong fries... spicy instead of normal
Top Burger! Absolut lecker an empfehlenswert
Burger was delicious and the Fries still fresh... Perfect, no I can have a small nap ;-)
Wonderful burger, fries, Grilled Cheese Sandwich, and Bacon Hot Dog!!! :)
Great tasting food, fast service, go to place for a burger.
When I eat inside the place, never a reason to complain. Home delivery is another deal, fries were cold, fortunately the burger was good as always.
Meilleur milkshake en ville ! Mention spéciale pour le peanut butter !
Très bon produit mais la livraison reste à désirer
Very Fast delivery on point and still hot. Perfect for students that have not enough time to go to city to have a good meal✌🏼
Burger top, mais service minable ! Cela fait la deuxième fois qu'il manque des choses à la commande et il faut leur courir après pour avoir son dû !
Good food but they messed up my order. I paid for cheese on my burger but it was missing.
Au top, mais prix excessif (une étoile de moins pour cela)
Ganz lecker, een vun de beschten BurgerRestorant'en!
very good burger and excellent french fries!!!