55, Avenue de la Gare, L-1611 Luxembourg (Luxembourg)
(215)

Attention!
This restaurant is temporarily closed, you can make an order anyway for a following date or time.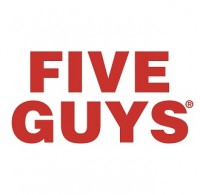 Five Guys
+352 28 12 84 21
55, Avenue de la Gare, L-1611 Luxembourg (Luxembourg)
American
Burgers
Fondé en 1986 par la famille Murrell, Five Guys prépare l'authentique burger américain exclusivement composé de produits frais et de qualité. Composez vous-même votre burger en choisissant parmi nos 15 ingrédients.

Delivery times
| | |
| --- | --- |
| Monday: | 11:00-21:45 |
| Tuesday: | 11:00-21:45 |
| Wednesday: | 11:00-21:45 |
| Thursday: | 11:00-21:45 |
| Friday: | 11:00-21:45 |
| Saturday: | 12:00-21:45 |
| Sunday: | 12:00-21:30 |
Users' reviews
Mean of the reviews
(215)
3 cheeseburgers commandés, les 3 sont arrivés avec oignons et bacon alors que ce n'était pas demandé ...
5 burgers on the invoice/receipt, 4 burgers in the bag.
Excellent et largement à temps
For the third time now 5 Guys have got the order wrong. Cant trust them with the orders so never going to order from them again.
Déjà on a payer 3 frites on en a reçu 1.. Après burgers sans goût ! Horrible
erreur dans la commande (burger incorrecte donc perte pour moi d'argent, et il manque les sauces)
Très bon et largement dans les délais.
Super service, très rapide
Excellent comme toujours et bien dans les délais !
Milkshake is not delivered and they are not picking up.
Always a pleasure. Juicy burgers, absolutely delicious
Fits the purpose for when we're craving for some junk food. Great burger, amazing fries!
My delivery did not contain the mayo that was in my order... disappointed.
The order was not complete as it was selected, really disappointing
Impossible d'être plus ponctuel et Burger excellent comme toujours.
I had my beautiful burger, they just forgot the barbacue sauce. Nothing at all, when required they put so little But today none. It can happen, but it needs to be said. Pay attention please
Great Burger, great service
In stead of three burgers I only got two. The little cheeseburger was missing. I called Five Guys and they said they will reimburse that burger (10€).
Excellent comme toujours et à temps respecté
Il manquait la mayonnaise..
Missing fries is a bummer
I did not receive the whole order. The drink was missing.
Il manque toujours la sauce que j'ai commandé..
Top best hambúrguer in town!
Two of the burger orders were switched and we received 2 orders of regular fries when we ordered one normal one Cajun.
jai commandé un hotdog au boeuf, je recoit un hotdog au porc, super!! sachant que je mange pas de porc, service excecrable!!
Fast delivery and delicious as usual!
Always get something wrong with our order.