55, Avenue de la Gare, L-1611 Luxembourg (Luxembourg)
(252)

Attention!
This restaurant is temporarily closed, you can make an order anyway for a following date or time.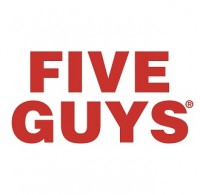 Five Guys
+352 28 12 84 21
55, Avenue de la Gare, L-1611 Luxembourg (Luxembourg)
American
Burgers
Fondé en 1986 par la famille Murrell, Five Guys prépare l'authentique burger américain exclusivement composé de produits frais et de qualité. Composez vous-même votre burger en choisissant parmi nos 15 ingrédients.

Delivery times
| | |
| --- | --- |
| Monday: | 11:30-13:30 17:00-21:15 |
| Tuesday: | 11:30-13:30 17:00-21:15 |
| Wednesday: | 11:30-13:30 17:00-21:15 |
| Thursday: | 11:30-13:30 17:00-21:15 |
| Friday: | 11:30-13:30 17:00-21:15 |
| Saturday: | 12:00-13:30 17:00-21:15 |
| Sunday: | 12:00-13:30 17:00-21:15 |
Users' reviews
Mean of the reviews
(252)
The meal was cold and the fries not crunchy
the restaurant is not far but the food travelled half an hour and unfortunately arrived cold. one burger was missing one supplement
Il manquait les tomates dans le sandwich...
Pas mauvais dans l'ensemble. Pour un fast-food les légumes sont frais et non congelé cela se voit dans les champignons et dans les poivrons. La viande n'est pas trop cuite mais du au transport elle n'est plus saignante, pour les sources ce n'est pas du fait maison ça c'est le point négatif. Les frites piquante excellente. J'enlève une étoile parce que je n'ai pas reçu les cacahouètes gratuit de factice donne tout le temps. 8/10
Hamburger bon mais il arrive froid
Hamburger est très bon mais il arrive trop tard et froid
Waited for 1 hour, then realizing food is missing and not picking up the phone. Very bad customer experience.
Bonjour, Malheureusement ma commande est incomplète. Le Cheeseburger est un little cheeseburger (un seul steak) Merci beaucoup
Good quality burgers (with lots of custom options) and Cajun fries!, Great milkshakes too
fantastico , comida quente e sempre dentro do tempo
I asked for a salad Wrap and got my burger with a bun! I am gluten intolerant and could not eat my burger!
Very good ! and arrived warm at home :-)
Presque parfait, il manquait les sauces accompagnants les frites et le repas est arrivé tout juste chaud
Bonjour, C'est la 2 fois que je fais une commande chez vous en demandant du ketchup et de la mayonnaise sans jamais l'avoir dans ma commande! Merci de faire plus attention la prochaine fois. Bien à vous.
Bonjour si j'vais pu ne pas mettre d'étoile je l'aurais fait! 2 Burgers: - SANS SAUCE - SANS SALADE - SANS TOMATE OU AUTRE CHOSE - Supplément cheese inexistant - Choix des frites non respecté - et pas de sauce avec les frites pour couronner le tout 18€ pièce... C'est une première et une dernière... et j'amais vu ça de ma vie dans une livraison ou restaurant, take away... en ces temps oû on veut soutenir la restauration! Franchement c'est L-A-M-E-N-T-A-B-L-E
Overpriced, price-quality not good enough.
Everything was wrong. We ordered a vegetarian sandwich with BBQ sauce because my girlfriend is vegan and it came with mayonnaise which is not vegan We asked for ketchup and mayonnaise for me for the fries and they were not there.
The delivery was perfect. The sauce was missing in the order.
On avait pourtant lu la multitude d'avis sur les sauces manquantes avec les frites, on y a eu le droit également. Et pour corser le tout, il manquait une portion de frites. Bref, un peu déçu. J'espère que 5 Guys fera un geste commercial.
Les Hambourgeurs très bon et livraison rapide.
Very disappointing! Did not get the burger i ordered. Ordered a bacon burger with lots of toppings and got a poor burger with a little ketchup. Not happy!
Burger waren gut aber das essen war Kalt als es ankam.
Nice but nothing special.
Spicy Fries are the BEST!
bon au niveau de la nourriture mais quand on met dans la commande mayo et ketchup a coté la moindre des choses c'est de les mettres avec la commande pour le prix que l'on paie
Excellent et pile à temps
Livraison rapide. Livreur efficace. Tres bien