55, Avenue de la Gare, L-1611 Luxembourg (Luxembourg)
(321)

Attention!
This restaurant is temporarily closed, you can make an order anyway for a following date or time.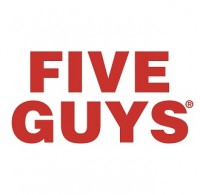 Five Guys
+352 28 12 84 21
55, Avenue de la Gare, L-1611 Luxembourg (Luxembourg)
American
Burgers
Fondé en 1986 par la famille Murrell, Five Guys prépare l'authentique burger américain exclusivement composé de produits frais et de qualité. Composez vous-même votre burger en choisissant parmi nos 15 ingrédients.

Delivery times
| | |
| --- | --- |
| Monday: | 11:30-21:15 |
| Tuesday: | 11:30-21:15 |
| Wednesday: | 11:30-21:15 |
| Thursday: | 11:30-21:15 |
| Friday: | 11:30-21:15 |
| Saturday: | 12:00-21:15 |
| Sunday: | 12:00-21:15 |
Users' reviews
Mean of the reviews
(321)
Hello, the delivery order is not mine. The id not match woth mine ( IUV5G9 ). How can we proceed? Georges SERRANO
No milkshake arrived. Checked with the delivery driver and it was not handed to him. Great😞
fries have been getting worse
burgers were great as always cajun fries inedible - tasted almost like Indian food, were mostly tiny and burned.. so we threw them out .. hope you didnt change the recipe because they were the best fries. Please take care not to give your customers burned, unappealing, left-over food. If this was in store, could have complained and they would have been changed but when it's and order it's clear they just wanted to get rid of them and frankly encouraged me not to order...
il manque la bouteille d'eau de la commande et quand ont appel le restaurant il ne repond pas
Five Guys price but unfortunately MC Donald's poor quality :( The order came quick but missing the salad and cold. Very disappointing!
I didn't receive the Oder and was called from no caller ID i couldn't call back
Le Burger et les frites très bon comme toujours, mais il manquait les sauces ( mayonnaise + ketchup ) et Milshake également , livré par après .
i had it a few times and its always underwhelming. i think its better when you eat it on-site
Ils ont oublie les frites et la mayo
Milkshakes are missing, but we bought them!
Dans l'ensemble, tout est bon mais très très gras! La portion de frite est juste énorme, pas besoin d'en prendre en supplément!
Great burgers and fries... when they manage to deliver them hot. Delivery times inconsistent and how they prioritize the deliveries is in question. There are times where I place an order prior to their opening, and when the order is accepted when they open, it isn't sent for preparation until 30 minutes thereafter. Sometimes, the burgers and fries arrive cold.
Mega lecker and souguer dei kleng portioun Fritten war enorm :D Definitiv net dei leschten Keier wou ech do bestellen waert.
The only problem was that paid soda was not delivered
Qualité constante mais prix (très élevés pour des burgers) qui ont tendance à augmenter et pas à diminuer. Milkshake sans goût, sauf celui du sucre. Une bombe à sucre, mauvaise pour la santé, et sans goût !
great experience, friendly people
Une fois n est pas coutume ... j ai bien spécifié dans les remarques : ne pas oubliez les sauces svp . Et aucune sauce !!! A quoi cela sert de pouvoir les demander à côté si ces dernières ne sont pas mises ????
Instead of the cheeseburger with champignon grilles we got a cheeseburger with onions. Instead of the milkshake vanilla we got a milkshake oreo.
I ordered a cheeseburger bacon with double bacon, but there was not bacon in the sandwich, with three different sauces, but there was not sauce in the sandwich, with double cheese, but there was not cheese in the sandwich. The fries have been put in a paper glass (the one for the drinks) but it is not a problem.
Bonjour, Ma commande incluait un steak supplémentaire payé 3€ et il n'y était pas. Également les sauces ketchups et mayo commandées n'étaient pas incluses. Je ne suis pas du tout satisfait de cette commande ayant normalement de bonnes expériences avec votre site...