55, Avenue de la Gare, L-1611 Luxembourg (Luxembourg)
(124)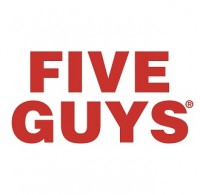 Five Guys
+352 28 12 84 21
55, Avenue de la Gare, L-1611 Luxembourg (Luxembourg)
American
Burgers
Fondé en 1986 par la famille Murrell, Five Guys prépare l'authentique burger américain exclusivement composé de produits frais et de qualité. Composez vous-même votre burger en choisissant parmi nos 15 ingrédients.

Delivery times
| | |
| --- | --- |
| Monday: | 11:00-21:45 |
| Tuesday: | 11:00-21:45 |
| Wednesday: | 11:00-21:45 |
| Thursday: | 11:00-21:45 |
| Friday: | 11:00-21:45 |
| Saturday: | 12:00-21:45 |
| Sunday: | 12:00-21:30 |
Users' reviews
Mean of the reviews
(124)
d'Bestellung as souweit ok ukomm. Me wann et iwer 20 minuten dauert(bestellung ferdeg an lifferung) ass et heiansdo baal mei einfach fier et selwer sichen ze goen, well grad e Burger dann awer latscheg gett. Haat zwar och gefroot fier salz a peffer dabei ze kreien me dat gouw wuel iwersinn/ vergies
Excellent burger... Too long for order processing
Livraison rapide , de belles quantités et de qualité! Je recommande
We ordered mayo and ketchup and they forgot to add them in the bag. One of the burgers did not have mushrooms even though we ordered it as "all in". Thanks,
Ils ont oublié ma boisson, Ils m ont mis des petites frites em place des medium. Et pendants 7mins essayer d avoir quelqu un au telephone, pas possible!
La livraison etait rapide et chaude. Plus de frites que demandé. Je recommande
Éléments manquants dans la livraison. Déçu par le service.
c'était bon mais je n'ai pas reçu ce que j'avais commandé
Great service with delivery!
Oublie constamment les sauces pour les frites, pour le prix que ça coûte ça ne devrait pas être le cas !
Arriver trop tard, frittes froides
Dear five guys, I placed an order for regular fries and spicy fries but you put them in the same bag all together and everything mixed up. My kids couldn't eat any of the fries since they were all spicy. For future it might be better to separate a spicy fry in its own bag.
Great food, would definitely recommend
Loved the food and it was delivered on a good time
buon panino e patatine ottime
They forgot the mayonnese and fries where all over
Livraison rapide, nourriture encore chaude. Cependant, j'ai recu du ketchup et non de la mayonnaise... pour quelqu'un qui n'aime pas le ketchup et qui n'aime pas manger les frites sans sauce... c'est decevant... dommage.
Amazing fries, good burgers
Très bon livreur agreable Mais erreur de la part de Five Guys ; manque un Burger
Late delivery, i was informed about the delay and they mitigated the situation accordingly. Transparent with customer.
Parfait! Commande au top et livreur sympa
Five guys burger is always very good, nothing to say about that. But today service was too slow, I waited more than expected, I discovered the delivery would have 30 minutes additional delay on restaurant side only after having finalized the order and having paid and waited 1 hour and a half to have the food, and it was cold when arrived. There is a lot to improve.
Quick delivery as usual, food was super delicious. Unfortunatley, my extra steak for 3€ and the extra cheese were missing :(
Je voulais goûter pour tester. Ça reste du burger de fast food, l'intérêt c'est surtout de pouvoir mettre ses propres ingrédients. Les frites n'étaient pas top. C'était ok de manière générale mais pas ouf non plus.
Delivery time expectation was 15min more but food was decent.
Hello, The order was a little cold but still delicious. THX