55, Avenue de la Gare, L-1611 Luxembourg (Luxembourg)
(41)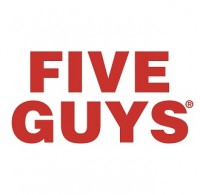 Five Guys
+352 28 12 84 21
55, Avenue de la Gare, L-1611 Luxembourg (Luxembourg)
American
Burgers
Fondé en 1986 par la famille Murrell, Five Guys prépare l'authentique burger américain exclusivement composé de produits frais et de qualité. Composez vous-même votre burger en choisissant parmi nos 15 ingrédients.

Delivery times
| | |
| --- | --- |
| Monday: | 11:00-21:45 |
| Tuesday: | 11:00-21:45 |
| Wednesday: | 11:00-21:45 |
| Thursday: | 11:00-21:45 |
| Friday: | 11:00-21:45 |
| Saturday: | 12:00-21:45 |
| Sunday: | 12:00-21:30 |
Users' reviews
Mean of the reviews
(41)
Good food but they messed up my order. I paid for cheese on my burger but it was missing.
Au top, mais prix excessif (une étoile de moins pour cela)
Ganz lecker, een vun de beschten BurgerRestorant'en!
very good burger and excellent french fries!!!
EXCELLENT ! Thank you for the quality and the fast delivery.
Gutt Iessen, pünktlech Liwwerung, an zerguer wéi mer kuerzfristech ons Bestellung iwwer Telefon geännert hunn, waren se ganz frëndlech an alles huet super geklappt. I like.
Désolé trop de temps entre le message commande en préparation et la livraison... hamburger tiède et aplati...frites froides froides et molles pour la poubelle
Commande arrivée chaude et dans les temps souhaitez!
Always the best choice!!!
Très bon burgers et frites
+Very fast delivery (4 minutes before estimated time) +Food was good -Some orders were confused (ingredients were missing in ones but added in others)
The food was good as usual but my burger was missing...
Tasty great hamburger and fries. Great! Thanks!
Small delay, but food was still warm and delicious. Well done
Un peu cher mais très bon burgers.
Gegrillten Ennen e besse latscheg a fetteg, soss alles gutt :)
Smaller cup for the Milshakes, less fries but same price. Not really happy by the delivery. Ps: Also no Bonus : the free peanuts available on site.
Produit et présentation : Conforme à la commande, chaud et très bon. Heureusement que cela est bien pensé au niveau "garde au chaud" au vue du point suivant Livraison Wedely - Très décu pour une première commande !!!! : 15 min de retard (et 25min pour faire 4km)
Meilleurs burgers, frites toujours un peu trop salées Milkshakes très agréables Qualité +++
Meilleurs burgers, frites un peu trop salées Milkshakes très agréables Qualité +++
On sent vraiment la qualité du burger et des frites pour le prix qu'on paie une expérience unique ! A tester pour tous !