Charles Sandwiches - Gare
IN BACON , WE TRUST !
16, Rue du Fort Bourbon, L-1249 Luxembourg (Luxembourg)
(148)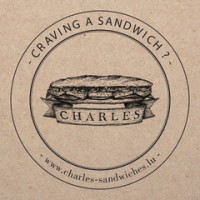 Charles Sandwiches - Gare
+352 27 99 38 38 11
16, Rue du Fort Bourbon, L-1249 Luxembourg (Luxembourg)
Burgers
Sandwiches
A  very conversant gambler, Lord Sandwich did not take the time to have a meal during his long hours playing at the card table. Consequently, he would ask his servants to bring him slices of meat between two slices of bread; a habit well known among his gambling friends. Because John Montagu was the Earl of Sandwich others began to order "the same as Sandwich!" - the 'sandwich' was born.

Delivery times
| | |
| --- | --- |
| Monday: | 11:00-21:45 |
| Tuesday: | 11:00-21:45 |
| Wednesday: | 11:00-21:45 |
| Thursday: | 11:00-21:45 |
| Friday: | 11:00-21:45 |
| Saturday: | 12:00-21:45 |
| Sunday: | 12:00-21:30 |
Users' reviews
Mean of the reviews
(148)
Best belgian type fries in town
Philly cueese steak amaaazing
3.5 Star. I asked for without tomatoes, came with tomatoes. Sandwich is half covered in tomato water...
I often ordered at Charles Sandwiches. It is freaking delicious!
Leurs Sandwichs sont exceptionnels, un vrai régal
We made an order for lot of money as we wanted to have a little celebration brunch as a family - the delivery was late almost half an hour and everything arrived cold. Never again, such a waste of money
Manque une frite - une seule livrée
Amazing brunch... Still not sure why the baked beans came cold, but all the rest was amazing!
3 stars because the food is always very tasty. Unfortunately it arrived cold and had to be microwaved which took away some of the taste
The best burger! It is always our first choice!
The burgers were slightly burnt.
2 missing items on the order
Iessen gudd. Zoosen vergiess alleguer, leider net dei 1. Keier an daat obwuel een se extra bezuelt huet
pretty solid, always a pretty good choice
….delicious as usual but unfortunately the cookie was missing
Commande incomplète (extras payés mais pas reçu) Salade n'est plus mangeable. (Couleur déterioré)
Un vrai régal… comme d'hab
Juicy burger with fresh ingredients, it arrived warm and intact despite the distance. Loved the smoothie, very refreshing.
Food was good The delivery went smooth Happy to order again :)
Photos trompeuses, les sandwichs sont beaucoup plus petits et peu remplis, supplément champignons à 2€ oublié. Trop cher pour les quantités.