Charles Sandwiches - Gare
IN BACON , WE TRUST !
16, Rue du Fort Bourbon, L-1249 Luxembourg (Luxembourg)
(56)

Attention!
This restaurant is temporarily closed, you can make an order anyway for a following date or time.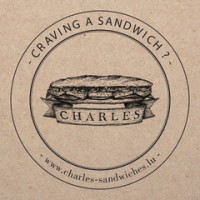 Charles Sandwiches - Gare
+352 27 99 38 38 11
16, Rue du Fort Bourbon, L-1249 Luxembourg (Luxembourg)
Burgers
Sandwiches
A  very conversant gambler, Lord Sandwich did not take the time to have a meal during his long hours playing at the card table. Consequently, he would ask his servants to bring him slices of meat between two slices of bread; a habit well known among his gambling friends. Because John Montagu was the Earl of Sandwich others began to order "the same as Sandwich!" - the 'sandwich' was born.

Delivery times
| | |
| --- | --- |
| Monday: | 11:00-14:00 |
| Tuesday: | 11:00-14:00 |
| Wednesday: | 11:00-14:00 |
| Thursday: | 11:00-14:00 |
| Friday: | 11:00-14:00 |
| Saturday: | 12:00-14:00 |
| Sunday: | 12:00-14:00 |
Users' reviews
Mean of the reviews
(56)
pourquoi vous marque pas quil ya de la salade dans vos sandwich...
De Goût an d'Liwwerzäit sin tiptop! Awer de Präiss net! Eng Zalot an énger Plastiksschossel wou d'Brout an d'Saucendëppech mat dragedruddelt sin an dofir 18,80€ !!!!!!!!!!!! Am Plaatz vum Brout an Vinaigettedëppchen wär nach Plaatz fir Zalot gewircht!
Très bon, mais la sauce de la salade Cesar était trop fluide
Very good, the fries are so tasty. My favorite sandwich is the Philly Cheesesteak. The meat is tender, the cheese is melty - so good! The Burgers are also very good.
Très bon, mais un peu froid-> 4/5
We love Charles ... but this time we had barely dressing... the sandwich was super-dry. Big disappointment considering the price.
Excellent et le soleil est sorti
Tous les sandwichs sont excellents
Très bon, comme toujours.
Excellent et à recommander
Très bon et avant le temps convenu
Very good. Delivered on time, food piping hot and drinks icy cold. One of the best burgers I've had. Will definitely use next time I'm in Luxembourg
Excellent comme toujours.
Excellent et bien dans les délais
Sandwich de bonne qualité, de bon gout et en bonne quantité. Attention, les doubles burgers sont vraiment ENORME !
Excellent comme toujours mais le burger aurait pu être plus chaud (trafic ?)
Très bon comme toujours, bien dans les délais mais burger un peu froid.
Excellent et bien en avance.
Excellent (burger et salade césar) et dans les délais raisonnables et ce malgré des bouchons terribles en fin de matinée.
5 étoiles ne suffisent pas pour décrire la perfection du Burger. Livraison super rapide, qualité du burger 1kg = Du jamais vu, tout était excellent, vraiment TOUT. Prix compétitif quand on compare avec McDo, Quick ou autres... Je recommande VIVEMENT!!
Délicieux et ultra rapide
Dir sidd déi Bescht. Ëmmer rëm gutt! Firwat also keng 5 Stäre? Well net all är Produkter um Wedely sinn...den Blue Burger ass a bléift mäin Favorit!
Exquisite bacon sandwiches, very good!
Great burgers and quick delivery.
Great burgers. Reliable delivery. Will order again.
Pour moi c'est une des meilleures sandwicheries au Luxembourg. J'adore. Bien servi.
Nothing to say about the food, because it was really good! Now, 20 minutes delay, on top of the 70 minutes, and all that for 2 simple sandwiches and 2 cans of coke (which on the menu is displayed as a 0.5l bottle by the way) is in my opinion a bit much. I can totally understand that deliveries take time and that my order isn't the only one, but displaying 35min on the first page, then 60-70min on the reservation page, followed by another 20min delay...I hope you can understand the disappointment!? Thank you and have a great day.