Charles Sandwiches - Gare
IN BACON , WE TRUST !
16, Rue du Fort Bourbon, L-1249 Luxembourg (Luxembourg)
(83)

Attention!
This restaurant is temporarily closed, you can make an order anyway for a following date or time.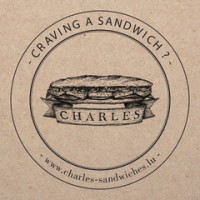 Charles Sandwiches - Gare
+352 27 99 38 38 11
16, Rue du Fort Bourbon, L-1249 Luxembourg (Luxembourg)
Burgers
Sandwiches
A  very conversant gambler, Lord Sandwich did not take the time to have a meal during his long hours playing at the card table. Consequently, he would ask his servants to bring him slices of meat between two slices of bread; a habit well known among his gambling friends. Because John Montagu was the Earl of Sandwich others began to order "the same as Sandwich!" - the 'sandwich' was born.

Delivery times
| | |
| --- | --- |
| Monday: | 11:00-21:45 |
| Tuesday: | 11:00-21:45 |
| Wednesday: | 11:00-21:45 |
| Thursday: | 11:00-21:45 |
| Friday: | 11:00-21:45 |
| Saturday: | 12:00-21:45 |
| Sunday: | 12:00-21:30 |
Users' reviews
Mean of the reviews
(83)
It was quicker than expected and burger was just great
Bacon is missing on the great caesar :(
Delivery was late 15min..the restaurant forgot to pack the fries and sauce..and the waffles are not 5 waffles but 5 small pieces of one regular waffle.
Very fast delivery and the best sandwiches
Sauce salade manquant sinon bon
Très bon et ultra-rapide!
Super service: livreur en monture complète Wedely en Taxi!
Overpriced don't buy, very small portions, orange juice only halfway full
pourquoi vous marque pas quil ya de la salade dans vos sandwich...
De Goût an d'Liwwerzäit sin tiptop! Awer de Präiss net! Eng Zalot an énger Plastiksschossel wou d'Brout an d'Saucendëppech mat dragedruddelt sin an dofir 18,80€ !!!!!!!!!!!! Am Plaatz vum Brout an Vinaigettedëppchen wär nach Plaatz fir Zalot gewircht!
Très bon, mais la sauce de la salade Cesar était trop fluide
Very good, the fries are so tasty. My favorite sandwich is the Philly Cheesesteak. The meat is tender, the cheese is melty - so good! The Burgers are also very good.
Très bon, mais un peu froid-> 4/5
We love Charles ... but this time we had barely dressing... the sandwich was super-dry. Big disappointment considering the price.
Excellent et le soleil est sorti
Tous les sandwichs sont excellents