Phenicia
Cuisine Libano-Syrienne
5, Rue André Duchscher, L-1424 Luxembourg (Luxembourg)
(49)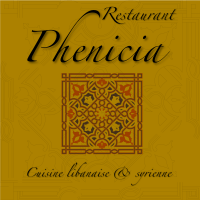 Phenicia
+352 27 84 86 00
5, Rue André Duchscher, L-1424 Luxembourg (Luxembourg)
Lebanese
Delivery times
| | |
| --- | --- |
| Monday: | 12:00-14:00 18:30-21:00 |
| Tuesday: | 12:00-14:00 18:30-21:00 |
| Wednesday: | 12:00-14:00 18:30-21:00 |
| Thursday: | 12:00-14:00 18:30-21:00 |
| Friday: | 12:00-14:00 18:30-21:00 |
| Saturday: | 18:30-21:00 |
| Sunday: | Closed |
Users' reviews
Mean of the reviews
(49)
Guys, if the sandwiches with your baked fresh bread costing more please add the option instead of sending the normal Leb bread (especially its been requested with notes not make with this one) Sometimes you consider sometime you skip the notes Last time was way better Thanks anyway for the extra sauce
Very satisfied Thanks for considering all notes , warm, the bread, fresh meat
La mate du chausson aux légumes n'était pas cuite
Wrong drink but the wrap was nice
Excellent mais temps d'attente trop trop long…
Excellent mais temps de livraison extrêmement long!
Great food, the sandwich may need a little more heating so the bread becomes crispy, since it breaks a little with the sauce and chicken pieces. But the taste is great!
Delicious, the best lebanese food in town
Je déconseille la commande à livrer. Très cher pour la quantité et la viande de poulet est trop grillé. Non ce n'est pas acceptable
Very bad fake Shawarma. Do not waste your money or time. Just don't. No fries which was on the menu. Order if you wanna eat fake shawarma.
Good taste but very small portions
Excellent quality, we especially liked the bread and houmous
Si je pouvais mettre 0 étoile je l'aurais mis. Par où commencer ? Comment dire à ce pseudo resto libanais qu'un shawarma n'est pas un sandwich d'escalope de poulet avec un pain pita, comment leur dire que les kebbe ne viennent jamais mariné dans un endroit sauce qui ressemble à du vomi qu'aucun de nous n'a pu toucher, et le dessert qui laisse à désirer. Ceci sans parler du retard de la livraison, 30mn de retard et quand on les appelle ils nous disent c'est pas nous c'est la faute de wedely, l'autre fois ils étaient fermés et ils n'ont même pas daigné le mentionner sur le site. La commande a été acceptée, donc forcément on a été débité et ce n'est qu'après une heure que je reçois un appel du livreur qui me dit que le restaurant est fermé. Bref j'ai donné plusieurs chances à ce resto mais j'ai toujours été déçue, plus jamais !!
Food good but dessert missing from order
very satisfied, as always
Love their chicken and lamb grills
favorite lebanese place in Luxembourg
The food was cold and quality was not good as well. They did not provide the vegetables which they usually include that in the meal. Disappointed
Love this place, although not an extensive menu, the food is clean and cooked well, tasty and authentic. The bread with Zatar is delicious.
Delicious food, wish portions were a bit bigger 😋 The kebab needed to be cooked more on the inside. Apart from that would recommend and would order again.
Excellent food and delivery on time
Great lebanese food - my favourites are tabbouleh and shish tawook
The wrap was very soggy with very little onion, no sauce and uncooked fries. Earlier orders were much better, but the one yesterday was a big disappointment.
We were so excited to see Lebanese food as an option on WeDely! But sadly we were disappointed as the food was cold, bland and didn't taste authentic at all. Not what we expected and definitelt won't be ordering from this restaurant again. Sorry!!
We decided to torder agaian because the food is nice but we had again a problem with the order once more, and we got a durum with fry chips and gherkins instead of Shawerma de poulet, Tomate, Salade, Sauce aillée..... It's a pity because the food is good, but we never get what we order.
Food is just OK. They forgot part of our order and then tried to switch the blame to the delivery company, the missing part of our order arrived an hour later than the rest.
I HAVE ORDERED AND PAID TWO HUMMUS AND I GOT 1. FOOD IS GOOD/ J'ai commandé et payé deux Humus et j'ai obtenu 1. La nourriture est bonne/ He pedido 2 Hummus y me han mandado solo 1. La comida esta bien.