Come à la Pizza
Home is where the pizza is!
70, Route d'Esch, L-1470 Luxembourg (Luxembourg)
(28)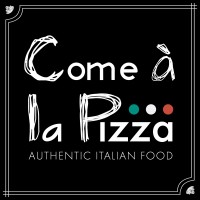 Come à la Pizza
+352 23 64 11 21
70, Route d'Esch, L-1470 Luxembourg (Luxembourg)
Italian
Pizza
Delivery times
| | |
| --- | --- |
| Monday: | Closed |
| Tuesday: | 11:00-14:00 18:15-20:45 |
| Wednesday: | 11:00-14:00 18:15-20:45 |
| Thursday: | 11:00-14:00 18:15-20:45 |
| Friday: | 11:00-14:00 18:15-21:45 |
| Saturday: | 12:00-14:00 18:15-21:45 |
| Sunday: | 12:00-14:00 18:15-21:30 |
Users' reviews
Mean of the reviews
(28)
After having such positive on site experiences, I tried the delivery - but will not do it again. Diavola Pizza - few ingredients and just not great as a delivered pizza. Mousse Chocolate - perhaps the worst I have ever had - the strangest grainy consistency.
Très déçue, pizza Diavola pas de gout (avec un épinard et oeuf, jamais vu sur une Diavola :-/ ), Pizza Riardo beaucoup d'ingrédients mais pas de gout non plus.
Pas ouf du tout. La pâte des pizzas est bonne et généreuse mais c'est tout. Pour la pizza à la truffe, il y a seulement quelques morceaux de truffes râpé et le reste c'est une préparation à base truffe et d'autres champignons. C'est assez écœurant.... vu le prix ça les vaut pas. Très déçu. La pizza Diavola, pareil, pas beaucoup d'ingrédients et de goût ... bof bof. Dommage.
Pizza toujours aussi bonne mais les "Cannelloni Ricotta et Epinards" Horrible!!
The pizza was really delicious, soft and light dough with good quality ingredients on the top which were also well distributed. We ordered two pizzas and they were both perfect and generous in terms of size. Really good and punctual delivery service as well. We will for sure order again, strongly recommended.
Tres bonne pizza, mais a la réception de la pizza elle avait déjà refroidit!!
We ordered pizza vegetariana and marinara, and some beer. Deliver was very fast, faster than we thought, and both pizzas were delicious, well done, and vegetariana had a lot of vegetables :)
Très déçue, pizzas sans saveur, à se demander si tous les ingrédients étaient bien présents. Ne pas prendre le supplément burrata, c'est une vulgaire boule de mozza classique, rien à voir avec une burrata, 4euros de plus pour rien. Les pizzas sont arrivées très tard et presque froides, ce que nous acceptons d'excuser vu les conditions de confinement.
Parfait livraison ultra rapide aujourd'hui
very good taste and on time !
pizza arrivé mais la garniture était que sur la moitié de la pizza et l'autre rien du tout
Pizza aux truffes c'est une tuerie, excellent, 10/10. J'adore.
Pizza molto buona e arrivata nei tempi ancora calda!
The pizza was delivered on time but it was not the one I ordered, it was cold and the beer was warm.
Pizza was good but Pizzeria forgot 1 ingredient from the Bronte (the pistaches)
commande minimum de 20e car trop de travail, je trouve ca un peu abusé, mais sinon la pizza et le calzone étaient bons.
parfait , comme d'habitude
parfait / à l heure et pizza excellente et chaude .
The pizza was good, but the first delivery man came with the wrong pizza and the right order ticket; when I finally received the correct order, the pizza was already cold and the beer lukewarm.
Delivery was on time and the pizza was very good. Will recommend as within the perimeter of Cessange there is no other good pizza!
Parfait, bonne pizza et delais ok