Fama
Il buon sapore di casa a tavola
35, Rue de la Toison d'Or, L-2265 Luxembourg (Luxembourg)
(51)

Attention!
This restaurant is temporarily closed, you can make an order anyway for a following date or time.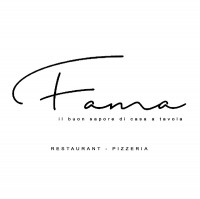 Fama
+352 26 25 87 48
35, Rue de la Toison d'Or, L-2265 Luxembourg (Luxembourg)
Italian
Pizza
Delivery times
| | |
| --- | --- |
| Monday: | 18:30-21:30 |
| Tuesday: | 11:45-14:00 18:30-21:30 |
| Wednesday: | 11:45-14:00 18:30-21:30 |
| Thursday: | 11:45-14:00 18:30-21:30 |
| Friday: | 11:45-14:00 18:30-21:30 |
| Saturday: | 18:30-21:30 |
| Sunday: | Closed |
Users' reviews
Mean of the reviews
(51)
It's okay.. salsiccia tasted more like normal beef ..
Order: Moelleux al cioccolato Cassata siciliana I got a Cannolo 😩
The quality of this restaurant definitely decreased over the last few months/years, it is not as good as it used to be. The pizzas arrived greasy and the bruschettas that we tried as appetizers: 11€ for 6 tiny pieces of bread, a theft!
Delicious! One of the best crusts i ever had on a pizza
very good pasta and pizza
food came 20 minutes early, not great. Tasted good.
Très bonne pizza, livré à l'heure et chaude
Best pizza and best pasta
Very good pizza and pasta
The pizza dough looked and tasted like cardboard. Oregano on margherita is not right. Poor ingredients overall, the olive ascolane were not edible
the best pizza in luxembourg!
Very happy with the delivery and the food !
Il manque les gnocchis sauce champignon et le gorgonzola sur la pizza. 5€50 payé pour rien. Mais c'est très bon alors je mets 2*
Gorgonzola Strozzapreti drowning in cream and absolutely tasteless. Watery Tiramisu drowning in some liquid, definitely not coffee or marsala. Lukewarm pizza.
Good mozzarella, good vegetables
Lasagnes: excellentes! Gnocchi aux 4 fromages: excellents également!
Good quality but very small quantity
Pizza was was very good but we waited for delivery almost 2 hours
Il manquait 3 plats dans la commande livré sur une commande de 15, le temps que le livreur revienne nous avions déjà tous fini de manger. C'est très gras, je ne recommande pas du tout.
Livré a l heure mais pizza froide. Dommage elle sembalit bonne la pizza truffe / Di Bufala.
The delivery even arrived earlier than anticipated and the pizzas were very good - no complaints
Excellente pizza à la truffe! dommage qu'elle soit arrivée froide
C'est une déclaration d'amour!
Delicious, great pizzadough !
Ordered 3 pizza with special toppings, didn't come as ordered. Also ordered a tiramisu, didn't come at all with the order. The first try and the last try from this restaurant.