Tre Chiavi
38, Avenue Victor Hugo, L-1750 Luxembourg (Luxembourg)
(70)

Attention!
This restaurant is temporarily closed, you can make an order anyway for a following date or time.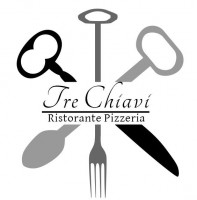 Tre Chiavi
+352 28 79 12 43
38, Avenue Victor Hugo, L-1750 Luxembourg (Luxembourg)
Italian
Pizza
Delivery times
| | |
| --- | --- |
| Monday: | 11:00-14:15 |
| Tuesday: | 11:00-14:15 18:15-21:45 |
| Wednesday: | 11:00-14:15 18:15-21:45 |
| Thursday: | 11:00-14:15 18:15-21:45 |
| Friday: | 11:00-14:15 18:15-21:45 |
| Saturday: | 18:15-21:45 |
| Sunday: | 18:15-21:30 |
Users' reviews
Mean of the reviews
(70)
Pizzas have become significantly smaller
The pizzas are always delicious :-)
D'Bestellung war schnell geliwwert - mee leider war den Rand vun der Pizza gréistendeels schwarz. Gudd gebaack ass jo net schlecht, mee schwarz ass 1. net gesond an 2. schmacht ekelech
Good pizza, a little burnt
They cook the best pizza in Luxembourg City
The pizza was too wet and impossible to eat in the center
The best pizza in Luxembourg city! Highly recommend
Délicieux, comme toujours !
Tu commandes des pâtes dans un restaurant italien et tu n'as même pas droit à du fromage... ADIEU
bonjour, l'aubergine de la parmiagiana n'était pas assez cuite. Par contre, trop de pâtes et donc tassées et collantes. Livraison rapide.
Good taste but much too soft and limp
Meilleure pizza de la ville
Définitivement les meilleures pizzas de Luxembourg!
Best pizza we have found in town so far. The eggplant parm is excellent. Between the pizza and parm....it's always a tough choice.
La pizza commandée était vraiment délicieuse, gourmande et la pâte était bonne. Par contre les cannellonis ricotta épinards : à éviter! Gras, sans goût, pas fin du tout... vraiment déçu de ce plat.
La prima volta che mangio una pizza in Lussemburgo e non ho mal di stomaco dopo! Tutti i prodotti sono buoni al massimo, fortemente consigliato
Les meilleures pizzas de Luxembourg!
Juste parfait comme d'habitude
Délicieux, comme toujours!
Pizza meravigliosa, bufala molto buona, veramente da provare, come in Italia.
Delicious pasta and meat! I love the dessert too
Very good pizze, among the best in the city
Super Service ... Liwwerung zaitlech wie uginn an dPizza war immens!
Sehr leckere Pizza, zu empfehlen ist die Diavolo. Dünner Boden & schön knusprig.
Good Pizza and family size