Tre Chiavi
38, Avenue Victor Hugo, L-1750 Luxembourg (Luxembourg)
(84)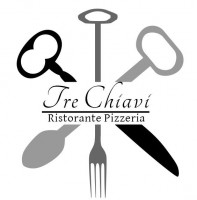 Tre Chiavi
+352 28 79 12 43
38, Avenue Victor Hugo, L-1750 Luxembourg (Luxembourg)
Italian
Pizza
Delivery times
| | |
| --- | --- |
| Monday: | 11:15-14:00 |
| Tuesday: | 11:15-14:00 |
| Wednesday: | 11:15-14:00 18:30-21:45 |
| Thursday: | 11:15-14:00 18:30-21:45 |
| Friday: | 11:15-14:00 18:30-21:45 |
| Saturday: | 18:30-21:45 |
| Sunday: | 18:30-21:30 |
Users' reviews
Mean of the reviews
(84)
La pâte de la pizza c'est formidable! Super leger, agréable et juste dans l' assaisonnement! Difficile à manger une super pizza comme ça au luxembourg! Bien joué à au pizzaiolo et à tout le staff! 👍
Pizza arrivata perfetta, ricca di ingredienti.
The pasta Aglio Olio e Peperoncino is actually really good!
Les pizzas sont vraiment excellentes!
The best Calzone! Grazie mille
The canolli is great as always. However, the mango-tofu vegan dish is the worst vegan meal I've tried ever. Especially for 18 euros. Please reconsider having this on your menu, it's a shame.
Pizza ottima! Complimenti per la qualità degli ingredienti.
Pizza arrivata bella calda, ottimo impasto e ricca di ingredienti. Il dolce fresco e particolare, panna cotta con un tipico budino al cioccolato. Al prossimo ordine !
They sent me another pizza, this time was not burned, and was good
Pas exceptionnel. Pizza moyenne. Malheureusement sur mes pâtes 3 fromages des pousses de betterave qui efface complément le goût du fromage… très dommage.
Rapport qualité prix décevant: portions pour enfants au prix du normal. C'était goûteux par contre.
Good Pizza 🍕, but I don't recommend "pizza Caprese".
The best italian restaurant in luxembourg!!!!
The pizzas are always delicious :-)
D'Bestellung war schnell geliwwert - mee leider war den Rand vun der Pizza gréistendeels schwarz. Gudd gebaack ass jo net schlecht, mee schwarz ass 1. net gesond an 2. schmacht ekelech
Good pizza, a little burnt
They cook the best pizza in Luxembourg City
The pizza was too wet and impossible to eat in the center
The best pizza in Luxembourg city! Highly recommend
Délicieux, comme toujours !
Tu commandes des pâtes dans un restaurant italien et tu n'as même pas droit à du fromage... ADIEU
bonjour, l'aubergine de la parmiagiana n'était pas assez cuite. Par contre, trop de pâtes et donc tassées et collantes. Livraison rapide.
Good taste but much too soft and limp
Meilleure pizza de la ville