Tre Chiavi
38, Avenue Victor Hugo, L-1750 Luxembourg (Luxembourg)
(41)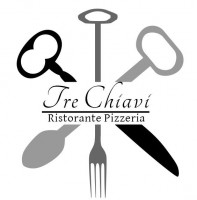 Tre Chiavi
+352 28 79 12 43
38, Avenue Victor Hugo, L-1750 Luxembourg (Luxembourg)
Italian
Pizza
Delivery times
| | |
| --- | --- |
| Monday: | 11:00-14:15 |
| Tuesday: | 11:00-14:15 18:00-21:45 |
| Wednesday: | 11:00-14:15 18:00-21:45 |
| Thursday: | 11:00-14:15 18:00-21:45 |
| Friday: | 11:00-14:15 18:00-21:45 |
| Saturday: | 18:00-21:45 |
| Sunday: | 18:00-21:30 |
Users' reviews
Mean of the reviews
(41)
Les meilleures pizzas de Luxembourg!
Juste parfait comme d'habitude
Délicieux, comme toujours!
Pizza meravigliosa, bufala molto buona, veramente da provare, come in Italia.
Delicious pasta and meat! I love the dessert too
Very good pizze, among the best in the city
Super Service ... Liwwerung zaitlech wie uginn an dPizza war immens!
Sehr leckere Pizza, zu empfehlen ist die Diavolo. Dünner Boden & schön knusprig.
Good Pizza and family size
Plats très généreux et gourmands. Excellentes pizzas. Bonne carte des vins. La satisfaction du client est au cœur de leurs préoccupations. Je recommande absolument.
très belle pièce de viande, super service et contact.
Always tasty and quick delivery!
Great Pizza, quality ingredients.
Nous avons l'habitude de commander à Tre Chiavi et en sommes toujours satisfaits. Les plats sont copieux et sont toujours très bons. Restaurant et service client de qualité, nous recommandons !
Delicious seafood pasta, great pizza and lovely dessert. What more could you wish for ?
Great pasta, good portions... what more could one wish for.
Excellent pizza(s) calzone(s) !
Parfait comme d'habitude ! :)
This is a truly magnificent restaurant, because the service and the food are close to perfect! We love going there and also order regularly, we have never been disappointed. The pasta is fresh, the pizza perfectly crispy, simply amazing :-) Thank you!
Pasta great, as usual. Dessert from heaven. Thank you :-)
Belle lasagne mais tomate fort acide Beaucoup trop de fromage donc malheureusement j ai manger 3 bouchee et trop gras :( un peu déçu Mais merci pour la bière offerte beau service client
Best pizza calzone ever !
Very good pizza, will repeat!
Pizza was big and delicious, and it was put on consignment only 18 minutes after payment! Highly recommended
Very good and fast as always
Very good. Great pasta & pizzas.
Pizza was good as well as pasta.
très bien et livraison dans les délais
The pasta was amazing, didn't taste like a real carbonara but it was super good. AND: The nutella dessert... I gotta know the receipt .. it's SUPER delicious! I didn't eat it alone because my family wanted to try it and they had to have more than only one bite haha.. 5 stars +++
Nutella dessert was amazing. Good pizza and service from the guy that call me in the phone, was really kindly. I will order again.
Lasagna très goûteuse, pas trop tomatée, bien équilibrée, pas trop grasse, Parmigiana plus grasse (trop de fromage peut-être) mais correcte malgré tout.