YUMII
15a, Rue de la Fonderie, L-1531 Luxembourg (Luxembourg)
(27)

Attention!
This restaurant is temporarily closed, you can make an order anyway for a following date or time.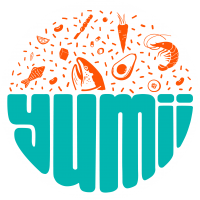 YUMII
+352 24 87 38 49
15a, Rue de la Fonderie, L-1531 Luxembourg (Luxembourg)
Asian
Sushi
Bowl
Delivery times
| | |
| --- | --- |
| Monday: | 10:15-13:30 |
| Tuesday: | 10:15-13:30 18:00-21:00 |
| Wednesday: | 10:15-13:30 18:00-21:00 |
| Thursday: | 10:15-13:30 18:00-21:00 |
| Friday: | 10:15-13:30 18:00-21:00 |
| Saturday: | 19:30-21:00 |
| Sunday: | Closed |
Users' reviews
Mean of the reviews
(27)
The best Burrito Scampi Tempura ever + fast delivery
Best Maki Tempura ever! Quick delivery.
Nous avons déjà commandé qq fois ça a toujours été moyen. Aujourd'hui le riz à été réchauffé plusieurs fois, il est dure et sec au pointe. Le poulet est quasi que du gras et est très salé. J écris ce message avec le plat face à moi. Pas normal de payer 40 euros et d avoir un plat aussi décevant, j'aurais refusé le plat sur place. Et pour couronner le tout, les gyozas sont brûlées.. Quid du remboursement ?
We ordered Yumii Burritos. First time: amazing! Second time: too much salad, too less salmon/duck. We will give it a third chance. Let's see.
Fresh and delicious sushi. Thank you!
Very yummy! Delivery on time and good portions
Livraison puntuelle, les plats bons mais il n'y avait pas de soya.
Even I, who thinks portions are too big in most places in Luxembourg, found the bowl too small. And for my taste it was rather stale. I mean it was not a terrible experience, but still somewhat disappointing. Considering you'd need to add a starter and a dessert to top it up to a full-sized meal, it becomes rather overpriced, considering the lack of taste.
Excellent poke bowls with carefully selected ingredients and perfectly executed. The sushi burrito were also fun and our teenagers loved them. It is indeed Yumi ;)
Really good, fresh tasting, plentiful food!
Tout était super délicieux
These Sushiburritos are the definition of Foodporn. Delicious.
Ingredients were good but the mayonnaise really ruined it for me. Should be mentioned, not just "Sauce du chef".
Fresh products and perfect timing of delivery. I truly recommend Yumii!!
Never tasted something so delicious! The burrito and bowl were amazing 👌will order again and again and again
Good food for a fair price. Yumii burritos are like giant sushi rolls, really good and fulfilling.