YUMII
15a, Rue de la Fonderie, L-1531 Luxembourg (Luxembourg)
(47)

Attention!
This restaurant is temporarily closed, you can make an order anyway for a following date or time.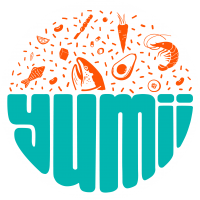 YUMII
+352 621 982 682
15a, Rue de la Fonderie, L-1531 Luxembourg (Luxembourg)
Asian
Sushi
Bowl
Delivery times
| | |
| --- | --- |
| Monday: | Closed |
| Tuesday: | 18:00-21:30 |
| Wednesday: | 18:00-21:30 |
| Thursday: | 18:00-21:30 |
| Friday: | 18:00-21:30 |
| Saturday: | 19:30-21:30 |
| Sunday: | Closed |
Users' reviews
Mean of the reviews
(47)
Unfortunately the rice was quite sticky probably over cooked ... Furthermore I'd ordered (and paid extra money) for sweet sauce and all I got was salted sauce hence my 2 stars.
Ce restaurant a bien perdu en qualité, les prix ont nettement augmentés, les portions ont diminuées en même temps. Le pire c'est que la qualité a nettement diminuée. On n'a pas mal fait de commande dans le passé, mais la c'était la dernière fois. Très déçu.
Ultra déçue, je commande un Yumii Bowl Katsu Crispy : rien à voir avec la photo. Pas d'Edamame ni sauce. Pour le prix…
I used to order quite often but it was the last time! I am SO disappointed. The price is still the same, yet the portion of my warm dish was divided in half! The wings are so tiny and only like 2 scoops of rice. And vegetables nowhere to be find, as they are shown in the picture. SO ANGRY
Disappointing, to say the least. We ordered a mixed platter of maki and California rolls for which they messed up on of the maki orders. forgivable hickup. However, not when the Katsu we ordered was bone dry, I don't have the words to describe its dryness. I wish wedely would allow for pictures to be uploaded that way I could deter people from ordering from this place…because this should have never left the kitchen. The katsu cuttings were so dry and century-old-leather-like I am almost convinced that it had been fried and fried over and over. This isn't me complaining about a dry peace of meat… it's me realising that a restaurant with a rating of 4.2 on Wedely can only provide you with so much quality and that advertisements and the average rating give you absolutely nothing but glitter and shine. Yikes.
Ma boisson n'a pas été livrée !!!
Good service and delicious food - the sushi burritos are unique and taste great! Would definitely recommend.
Ordered chicken karaage but the chicken was completely raw. Not just a little raw, it was basically not cooked at all. Karaage is usually served without the bone, but they left it in. So they were just chicken wings. The rice had way too much vinegar in it. The picture showed edamame as a sidedish but all I got was a tiny sprinkle of carrots on my rice. Not really happy about this.
The taste of the warm dishes was amazing! It was very tasty. The only bad thing was that the rice was not packed separately and therefore the rice was drenched in the sauce, so everything tasted the same.
Everything was perfect! <3
Amazing sushi and shrimp roll. Unfortunately they forgot to bring the rice. The desserts were really tasty, but for their size overpriced. For a Matcha cheese cake 4 euros, and a iced mochi 3,5 euros.
Not satisfied. Expensive for a fast-food like restaurant. Ordered spicy wings, small portion with sushi (seasoned) rice received. Wings fast-food like. Also a second dish, spicy aubergines. Not bad, but heavy and full of oil. Will never order again. Sorry guys..
Du n'importe quoi. Sushi et sashimi n'étaient plus frais. En ce qui concerne les gyoza poulet, il s'agissait plutôt de boulettes de poulet broyé frites, pas terribles. Le poulet yakitori était d'une apparence et odeur à couper l'appétit. Je n'ai même pas osé y toucher. Plus jamais !
Super bon et livraison rapide
Great quality, visually stunning and most importantly delicious. Would definitely recommend!
In love with the Burrito Scampi Tempura
The best Burrito Scampi Tempura ever + fast delivery
Best Maki Tempura ever! Quick delivery.
Nous avons déjà commandé qq fois ça a toujours été moyen. Aujourd'hui le riz à été réchauffé plusieurs fois, il est dure et sec au pointe. Le poulet est quasi que du gras et est très salé. J écris ce message avec le plat face à moi. Pas normal de payer 40 euros et d avoir un plat aussi décevant, j'aurais refusé le plat sur place. Et pour couronner le tout, les gyozas sont brûlées.. Quid du remboursement ?
We ordered Yumii Burritos. First time: amazing! Second time: too much salad, too less salmon/duck. We will give it a third chance. Let's see.
Fresh and delicious sushi. Thank you!
Very yummy! Delivery on time and good portions
Livraison puntuelle, les plats bons mais il n'y avait pas de soya.
Even I, who thinks portions are too big in most places in Luxembourg, found the bowl too small. And for my taste it was rather stale. I mean it was not a terrible experience, but still somewhat disappointing. Considering you'd need to add a starter and a dessert to top it up to a full-sized meal, it becomes rather overpriced, considering the lack of taste.
Excellent poke bowls with carefully selected ingredients and perfectly executed. The sushi burrito were also fun and our teenagers loved them. It is indeed Yumi ;)
Really good, fresh tasting, plentiful food!
Tout était super délicieux
These Sushiburritos are the definition of Foodporn. Delicious.
Ingredients were good but the mayonnaise really ruined it for me. Should be mentioned, not just "Sauce du chef".