4, Rue de Strasbourg, L-2560 Luxembourg (Luxembourg)
(106)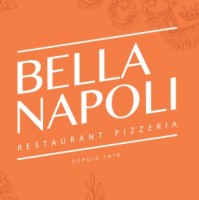 Bella Napoli
+352 49 33 67
4, Rue de Strasbourg, L-2560 Luxembourg (Luxembourg)
Italian
Pizza
Delivery times
| | |
| --- | --- |
| Monday: | 11:15-13:45 18:00-21:45 |
| Tuesday: | 11:15-13:45 18:00-21:45 |
| Wednesday: | 11:15-13:45 18:00-21:45 |
| Thursday: | 11:15-13:45 18:00-21:45 |
| Friday: | 11:15-13:45 18:00-21:45 |
| Saturday: | 12:00-13:45 18:00-21:45 |
| Sunday: | 12:00-13:45 18:00-21:30 |
Users' reviews
Mean of the reviews
(106)
Whilst their pizza are praised I can't say much for the pasta dishes, disappointing
Great pizza and pasta, consistently delicious. Would give even more stars if I could. The only downside is that they don't seem to deliver their scrumptious lasagna.
Delicious as always with one exception: There were no mushrooms on the Pizza Prosciutto Funghi.
The order was right on time. Love all the different options they have on their menu. We tried the Bolognese and the Carbonara and although the flavor was kind of ok was expecting it to be a bit more balanced. Sause was super heavy, felt like I needed a big cup of tea after this meal.
Very good pizza and fast delivery
Des arancinis ! Niquel livraison impeccable
Can I give 6 stars? Thank you so much, Bella Napoli - and WeDely!
Pizzas excellentes, simples mais faites avec des ingrédients frais et goûteux, à la pâte bien croustillante au four à bois.
Gosh, we inhaled this pizza!!!! Go for it!
Les capelettis sont un véritable délice et la sauce est vraiment savoureuse!
best tortellini in Luxembourg
best tortellini in Luxembourg
Excellent pizza, well delivered still warm, yum !
Lovely pizzas. Yet it seems that the restaurant doesn't always take into account the clients comments/requests. It is so easy for Bella Napoli to slice the pizzas, whereas I produce a massacre trying to do it... Also why this time the delivery person did not come to the door of the building is a mystery. Yet, a tip was delivered, as usual.
Vos pâtes sont divinement bonnes et très bien servies au niveau de la portion. Petit plus pour le pain encore tout chaud servi en accompagnement. Merci d'avoir respecté mon commentaire :) Livraison rapide, service au top! :) :)
Lovely pizzas. Very good service. Thank you!
A must try among the Italian restaurants in Lux. I'd rather eat the pizza there instead of delivered to have it right from the oven and hot.
Pizza très bonne et livraison rapide ! Pas déçu
Lovely pizzas, as usual. Thank you and keep safe.
Une valeur sûre, Merci c'était excellent
Un des meilleurs restos italiens en ville!!!
Qualité et service au top! Vous êtes les meilleurs! 🙂
super nice pizza but only room temperature in Kirchberg
I love this restaurant! I was so happy when I finally saw it on delivery.lu! Great food as usual. Quick delivery and everything was still warm when it arrived. Perfect.
Delivered on time and food was nice and still very warm. Thanks!
Nostalgie ce soir: une panzerroti ayant le même goût que celle que me faisait ma Nonna jusqu'en 2018, qui ne fait malheureusement plus partie de ce monde... Merci beaucoup ;-)
Très bon! Et livreur sympa