4, Rue de Strasbourg, L-2560 Luxembourg (Luxembourg)
(170)

Attention!
This restaurant is temporarily closed, you can make an order anyway for a following date or time.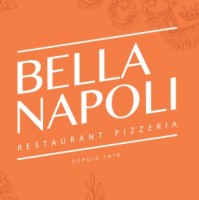 Bella Napoli
+352 49 33 67
4, Rue de Strasbourg, L-2560 Luxembourg (Luxembourg)
Italian
Pizza
Delivery times
| | |
| --- | --- |
| Monday: | 11:15-13:45 18:00-21:45 |
| Tuesday: | 11:15-13:45 18:00-21:45 |
| Wednesday: | 11:15-13:45 18:00-21:45 |
| Thursday: | 11:15-13:45 18:00-21:45 |
| Friday: | 11:15-13:45 18:00-21:45 |
| Saturday: | 12:00-13:45 18:00-21:45 |
| Sunday: | 12:00-13:45 18:00-21:30 |
Users' reviews
Mean of the reviews
(170)
Best italian pizza in Luxembourg in my opinion!
Best italian restaurant in Luxembourg.
One of my favorite italian restaurants!
Two stars because of a raw pizza dough in calzone, it's a difficult one to get right but it was a major disappointment to find unmelted cheese and raw dough in the middle.
Commande de fin de soirée difficile chez Bella Napoli. Deux pizzas presque sans tomate, (sur)chargées en fromage, plutôt sans goût mais très lourd ! La pizza aux fruits de mer (surgelés) était "mouillée", on le voyait sur le carton, trempé (et ce n'était pas un problème de transport). Bref, un ratage ce soir chez Bella Napoli alors que la qualité est normalement constante ... Et excellente !
Pizzas très bonnes, de qualité constante.
Good food! Nice taste, good quality and big portions!
Service rapide. Par contre c'est la deuxième fois que nous avons reçu des pizzas qui ne correspondaient pas à ce que nous avions commandé : un membre de ma famille est intolérant au lactose et de la mozzarella a été mise sur sa pizza alors que nous avions fait exprès de commander une pizza sans fromage !
Excellent food but came 25 minutes BEFORE the requested time
My favorite Italian restaurant in Luxembourg!
One of the best Italian restaurants in area Lux-Gare. And the only place where you can get a great Salmon Carpaccio.
Super rapport qualité/quantié prix
Very good pizza at good prices, highly recommend!
Took three different noodles for two persouns as they offer no "tri de pâtes" and it was delicious!
Best pizza in Luxembourg!
Goodbye Bella Napoli. The thick dough killed everything and had nothing to do with the Bella Napoli we expected - we have been customers for the past 10 years. It looked as if the ingredients had been thrown at the pizza for no particular reason, except to make it uglier. It will be very difficult to order again. Good delivery service.
Lovely pizzas, as usual. Excellent and fast delivery. Merci beaucoup et à la prochaine.
Bella Napoli ist bekannt für gutes Essen und da die Distanz der Lieferung weniger als 150 Meter beträgt, kommt das Essen auch einigermassen warm an. Leider beschränkt sich der Eigentümer darauf nur das Nötigste zu liefern. Eine Serviette könnte bei dem Preis drin sein.
Les spaghettis aux fruits de mer sont un délice.
J'espérais manger chaud, mais j'étais déçu! La pizza était froide,.....mais au moins bonne.
The best Italian place in Luxembourg!!! We were regular guests before COVID-19 and now we order very often from them. The food is delicious and ALWAYS arrives on time, pasta portions are huge and pizza tastes like in Italy. They never make a mistake and send you smth you did not order and you always get a piece of homemade bread with your order - just like in restaurant. Simply amazing!
Les pizzas sont vraiment excellentes
Mega lecker, wi emmer rem ganz gudd :)
Merci de m'avoir sauvé la journée :) C'était excellent!
Pizzas au top, comme d'habitude !
Amazing pizza, perfect bake
Les linguine au pesto étaient divinement bonnes. Le pain maison est un plus :) Beaucoup mieux qu'au restaurant. Je recommande vivement !!!
Une bonne pizza qui donne envie de revenir - attention à ne pas trop les cuire - une fois sur deux c'est limite