4, Rue de Strasbourg, L-2560 Luxembourg (Luxembourg)
(240)

Attention!
This restaurant is temporarily closed, you can make an order anyway for a following date or time.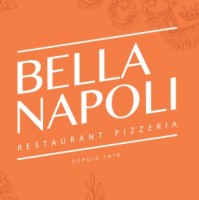 Bella Napoli
+352 49 33 67
4, Rue de Strasbourg, L-2560 Luxembourg (Luxembourg)
Italian
Pizza
Delivery times
| | |
| --- | --- |
| Monday: | 18:00-21:45 |
| Tuesday: | 11:15-13:45 18:00-21:45 |
| Wednesday: | 11:15-13:45 18:00-21:45 |
| Thursday: | 11:15-13:45 18:00-21:45 |
| Friday: | 11:15-13:45 18:00-21:45 |
| Saturday: | 18:00-21:45 |
| Sunday: | 12:00-13:45 18:00-21:30 |
Users' reviews
Mean of the reviews
(240)
De loin, le meilleur restaurant italien du Luxembourg. Merci pour les petites attentions ☺️
It was delicious but totally cold when the pizza arrived.
Commande nickel ; Livreur sympa. Parfait >>>Higly recomended<<
Pizza un pò bruciata nei bordi, mozzarella di bufala poco fresca
Deux pizzas parfaites, comme souvent, rien à redire: pâte, garniture, cuisson, transport, tout était parfait ! Un vrai pizzaiolo à la manœuvre !
The pizza doesn't look like a pizza and the dough is subpar. This is way too overpriced for what it is.
We just love Bella Napoli! Best resto in town!
Amazing pizza. Best one I've had so far in Lux. Thank you for always delivering quality!
Fast delivery, warm food and tasty!
The best delivery pizza in town!
Service impeccable! Pizza excellente, même en livraison. Livreur très courtois.
Très bonne pizzas!! Et leur cordon bleu crème champignons une tuerie!!
The pizzas are really good
Lovely pizzas YET again nobody reads the user's notes, so the pizzas were not cut (it takes them 1 minute to do a proper job and it takes me 10 minutes to slaughter the pizzas), and the egg was running... The chef could have been less generous with the salt in the dough and more generous with the ingredients in my beautiful pizza creation. The pizzas were also a bit too burnt. And now we pay a service fee (what do you mean by this?!?) and not even the notes are delivered... Delivery service very good.
Pizza presque comme dans le restaurant, super!
Très bonne escalope et bon accompagnement de pâtes. Bien plus authentique et bien meilleur que beaucoup de "Schnitzel" ailleurs en ville!
Souvent les pizzas sont excellentes chez Bella Napoli, une bonne référence à Luxembourg. Mais pas de chance ce soir malheureusement avec les pizzas, bonnes mais sans plus. La pizza aux champignons était un peu trop cuite et aussi desséchée après le transport, pas assez de tomate apparemment. Par contre la pizza Bella Napoli n'était pas assez cuite apparemment, l'oeuf à moitié cru, très délicat pour ceux qui ne mangent pas d'oeuf cru (pour raisons de santé ou autres). Bref, un peu déçu ce soir.
It wasn't the pizza I ordered, in addition it was cold and not very tasty
Sehr gutes Pizza und schnelle Lieferung
Delicious pizza and gnocchi bolognese. Thank you. Good delivery service.
Lovely pizzas and delicious gnocchi bolognese. Thank you! Delivery 15 minutes earlier but no issue for us, thankfully.
Après plusieurs ratages en livraisons de pizzas dernièrement, je retrouve le sourire avec Bella Napoli. Les pizzas de Bella Napoli sont toujours au poil, un pizzaïolo très pro et des pizzas toujours cuites au feu de bois pour croustillant garanti. Rien à redire cette fois: la pizza jambon-champignon et la pizza salami étaient toutes les deux parfaites!
Lovely pizzas as usual. Notes from user taken into consideration. Thank you for being open on a Sunday. Great delivery service. Stay safe and stay sane.
Meilleur restaurant italien au Luxembourg. On se lasse pas de commander chez vous. Merci de toujours respecter nos commentaires ❤️
Bon plat (linguine au pesto), très correct mais pas exceptionnel, un peu sec en fait ...
I cannot praise this place enough, absolutely amazing food, super huge portions and delivery always on time!