4, Rue de Strasbourg, L-2560 Luxembourg (Luxembourg)
(65)

Attention!
This restaurant is temporarily closed, you can make an order anyway for a following date or time.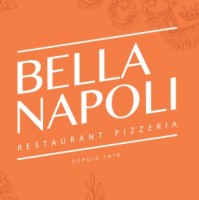 Bella Napoli
+352 49 33 67
4, Rue de Strasbourg, L-2560 Luxembourg (Luxembourg)
Italian
Pizza
Delivery times
| | |
| --- | --- |
| Monday: | 11:15-13:45 18:00-21:30 |
| Tuesday: | 11:15-13:45 18:00-21:30 |
| Wednesday: | 11:15-13:45 18:00-21:30 |
| Thursday: | 11:15-13:45 18:00-21:30 |
| Friday: | 11:15-13:45 18:00-21:45 |
| Saturday: | 12:00-13:45 18:00-21:45 |
| Sunday: | 12:00-13:45 18:00-20:45 |
Users' reviews
Mean of the reviews
(65)
Delivered on time and food was nice and still very warm. Thanks!
Nostalgie ce soir: une panzerroti ayant le même goût que celle que me faisait ma Nonna jusqu'en 2018, qui ne fait malheureusement plus partie de ce monde... Merci beaucoup ;-)
Très bon! Et livreur sympa
Perfect quality of food, delivered quickly. Thanks
Great pizzas, amazing service - as usual. Thank you! Keep safe.
Pizza and pasta were great! Toppings were fresh, and nice spicy oil on the side. Delivery was on time, and driver was very friendly.
Lovely pizzas, as usual. Pity that the customer cannot choose to have the pizzas cut. Despite the delivery happening 30 minutes after the requested time, due to the works at the station that resumed and drive everybody mad, it was a very good service. Keep safe and the good work.
Livraison rapide, pizzas délicieuses
Delivery on time, tasty food, and very professional personnel.
Pizza is always delicious. Better than many pizzeria in Italy
Je préfère les manger sur place
Lecker Pizza an pünktlech unkomm
Tout comme demandé et livré en temps prévu
Un grand merci au patron et cuisinier pour ces plats incroyables ! Voici les plats que nous avons commandés ( et nous les recommand(er)ons ) :) Panzerotto Fritto Capricciosa Parmigiana Tiramisu Super boulot et super goût, continuez ainsi. Famille W.
Panzerotto fritto excellent.. Arancini belle découverte.. Et le Tiramisu fraise maison un vrai délice.
One of my favorite pizza restaurant in Luxembourg, I highly recommend.
The pizza it is always delicious ! We totally recommend , and it is our favorite place to order ! The Tiramisu is amazing ! Congratulations!!
Ottima pizza, peccato che usano il cuore di bue al posto della salsa nella Bufala
Pizzas arrivées à l'heure ! Livreur sympathique !
Pizzas arrivées à l'heure ! Livreur sympathique !
One of the best Pizza's in town ! Thank you for your service
Gudd Pizza, seieren Service an net ze deier
Excellent pizza provided on exact time as I've requested. What is wiorth to mention, I've received 2 drinks - one from today and one from previous order :)
The pizza is really good and they really make it up for the mistake made last time!!!
Les pizzas sont excellente avec des condiments bien choisi, une sauce tomate qui a du goût et une cuisson agréable. Le tiramisu est à conseiller !
Perfect ! One of the best pizza we ordered in the past weeks !
Les meilleurs pizzas du Luxembourg!!! Un vrai régal😋
Perfect as usual. Comment ai-je pu m'en passer pendant le confinement?
Delicious Pizza - Thin Crust/fresh toppings/fast delivery Best Diavola Pizza for delivery in my opinion! Tops the others
Enfin les meilleures pizzas du Luxembourg en livraison !
Pizza really tasty and super fresh - 4 stars from 5 because I paid for a drink which was not delivered.
Les meilleures pizzas au Luxembourg et le tiramisu succulent 😛😛😋😋 Service très rapide
Been going to this place since 30 years and their pizzas and all other foods are very tasty!
By far best Pizza in Lux City
Outstanding pizzas, the best in Luxembourg
Delicious Pasta, fast delivery!