Zaid Grill
21, Route de Luxembourg, L-7240 Bereldange (Luxembourg)
(40)

Attention!
This restaurant is temporarily closed, you can make an order anyway for a following date or time.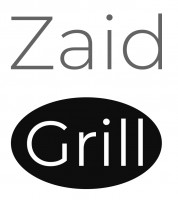 Zaid Grill
+352 26 33 07 66
21, Route de Luxembourg, L-7240 Bereldange (Luxembourg)
Kebab
Halal
Delivery times
| | |
| --- | --- |
| Monday: | 11:00-21:45 |
| Tuesday: | 11:00-21:45 |
| Wednesday: | 11:00-21:45 |
| Thursday: | 11:00-21:45 |
| Friday: | 11:00-21:45 |
| Saturday: | 12:00-21:45 |
| Sunday: | Closed |
Users' reviews
Mean of the reviews
(40)
Very nice food. Great taste and arrived warm. My favorite restaurant on Wedely!!
Sehr gutes Essen und schnelles Liefern 👍😊
bon , j'avais juste demandé sans sauce sur les frites mais dans le kebab oui , malheureusement ce détail n'a pas été vu , j'ai eu de la sauce sur les frites mais pas dans le kebab
Très bon Durum. Malheureusement les frites étaient molles et pas assez cuites
All food was delicious and hot. Quick Delivery. Will definitely order again.
Schnell, schön warm & flotter Geschmack 💪😎💪 immer wieder gerne 👍
Zuverlässig in Liefertempo & Produktqualität 😎💪👍
Fries were incredibly soggy to the point you couldn't pick them up anymore without them turning to mush. Falafel sandwich was alright but my request for sauce wasn't followed
Délicieux mais il manquer un baklava.
Tres déçus, ce n'est plus comme avant. Frites plus fines avec sauce oubliée. Assiette avec oubli des sauces dedans (j'avais demandé des sauces supplémentaires et me suis retrouvé avec 2 minuscules pots sans sauce dans l'assiette, très sec). Les quantités sont également plus petites (barquette de frite, sauces et contenu de l'assiette). Dommage, changement de propriétaire ou cuisinier?
Estandar kebab, good quantity. The tiramisu (€5) was literally whipped cream with cacao powder on the top, just don't order it.
Super bon et chaud, merci
Une livraison très rapide avec le sourire
Normal, m'attendais à mieux
Très bonne !! rapide !!! merci
Livraison rapide, Kebab excellent. Reçu 2 cocas 33cl au lieu de 2 cocas 50cl commandés, mais sinon tout OK.
Repas excellent, livraison très rapide et personnel très gentil et agréable. Merci beaucoup, bonne continuation!
Everything was delivered with the wrong sauce
Meilleur kebab du Luxembourg. Je me régale à chaque fois . Bravo à ce restaurateur
Having ordered quite a few times from Istanbul Grill, I felt like I have to share my great experiences with this place - the food is really great for the price and the salads are enormous and always fresh. Truly recommended!
Food was OK, but they apparently don't look at the User's notes
I love these guys. Good value for money. Very generous servings.
Fast delivery, really nice food, good price. Would recommend to everyone who wants a rapid and delicious meal.
La livraison était un peu trop longue et il manquait 1 coca zero, un coca et 1 petite frite. Sinon très bien!
Everything was delicious, wish there was one more kofte in the dish order though.
Très bon rapport qualité -prix On s'est régalées. Commande vite arrivee
Das Essen war sehr gut, allerdings vergebe ich die 3* da meine Wünschr nicht respektiert wurden. Ich bekam weisse Sauce anstatt Bbq zu den Nuggets. Hatte ohne Tomaten und scharf bestellt. Fehlanzeige. Ansonsten wie gesagt, dennoch gut!