Yamas
6, Rue D'Anvers, L-1130 Luxembourg (Luxembourg)
(44)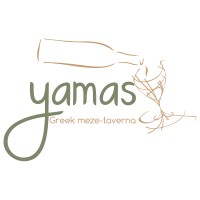 Yamas
+352 27 12 50 91
6, Rue D'Anvers, L-1130 Luxembourg (Luxembourg)
Greek
Mediterranean
Delivery times
| | |
| --- | --- |
| Monday: | 11:30-13:45 18:00-21:45 |
| Tuesday: | 11:30-13:45 18:00-21:45 |
| Wednesday: | 11:30-13:45 18:00-21:45 |
| Thursday: | 11:30-13:45 18:00-21:45 |
| Friday: | 11:30-13:45 18:00-21:45 |
| Saturday: | 12:00-13:45 18:00-21:45 |
| Sunday: | 12:00-15:45 |
Users' reviews
Mean of the reviews
(44)
Very good portions, very tasty food
Love the stuffed tomatoes and peppers - authentic flavour
Very tasty stuffed tomatoes and paprika
Very tasty stuffed tomatoes
Service tiptop an iessen ganz gudd
Very tasty!! Fast delivery. Will order again.
Very tasty food, driver should be more carefull spilled oil everywhere
Best greek in town Super good tarama.
Excellent food, as always!
Very high quality food - the delivery came extremely fast with warm food. Their moussaka is amazing! :-)
...as usual, very delicious. Fast delivery!
Great delivery service. Lovely food, as usual. Delicious salad - without peppers and onion, as requested. Keep safe and sane. Please.
Gutes Essen , empfehlenswert!
Great delivery service. Lovely (also to the eye) and tasty food, extremely well-packaged. Thank you and keep safe and sane, please
Popular with our kids. They love the chicken pitas and garlic bread. A fair priced go to when we don't feel like cooking.
Delicious food, properly packaged. Fast delivery service. Thank you!
Very good and freshly preparated Greek cuisine
Delicious, thanks!!! will repeat
Delicious, thanks!!! Will repeat
Je suis entièrement satisfaite. C'est très bon et la livraison se fait assez rapidement.
Generous portions of hearty food. Tasty meat. The grilled mix for two would be enough for three.
Yamas always delivers, satisfied customer
Nous avons pris 3 fois le même restaurant. C'était toujours très bon. Mais la dernière fois nous sommes restés perplexes: le plateau mélange d'entrées de 25 euros était très petits. Il y avait la moitié précise de ce que nous avions eu deux jours avant. C'était un peu brûlé et nous avons attendus 1h00 pour la livraison. Dommages car nous avions aimé vraiment beaucoup les fois précédentes
comme si nous étions en Grèce
Always good. Great starters and delicious gyros.
Excellent as always and quick delivery
Excellent as always. Food tasty and good value. Always a pleasure to order from Yamas
Très bons plats (moussaka et agneau au four avec pâtes grecques). Je dirais (mais la question fait toujours débat) que je préfère la moussaka sans pommes de terre, or ici il y en avait. Je dirais aussi que, si la viande au four était excellente, fondante, goûteuse, les pâtes aux tomates qui l'accompagnaient n'avaient rien de spécial. Peut-être un petit peu trop cuites, peut-être un peu trop neutres au niveau du goût. J'ai hâte malgré tout d'essayer d'autres plats, notamment les grillades!
Meat is too thick and dry - fries are too soft ... Ordered twice and disappointed twice
Fast delivery. The food was alright but nothing more. Portions could be a little larger.
Authentique cuisine Grecque, très bien faite, généreuse
Taverna style traditional homemade Greek recipes with fresh ingredients
Plats copieux et très goûteux. A recommander!
Tasty lunch ! Delivery on time ! Thanks !