Best Grill Clausen
Kebab Grill
63, Rue de Clausen, L-1342 Luxembourg (Luxembourg)
(44)

Attention!
This restaurant is temporarily closed, you can make an order anyway for a following date or time.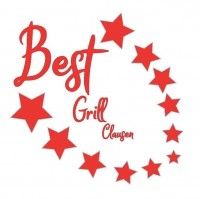 Best Grill Clausen
+352 27 84 83 86
63, Rue de Clausen, L-1342 Luxembourg (Luxembourg)
Burgers
Kebab
Halal
Delivery times
| | |
| --- | --- |
| Monday: | 11:00-21:45 |
| Tuesday: | 11:00-21:45 |
| Wednesday: | 11:00-21:45 |
| Thursday: | 11:00-21:45 |
| Friday: | 11:00-21:45 |
| Saturday: | 12:00-21:45 |
| Sunday: | 17:00-21:30 |
Users' reviews
Mean of the reviews
(44)
We ordered the food yesterday and it quite quick. All of us were very satisfied with the choice of this place and their food. If you want a good kebab and not dry meal (cause usually a lot of places lack of sauce at meals) - choose this place! We will definitely order kebabs again, thank you! ☺️
Top, mais comme d'habitude les frites sont dans un sachet fermé en plastique ce qui les ronds molles
Meilleur kebab au Luxembourg 👌🏼
Best brunch ever. The sandwich is absolutely delicious.
Malheureusement ma commande n'est pas correcte. J'avais commandé deix fois le Mexicain sans sauce et sans légumes. Mais il y a juste une fois le bon menu! Le deuxième a de la sauce et des légumes dessus. Merci
Livraison ok, mais personne ne m'a contacté que la livrasion a été effectuée.
Très bon Frites à ne pas mettre dans le sachet en plastique = condensation et elles deviennent toutes molles
Très bon le kebab, mais je vous le répète encore une fois, : Svp. ne mettez pas les frites dans le sachet en plastique fermé!!!!!!!
Rapide, chaud, bon. SVP ne mettez pas les frites dans un sachet en plastique fermé
Sehr gut Bitte die Pommes nicht in eine geschlossene Plastik Tüte stecken
Great Little suggestion, do not put the fries in a closed plastic bag
Très bon comme tjs. p Petit suggestion ne pas mettre les frittes dans un sachet en plastique non-percé
Très bon comme d'habitude
Very good, best Dürüm in luxembourg for sure
Delivery guy was very personable. :)
Très très bon. La sauce blanche est fraîche et crémeuse. La viande est bien grillé. C'est du poulet. Ce n'est pas du veau ou agneau comme en Turquie. Les frites dans le menu c'est pas beaucoup. Ont verra à la prochaine commande si c'est constant ou la qualité ça changer. 8/10.