MANI D'ORO
Pasta Fresca di Angela
243, Route d'Esch, L-1471 Luxembourg (Luxembourg)
(230)

Attention!
This restaurant is temporarily closed, you can make an order anyway for a following date or time.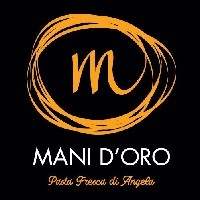 MANI D'ORO
+352 26 18 76 66
243, Route d'Esch, L-1471 Luxembourg (Luxembourg)
Italian
Salads
Pasta
Pizza
Delivery times
| | |
| --- | --- |
| Monday: | 10:00-19:45 |
| Tuesday: | 10:00-19:45 |
| Wednesday: | 10:00-19:45 |
| Thursday: | 10:00-19:45 |
| Friday: | 10:00-19:45 |
| Saturday: | 12:00-19:45 |
| Sunday: | Closed |
Users' reviews
Mean of the reviews
(230)
Great menu, it's a pleasure to order food from this place!
Les lasagnes étaient incroyables, comme tout le reste chez Mani d'Oro, je recommande ce restaurant!
I highly recommend this restaurant. Quantities and quality, everything was perfect. + staff is very kind. Don't hesitate to order at Mani d'Oro.
By far the best pizza and pasta I have ever had! Delicious! And staff is super friendly and welcoming..
Very nice home-made pasta and pizza. Delivery time as promised.
Excellent customer care! Mani d'oro went the extra mile by contacting me later to ask how we felt about the food. Really appreciated that.
Excellent food and service! Highly recommended .
The best carbonara that can possibly be delivered to your home. Highly recommended
Pizza was very good an delivery was fast 👍👍
Des pâtes excellentes Des portions généreuses et bien présentées Des pizzas au top 😋😋😋😋😋 👍👍👍👍👍
Great service and amazing italian food, I would definetly recommend it!
Really good food, well made with good ingredients..I have tried their Pizza, next time I wish to try the pasta as well..
Unfortunately today the carbonara was extremely too salty, I couldn't eat it. The other dish in the order was fine.
Ordered another time there few days after because it was delicious 😋
Amaziing pasta and fast delivery. Totally recommend!!
Meilleure pizza de Luxembourg
exceptions food and service! Authentic Italian cuisine
The food is amazing, it is so fresh and very tasty! We love the size options on the Pizzas :-) We have become regulars and the personal contact you keep gives the whole thing a very special touch - thank you!!!
Toujours un délice, quelques morceaux de pizzas offerts en plus de la commande! Je recommande!!
We were absolutely satisfied! The food could had been a little bit warmer, but I guess in January we have to deal with this kind of problems ;) We will order again!
Pizzas were excellent with very good and authentic italian ingredients ! Best pizza in town. I strongly recommend it!
5Stars! Delivery was fast and the pizza's were delicious and hot!
Best carbonara in Luxembourg!! Food arrived hot, was presented very well and included free bread too. Amazing!
Very tasty food! I recommend!
D'Pizza war supergudd - wirklech alles wat een sech wënscht... just se war nit mei ganz warm. Soss wieren et 5 Stären ginn
Excellentes pâtes maison avec très bonnes sauces! Service parfait. À recommander!
Excellents plats de pâtes - À recommander
Got 2 diefferent pasta dishes. Both of them were amazing, tasted super fresh, and were piping hot when I got them. Another thing I thought was super nice was getting a pizza on the house as well as a good bunch of bread I wasn't even expecting to get.
Super good! Food was warm by delivery and very tasty!
I ordered a pizza with artichokes and olives they were sadly missing . I received a four cheeses pizza instead.
It was really good but sadly the tray was not full.
Good quality Excellent delivery time Price is very expensive
Very good pizza (the small is an oval shaped one FYI) and Caesar salad was fresh
Très bonne qualité, je recommande!! Merci pour la bouteille de vin offert 😊
Tutto eccezionale.... sono felicissima di aver ordinato il mio pranzo da voi.. Bravissimi
Pizza was very yummy😁 Will definitely order again
Excellent De belles portions bien présentées
Tasty pizza and very nice service.
Great! Salads were delicious and we would order again.