MANI D'ORO
Pasta Fresca di Angela
243, Route d'Esch, L-1471 Luxembourg (Luxembourg)
(94)

Attention!
This restaurant is temporarily closed, you can make an order anyway for a following date or time.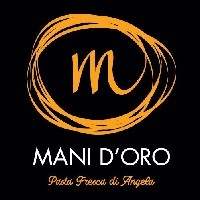 MANI D'ORO
+352 26 18 76 66
243, Route d'Esch, L-1471 Luxembourg (Luxembourg)
Salads
Sandwiches
Pasta
Pizza
Delivery times
| | |
| --- | --- |
| Monday: | 10:00-19:45 |
| Tuesday: | 10:00-19:45 |
| Wednesday: | 10:00-19:45 |
| Thursday: | 10:00-19:45 |
| Friday: | 10:00-19:45 |
| Saturday: | 12:00-19:45 |
| Sunday: | Closed |
Users' reviews
Mean of the reviews
(94)
2 commandes effectuées dans cette pizzeria : - la première fois, les pizzas nous ont beaucoup plu (4/5 car un peu de petite taille tout de même pour une pizza de 19€) - la deuxième fois, les 3 pizzas n'étaient vraiement pas bonnes ; aubergines pourries sur une pizza et la pâte des 3 pizzas trop sèches avec des croûtes immangeables. (1/5) nous sommes très déçus de cette dernière commande.
On m'avais déjà conseillé ce restaurant dont lequel j'ai finalement fini par essayer. Sans regrets, très délicieux, on retrouve toutes les saveurs. Merci 😊
Pasta was delicious. And the bread...super delicious. They didn't have one item i have ordered, but they called and offered me something else instead. Kids loved pizza Nutella of course:)
Excellent pasta- good portions and quick delivery!
Our favorite Italian restaurant in Gasperich area (I would even say in the whole city). Always tasty, the portions are large for us, so keep this in mind when ordering.
Second order as good as the first one. Pizza Montanaro was delicious. Very generous portions. Will order again.
Excellent food. Great customer service. The restaurant clearly takes pride in its work.
Best pizza in Luxembourg!
If you want to eat a good pizza .. I can tell you their pizza is more than amazing. If you're really hungry, buy a size up for the pizza :)
au top, très bon et très frais merci
The best Italian restaurant in Luxembourg :).
Definitely the best pizza in Luxembourg! Top quality ingredients and amazing customer service. A real Italian good experience 👌🏻🇮🇹🔝
Great service + pizzas among my top 5 around town
Pizza eccellente, promosso a pieni voti!
Très bonne pizza généreuse en fromage
I recommend, the food was delicious, the restaurant staff was amazing and on the top of that we got free desserts. I order again for sure!
Pizzas succulentes qui ont largement contribué au fait que l'on ait passé une excellente soirée!! Mention spéciale pour la calzone, à tomber par terre! Nous avons hâte de découvrir d'autres belles surprises de la carte de ce restaurant!
Absolutely perfect: good portions, fresh, quality pasta and fresh meat, I absolutely enjoyed it. Order and enjoy !
Ordered Mani D'oro and the pizza arrived perfectly. Incredible dough, and delicious fresh toppings! Fully recommend their fresh pasta as well. Will definitely order more soon!
Great food. Loved particularly the cannoli. Pizza is great too. And lovely staff!
Excellent food! Concerned about customer satisfaction, I highly recommend it.
We absolutely love this place! The delivery is as delicious as eating in. We tried different varieties of pastas and pizzas each time and never any disappointment. Thank you Mani d'Oro!
Absolutely fantastic food!
For a small pizza Marguerita the price was high. The mozzarella was not tasty since it was not fresh.
Delicous food. Specially the cannolo - it just tastes like Sicilie :)
I see there are already a lot of 5 star review. I can only add 5. I've been using Wedely for 6 months on a weekly basis and Mani d'Oro stands out! Kudos!
Toujours dans l'excellence. Produits top goûteux, soignés et de qualité supérieur. Les autres restaurants italiens vont avoir du mal à suivre ... hehe :)
Excellent ... produits toujours au top!
This restaurant is an amazing discovery. I used to follow them on social media and it was my first order. First of all the customer service is the best, I repeat the BEST. Then the food is perfect and you can feel the homemade touch. I will order again :)
Soooo good! Never disappointed when ordering from Mani d'Oro. And valid for both the pasta and the pizza! The friendliness is the cherry on the cake :-) Thank you!
fast delivery and very good food ! We ordered pasta, lasagna and a salad and everything was really good. We also had a Pizza Nutella, which was also delicious !
I have tried the pasta. It was really good. I will order again for sure.
One of the best Italian pizza's in Luxembourg! Not greasy, nice crust and fresh ingredients.. and delivered on time :D
Very good pizzas and deserts! Quick and friendly service.
Thank you so much) the meals were delicious. Definitely will be ordering again with no hesitation
Very good teglia!!! Amazing! really recommended
Fantastic pizza and very fast delivery! Highly recommend.
Excellent! Pizza très bonne et sa pâte exceptionnelle ! Service très aimable!
Une première commande de de 3 plats et ce fut simplement ... excellent !!! Vous pouvez y aller les yeux fermés. Plats goûteux et soignés.
Authentic pizzas and pastas! Highly recommended
Très très bon !!! Servis à temps (même en avance) et chaud ! Sans perte de qualité comme on peut avoir avec certaines commandes à emporter. Attention à la taille des pizzas, la Mezza de 20*30 cm peut sembler petite, mais elle est copieuse par sa belle garniture et sa pâte pas trop fine. Merci Mani D'Oro.
Finalmente una deliziosa pizza alla pala in Lussemburgo. Impasto buonissimo e ingredienti ottimi. Consigliato!
Food was great! Great pizza with super flavours ;)
Great italian food Love the xxl pizza 🍕 😍