MANI D'ORO
Pasta Fresca et Pizza
243, Route d'Esch, L-1471 Luxembourg (Luxembourg)
(300)

Attention!
This restaurant is temporarily closed, you can make an order anyway for a following date or time.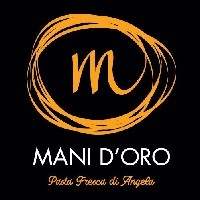 MANI D'ORO
+352 26 18 76 66
243, Route d'Esch, L-1471 Luxembourg (Luxembourg)
Italian
Salads
Pasta
Pizza
Delivery times
| | |
| --- | --- |
| Monday: | 10:00-19:45 |
| Tuesday: | 10:00-19:45 |
| Wednesday: | 10:00-19:45 |
| Thursday: | 10:00-19:45 |
| Friday: | 10:00-19:45 |
| Saturday: | 12:00-19:45 |
| Sunday: | Closed |
Users' reviews
Mean of the reviews
(300)
que ce soient des pâtes, des pizza ou des desserts: toujours excellent et à recommander et les livraisons toujours dans les délais !
Les pizzas étaient bonnes, malgré l'erreur sur ma commande... la pizza que j'ai reçu, c'était pas celle qui j'avais commandé...
Les pâtes étaient très bonnes. Service livraison sans souci.
Excellent pizza! I really recommend you this place!
Incroyablement bon. Les pâtes ainsi que la pizza sont extraordinaire. Livraison rapide les plats sont encore bien chaud. Et les petits extra surprises comme une bonne part de pizza margarita et deux grande pieces de focaccia sont la cerise sur le gateau. Votre service est vraiment au top. Merci beaucoup.
Les pizza sont vraiment super. Je commande toujours chez MANI D'ORO car je ne suis jamais déçu. Merci pour tout.
Una tra le migliori pizze che si può mangiare in Lussemburgo. Per me mangiatore di pizza do 9/10. Complimenti
Tasty pizza!! Arrived just in time and was still perfect to eat!
Timely delivery and delicious food. Thank you!
Good flavours overall. Long pasta for the Norma was oddly mushy. Maybe kept cooking in the hot sauce/hot weather? Eggplant parm was really tasty, would get again.
The pizza is good but if you have histamine intolerance please be aware of the fermentation time of the dough. They leave it too long and its full of histamine. But the food is good!
Amazing Italian restaurant! The food is really good and the staff is really polite and friendly.
Food was exceptional - fresh and delicious. Highly recommend.
All is perfect as usual 👍🤩😋😍
We made a big order on a Friday evening, everything arrived within the indicated time frame, very smoothly. Each of the many pizzas was different, with varied, well composed and generous toppings, simply delicious. I also liked the dough, not too thick, not too thin, not burned, just top! Last but not least, we were offered a bottle of wine with our order:) Excellent service in all respects, we will definitely return!
Livraison rapide, les plats étaient encore chauds, délicieux!! Merci Manidoro!
Première commande et c'était juste super ! Les pâtes étaient vraiment très bonnes, je les ai mangé jusqu'à la dernière, malgré un cadeau inattendu en plus de ma commande qui était aussi magnifique (sandwich avec jambon de parme et mozza, roquette, tomates, etc…). Encore merci pour le cadeau, le repas, et la pana cotta qui m'a calé pour de bon jusqu'au lendemain. En bref, je recommande vivement ce restaurant, vous pouvez y aller les yeux fermés. Superbe !
Excellent comme toujours, mon respect
Parfait!! tutto molto buono
everything was delicious 😋
Everything was perfect. Fast delivery, very tasty food and excellent customer service. We will repeat!
The pizzas (5x) we ordered were very tasty and still warm when we ate them, and even though i forgot to order one pizza initially, the additionnal order for the fifth via a phone call didn't prevent the Mani d'Oro Team from doing everything correct! All around a kind and tasty experience :)
excellent comme toujours et bien dans les délais
Délicieux et service ultra rapide
i ordered a pizza salami but received a veggie one 😔😔😔
Hi, scampi in the salad are missing ..
Première fois que j'essaye ce restaurant et je suis très déçue. J'avais commandé des tortellini avec la sauce bolognaise et crème et je le voulais gratiné alors j'ai payé un supplément, quand je l'ai reçu , bien sûr, ce n'était pas gratiné… de plus, 2 des 3 pizzas que j'avais commandé étaient brûlées. Je ne recommanderais pas, c'est dommage car il y avait de plutôt bons avis sur ce restaurant, mais bon tant pis.
Everything is great, but there's too much cheese on the piccante pizza for my taste
I was unlucky today, ordered a pizza and a tiramisu, the pizza was super hard and the tiramisu almost uneatable!!
Impeccable, à recommander
High quality ingredients and generous portion. Thank you.
Tiramisu n'a pas été livré Merci de le livrer encore maintenant
The pizzas were delicious, the extra toppings were added and the delivery was very quick also. Would definitely recommend!
Great pizza, crispy, fresh, excellent!
tastes very good. i've tried several things on their menu and i was always very satisfied!
La vraie cuisine italienne au Luxembourg