MANI D'ORO
Pasta Fresca di Angela
243, Route d'Esch, L-1471 Luxembourg (Luxembourg)
(40)

Attention!
This restaurant is temporarily closed, you can make an order anyway for a following date or time.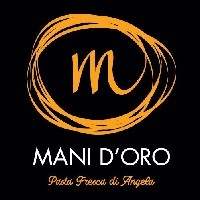 MANI D'ORO
+352 26 18 76 66
243, Route d'Esch, L-1471 Luxembourg (Luxembourg)
Salads
Sandwiches
Pasta
Pizza
Delivery times
| | |
| --- | --- |
| Monday: | 11:30-19:45 |
| Tuesday: | 11:30-19:45 |
| Wednesday: | 11:30-19:45 |
| Thursday: | 11:30-19:45 |
| Friday: | 11:30-19:45 |
| Saturday: | 12:00-19:45 |
| Sunday: | Closed |
Users' reviews
Mean of the reviews
(40)
Delicious pizza and amazing pasta! Thanks for the free desserts and kind notes on the pizzabox :) Much appreciated!
je me considere comme une mangeuse tres exigeante et je dois avouer que je n'ai absolument rien trouve a redire...absolument rien, plat arrive chaud, en 20 minutes chrono entre le paiement et la livraison (amazing !) et la qualite des ingredients exceptionnelle. A noter le petit mot sympa trouve sur le carton qui rajoute une touche tres chaleureuse ! bravo pour votre travail !
Super nice pizza and also Amazing fresh pasta!
Considering the good reviews I read on this pizza I have to say I'm quite disappointed. The pizza came stone cold, but probably this is the delivery guy's fault and the cold weather doesn't help. But apart from that I found the dough not very good, the tomato sauce too salty and they added too much mozzarella which was not a very tasty one. Considering one of the pizze was margherita... I mean, there was not much to say... I'm really sorry to give a bad feedback to a restaurant, specially in these difficult times, but I hope it helps to improve. Definitely this is not the best pizza place in town in my opinion.
yummy as every time. Seriously amazing pasta! next time I'm going for the pizza
Excellentes pizza et pâtes maison !
Highly recommended - food was delicious and pizza stayed well through the delivery. Also, the large pizza is great for a group order (if everyone wants the same topping) - truffle pasta was also fab
The food was amazing! We took pizza and pasta and both were really good. Delivery was on exact time which we appreciate when we are hungry :D We will order again for sure :)
Excellent food!!! Vert concerned about the customer, I highly recommend it.
The pizza was fresh, delicious, and authentic Italian. Delivery was fast and seamless. I would definitely order from them again and recommend anyone to try it. Looking forward to trying their pasta too!
Mani d'oro was recommended by us and it's definately worth to be. recommended ! We are ordering regulary and we are always happy with the order. The pastas are just delicious! Melting in your mouth! Pizzas have a different dough, very tasty and filling! Marguerita stays our favourite one! Simple but so tasty!
Fantastic pizza and pasta - even when delivered.
Super fast and super delicious pasta and pezze, very authentique 👌Tiramisu and Panna Cotta super good! We definitely order again!
Excellent pizza and super friendly staff. I will order again soon.
The pizza is really good!
Food was ok, portions were quite small compared to other Italian restaurants
Best pizza i've ever had in Luxembourg! The nutella one was just completely delicious!
Delicious tasty pasta, very good portions, excellent delivery packaging keeping the food hot, as served in the restaurant, foccaccia bread as a surprise offer, and excellent light Tiramisú. And extremely punctual delivery. Very recommended!
Pizza is outstanding - probably the best of this style in town. Cannelloni were also yummy. Will definitely order again and recommend it. Grazie, Cri
Très bonne cuisine, mets de qualité, savoureux, Livraison rapide. Parfait!
Best pizza in Luxembourg and impeccable customer service!
Delicious food, very personal with a message, best iIalian in Luxembourg. We will make sure to order again. Very recommended.
Amazing food and great service. We have been always careful when eating italian outside of Italy but we have been very satisfied with the food at Mani d'oro. Very tasty and authentic, it felt like Italy. We highly reccomend the place.
I'm a sucker for Italian cuisine and Mani D'Oro didn't disappoint! Very tasty dishes and ingredients. I wasn't sold on the Tiramisu but I guess it's on a personal taste (plus I'm really picky about that dessert :-) ) The personal touch is always welcome as they reached out to make sure I was satisfied with my meal. In days like these the act to care is always welcome
The truffle pizza is to die for, and the Margherita feels like an instant trip to Naples! The Tiramisù: a delicious, irresistible temptation. Well done, Mani d'Oro, and expect us to order from you soon again.
Qualité des plats et du conditionnement au top. Service attentionné avec une galette apéritive et 2 coupes de tiramisu en désert offerts. Livraison 10min avant la fin du temps imparti.
The pizza dough was excellent made with a special flour and also the ingredients chosen as mozzarella and vegetables were excellent and fresh 👍 Very friendly and concerned in asking if we enjoyed the pizza. We will reorder soon.
" Déguster une vrai pâte à pizza avec des produits de qualité... le combo parfait pour se remonter le moral en cette période! 🥰 Je recommande fortement 👍🏼 "
I love their Pizza, Squared, pre-cutted and the base is just like perfect.
Pasta is always fresh and very delicious. Very good and quick service. I can only recommand to order and try
Ce sont des vrais pates faites maison . Excellent et les quantités sont généreuses. Des petites attentions offertes. Merci
Good first experience. Delivery right on time. Savoury, 100 % home-made and fairly priced dishes and deserts. The quality of the ingredients do make a difference.
The best pasta ever, prices an quantity very correct. Recommended 😊
Des pizzas gourmandes et des tiramisus à tomber. Belle découverte!
Ganz pünktlech beliwwert. Nuddelen super Qualitéit an och nach gutt warm. D'Sauce war just bal ganz ausgelaf! Dessert derbäi - dat war eng flott Iwwerraschung.
As an italian I am normally quite picky when it comes to pizza delivery but this one is the best in town! Their pizza is crunchy and just delicious! Ingredients are fresh and tasty. Highly recommended!
Délicieux! Ingrédients de grande qualité; merci!
*****Delicious***** The restaurant is beautifully decorated and the food quality is excellent!! We had some amazing Pizzas and Pasta, both truly delicious, we can highly recommend!! If you want to taste some real italian food, you are here at the right place!! @ Mani D´Oro @ Emanuele Criscione thank you very much! You made our day :-)
The pasta was very tasty. However, at nearly 20€ (19.8 to be precise) for a tiny bowl it is just totally overpriced ! That portion is hardly a starter in most restaurants. 2 stars because of the taste and the fact that they deliver throughout the afternoon.