MANI D'ORO
Pasta Fresca di Angela
243, Route d'Esch, L-1471 Luxembourg (Luxembourg)
(132)

Attention!
This restaurant is temporarily closed, you can make an order anyway for a following date or time.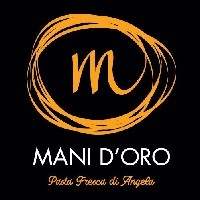 MANI D'ORO
+352 26 18 76 66
243, Route d'Esch, L-1471 Luxembourg (Luxembourg)
Salads
Sandwiches
Pasta
Pizza
Delivery times
| | |
| --- | --- |
| Monday: | 10:00-19:45 |
| Tuesday: | 10:00-19:45 |
| Wednesday: | 10:00-19:45 |
| Thursday: | 10:00-19:45 |
| Friday: | 10:00-19:45 |
| Saturday: | 12:00-19:45 |
| Sunday: | Closed |
Users' reviews
Mean of the reviews
(132)
Manger très très bon! I vaut définitivement son prix. Livraison rapide. Service convivial. Je vais vous recommander.
Delicious pizza, fast delivery:) thank you
Really satisfied with the order, great food that tasted amazing at the same time healthy choices offered i.e. Vegan option!!!! I will order more often!
Awesome pasta ! and i'm not even mentionning the cannolo ... Definitely a Top Place with excellent food !
Tried once. Not really good.
The Restaurant is insane.
There is no better place to order fresh pasta than this restaurant. Service als great
Fast, still hot and incredible tasty.
Best Noodles in town ! Always a pleasure
Throughout the pandemic Mani d'Oro has been a real life saver. They care, they deliver, and even when ordering online you feel that you are not just a customer, but...I don't know the word for it...you feel like being in your go to place. Thank you.
tout était bon à la prochaine
Amazing food and customer service.
Très bonne pizza, je recommande.
Ordered multiple times from this Restaurant. Never disappoints. Hands of gold indeed. Grazie mille. Ricardo
We tried pesto for the first time and it was delicious! Truffle pasta and melanzane was best as always. They also made our day with a sicillian red wine. Canneloni is a must!
Probably the best pizza I've eaten in Luxembourg. Highly Recommended!!!
Fast and very good pizza!
Rapide et bon 😊 très bon service
Excellent!!! Très bon !!!!
Really unique and high-quality pizza - all top notch. I would especially recommend the diavola and the truffle pizzas. Looking forward to trying more though, as so far 2/2 were brilliant. Also great service that went the extra mile to make sure we were happy with everything. Thanks :)
today delivery again fast and pasta as good as always but I received a bottle of san pellegrino sparkling water instead of the limonata so I am taking down one star.
Mushroom sauce was very good and the delivery was fast.
Eating out in Luxembourg is outrageous. They generally suck and charge you a kidney. Food is crap, or meh at best, and the service is also kinda sad. There are only a very, very handful few that I would go out and spend my hard-earned money on. One of them is Mani d'Oro. My husband and I are not Italian, but awesome food is awesome food. And Mani d'Oro makes AWESOME FOOD. We can't stop eating their food and they will be the sole reason of our winter weight this year. The pasta is fresh with great texture. The sauce is beautiful. The cannoli made me roll my eyes to the back of my head. The people are so nice to top it off. I love personable service. Please never sacrifice your food and service quality for ANYTHING.
We had Carbonara, Lasagne and Napoletian. The taste is absolute amazing. The Service is also incredible good. Best Restaurant in town
ABSOLUTE AMAZING FOOD & SERVICE
Due to a small delivery mistake the guy contacted me on whats app and informed me about the situation and apologized. Truly amazing customer service. I got also a teramisu for free. Great taste again
Great healthy and tasty food. I had the ricotta spinach caneloni and they were very good.
Another order and another great experience. Thank you for the food and the great customer service.
Great pizza, delicious cannoli and perfect service. Thank you.
The taste was very good. Only bad thing was that the package damaged and all the pesto was inside the box. Could have been a little bit hotter also. But very good taste
Ordered first time pasta and cannelloni. Super delicious and will definitely order again. Recommend 5/5
2 commandes effectuées dans cette pizzeria : - la première fois, les pizzas nous ont beaucoup plu (4/5 car un peu de petite taille tout de même pour une pizza de 19€) - la deuxième fois, les 3 pizzas n'étaient vraiement pas bonnes ; aubergines pourries sur une pizza et la pâte des 3 pizzas trop sèches avec des croûtes immangeables. (1/5) nous sommes très déçus de cette dernière commande.
On m'avais déjà conseillé ce restaurant dont lequel j'ai finalement fini par essayer. Sans regrets, très délicieux, on retrouve toutes les saveurs. Merci 😊
Pasta was delicious. And the bread...super delicious. They didn't have one item i have ordered, but they called and offered me something else instead. Kids loved pizza Nutella of course:)
Excellent pasta- good portions and quick delivery!
Our favorite Italian restaurant in Gasperich area (I would even say in the whole city). Always tasty, the portions are large for us, so keep this in mind when ordering.
Second order as good as the first one. Pizza Montanaro was delicious. Very generous portions. Will order again.
Excellent food. Great customer service. The restaurant clearly takes pride in its work.
Best pizza in Luxembourg!
If you want to eat a good pizza .. I can tell you their pizza is more than amazing. If you're really hungry, buy a size up for the pizza :)