MANI D'ORO
Pasta Fresca di Angela
243, Route d'Esch, L-1471 Luxembourg (Luxembourg)
(162)

Attention!
This restaurant is temporarily closed, you can make an order anyway for a following date or time.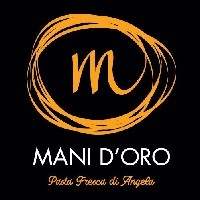 MANI D'ORO
+352 26 18 76 66
243, Route d'Esch, L-1471 Luxembourg (Luxembourg)
Salads
Sandwiches
Pasta
Pizza
Delivery times
| | |
| --- | --- |
| Monday: | 10:00-19:45 |
| Tuesday: | 10:00-19:45 |
| Wednesday: | 10:00-19:45 |
| Thursday: | 10:00-19:45 |
| Friday: | 10:00-19:45 |
| Saturday: | 12:00-19:45 |
| Sunday: | Closed |
Users' reviews
Mean of the reviews
(162)
Perfect the food was excellent
Fresh food and so delicious!!! Definitely ordering again! 🤗
We ordered several times so far and delivery was always on time. The dishes are tasty and of good quality. Yea he portions are usually very generous. However, today's porcini sauce on pappardelle was weirdly sour - Hope we won't have health problems after eating it.
Bonjour, je voulais juste signaler que notre commande Pizza n'était pas complète, les suppléments salami et oeuf étaient absent
Très bonne adresse. Je recommande vivement.
The pizza Burrata was excellent. Great service as always.
L'oeuf sur la pizza n'était pas cuit et il manquait le jaune d'oeuf?
Sincèrement la meilleure que j'ai jamais mangée 👍
I had the napoletian pasta and its absolute nice who good it was ! will order again
Great as always ! absolute the place to go!
Great food! Pasta, pizza, salad - all high quality and nicely packed.
Une valeur sûre !!! Vous me ramenez en Italie avec ces saveurs !
5☆+: impeccable de A à Z .
We ordered pasta, pizza and dessert and all were exceptional. Will definitely be a regular customer here!
Présentation hors pair, bonne portion et goût délicieux. A répéter
Excellent pizza and excellent prize. It arrived warm and it was still delicious when I heated up a couple of slices next morning. Piacerà anche agli italiani!!!!
One of the very best pizzas and awesome service !
great food and delivery fast
Insane food. Insane service. Cant find any better so far
Ordered many times from Mani d'Oro, the food is consistently good and the service is quick. Pop them a visit if you can, they have very friendly staff who give good recommendations as well.
Good savory food and they gave us free focaccia :D
Very good food. I ordered a pizza and it was just perfect. Fast and friendly delivery. I will always get my pizzas from here when I'm in Luxemburg
Excellent food and very caring service. Thank you.
Great food, it never disappoints. And if you're in the area jump in the staff is really friendly too. Always a good adress
The food is incredible good. the delivery guys from wedely still have issues to deliver it to the correct place but the food is still hot always and great !!!
outstanding food and outstanding service
Simply the best pasta in town ! Great taste, perfect size and amount.
Wonderful flavors, fresh ingredients, trully home made feeling. Customer service also excellent. Dont forget to try the cannoli!
Manger très très bon! I vaut définitivement son prix. Livraison rapide. Service convivial. Je vais vous recommander.
Delicious pizza, fast delivery:) thank you
Really satisfied with the order, great food that tasted amazing at the same time healthy choices offered i.e. Vegan option!!!! I will order more often!
Awesome pasta ! and i'm not even mentionning the cannolo ... Definitely a Top Place with excellent food !
Tried once. Not really good.
The Restaurant is insane.
There is no better place to order fresh pasta than this restaurant. Service als great
Fast, still hot and incredible tasty.
Best Noodles in town ! Always a pleasure
Throughout the pandemic Mani d'Oro has been a real life saver. They care, they deliver, and even when ordering online you feel that you are not just a customer, but...I don't know the word for it...you feel like being in your go to place. Thank you.
tout était bon à la prochaine