LUX'BURGERS
PARCOUREZ L'EUROPE DES SAVEURS
17, Rue de Bonnevoie, L-1260 (Luxembourg)
(33)

Attention!
This restaurant is temporarily closed, you can make an order anyway for a following date or time.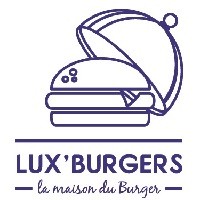 LUX'BURGERS
+352 26 19 00 70
17, Rue de Bonnevoie, L-1260 (Luxembourg)
Burgers
Delivery times
| | |
| --- | --- |
| Monday: | 11:30-14:00 |
| Tuesday: | 11:30-14:00 |
| Wednesday: | 11:30-14:00 |
| Thursday: | 11:30-14:00 |
| Friday: | 11:30-14:00 18:45-21:15 |
| Saturday: | Closed |
| Sunday: | Closed |
Users' reviews
Mean of the reviews
(33)
Excellent comme toujours et un grand merci au chef et à toute l'équipe, vous souhaitant bon courage et avec mes meilleures salutations, Romain
Les meilleurs burgers du Luxembourg sans aucun doute.
Excellent burgers ! Des ingrédients de qualité, des recettes top (pas trouvé mieux au Lux) et rien n'est perdu par rapport à un repas sur place (vivement que cela reprenne), Je recommande chaudement !
top burger! french fries are delicious
The burgers are amazing! One of the few restaurants where the food is so good that it's like being back in the restaurant.
Très bon et emballage parfait
OMG!!!! On s'attendait pas à ça mais c'était super!!! Frites au gras de bœuf et burgers juste super bons, généreux et méga goûteux. Merci à vous, on recommandera!!!
Excellent service/delivery and as usual a yummy burger, best in town.
Sans doute les meilleurs burgers de la Ville qui sont tout autant excellents en livraison. Merci à Laurent et toute l'équipe.
we got one alfred and one obama: super tasty!! very good
Le Karl, l'Obama, l'Henri, .. en fait ils sont tous super bons! Quel joie de si bien manger dans les circonstances actuelles :)
Tout simplement très fort, et même formidable. Les meilleurs burgers que j'ai pu déguster jusqu'à présent. Et la mousse, un délice! Merci Lux'Burgers! Bisi
Excellent Burgers and fries, even considering the time of delivery
excellent quality! best burgers ever
amazing! loved it very mcuh
amazong as always! the best burgers in town
Great Burger, maybe the best in Luxembourg. i had the Obama, and it was really good !
Quantité et qualité. Très bon.
Les meilleurs burgers à Luxembourg ! Ça faisant longtemps que j'attendais la livraison à domicile. Livraison rapide et même goût qu'au restaurant. Parfait
Not overloaded. Great taste. Big serving. One of the best burgers in town.
Great hamburgers, good fries (although they forgot to give mayonnaise and ketchup).