15, Rue Dicks, 1417 Luxembourg (Luxembourg)
(56)

Attention!
This restaurant is temporarily closed, you can make an order anyway for a following date or time.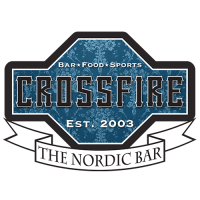 Crossfire
+352 49 84 31
15, Rue Dicks, 1417 Luxembourg (Luxembourg)
Burgers
Salads
Delivery times
| | |
| --- | --- |
| Monday: | Closed |
| Tuesday: | 18:00-21:30 |
| Wednesday: | 11:45-13:30 18:00-21:30 |
| Thursday: | 11:45-13:30 18:00-21:30 |
| Friday: | 11:45-13:30 18:00-21:30 |
| Saturday: | 12:00-21:30 |
| Sunday: | 12:00-21:00 |
Users' reviews
Mean of the reviews
(56)
Best Delivery Burger in town, well done
One of the best burgers in Luxembourg next to Luxburgers
Awesome Burger, great bang for your buck, will order again
Good burgers! Good delivery
The Odin burger is fabulous! The little salad is also nice. I will definitely order again.
The burger and the fries were a bit cold, but tasted good. Unfortunately no coleslaw salad with the delivery, even though (as per description) it should be included.
Très bon le Thor Bacon Blues, mais je pense qu'à ce prix, vous pourriez ajouter une poignée de frites supplémentaires.
Probably the best burgers in town, but sadly they seem to have changed the portion size and the bread which severely changes the quality of the burger. i hope they will revert to the previous version or i will probably not stay a faithful customer for long.. sadly
Hamburgers were tasty! My order arrived hot and the portions were great.
Delicious spicy burgers! And my better half tells me the vegetarian option is quite good also :)
Yummy is all I have to say !
Good quality food, excellent fries!
Great burger and great delivery
Tres bons burgers avec steak généreux. Livré à temps et chaud.
Huge delicious burger, great fries, just wish we had received the slaw :(
Unfortunately beverage was missing, can you kindly organize the reimbursment of the amount of the drink ? Thank you
Quick delivery. Huge portion. Very tasty. Keep it up!
D'Iessen ass excellent. E bessi lásteg ass awer d'Fritte-Lotterie. Heiansdo kritt ee Fritte beim Hamburger dobäi an heiansdo net. Des Kéier hat ech Een Hamburger an Ee Mol Fritte bestallt, an krut dunn 2 Portioune Fritten. De läschte Kéier hat ech just den Hamburger bestallt a krut du guer keng Fritten. Et wier gutt wann an der Beschreiwung géif dobäi stoen, ob Fritten dobäi sinn oder nat, an wann et dann och all Kéiers d'selwecht wier. Awer d'Iessen ass genial.
Thanks for fixing the order and the extra beers ! I always order from you guys because I love your burgers and I will continue to do so, as I was surely a Viking in a former life and it will please Odin...
Nouvelle présentation et préparation, mais toujours bon
5 étoiles (+) pour le burger et les frites, adresse incontournable pour chaque amateur de burger!
Tout très bien, délicieux.
Decent food. Fries a bit soggy.
Outstandingly tasty food. Decent portions.
The burger was really good. The fries however were disappointing. They were soggy and clearly undercooked… which is a real shame because the fries used to be brilliant :-(
Plus: this time the salad was very good, not too vinegary at all. Minus, but a very small one: this time the fries were not so crisp as last time. But they were good anyway. In addition: NORR drinks are very nice and we loved them but please do check their Best Before date, ours was in February 2021.
Very tasty burger, it is quite pricey but still worth it.
Nous sommes fans! Tout est bon. Je recommande particulièrement les raviolis à la viande. Ils sont comme ceux de ma grand-mère.
Très deçus: frites pas assez cuites et molles, cuisson de la viande pas respectée, pains burgers pas tops, salade et vinaigrette industrielles vraiment pas terribles....Quelle déception, surtout pour 40 euros pour 2 burgers...
Second time ordering here and was not disappointed. The halloumi burger was very nice, huge portion of fries and good salad. Recommended!
Hamburgers au top. Manquait juste 2 sauces et les frites pas assez cuites, mais franchement c'était quand même très bon!
Asked for a well-done cooked burger , got a rare/medium rare cooked burger instead. Good fries though.
The burgers were excellent (the chicken was tender and delicious). Good portion of fries, which were equally good. Nice side salad. The food was still hot when it arrived. Will definitely order there again!
Extremely tasty burgers with a huge portion of french fries and salad! It was so good and the food was still warm by the time it was delivered.
.... Burger, Wrap and Chicken Nuggets are very delicious!
Tasty burgers and fries! :)
Very good juicy burger and crisp, spicy fries! Salad could have been less vinegary but then, kudos for at least having a salad, because not every resto does!
OMG ! Those fries are from heaven ! Quick delivery & very tasty food.
Juicy burgers and a lot of fries! the salad was a little too oily but nevertheless one of the best burger places in Luxembourg.
Très bon, cuisson du burger parfaite. Ça aurait pu être un peu plus chaud et je prendrai un autre emballage pour les frites, sinon rien à dire 😊.
Very tasty! Please ask as well how the meat should be grilled (rare, mid-rare, well-done)