Bazaar
Bar and Restaurant
46, Place Guillaume II, L-1648 (Luxembourg)
(20)

Attention!
This restaurant is temporarily closed, you can make an order anyway for a following date or time.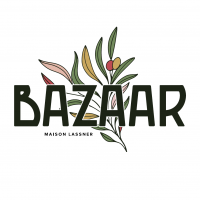 Bazaar
+352 28 99 07 07
46, Place Guillaume II, L-1648 (Luxembourg)
Mediterranean
Moroccan
Brasserie
Delivery times
| | |
| --- | --- |
| Monday: | 11:00-21:45 |
| Tuesday: | 11:00-21:45 |
| Wednesday: | 11:00-21:45 |
| Thursday: | 11:00-21:45 |
| Friday: | 11:00-21:45 |
| Saturday: | 12:00-21:45 |
| Sunday: | Closed |
Users' reviews
Mean of the reviews
(20)
Rien à dire, trop bon! Humus 10/10
Everything we ordered was really good, especially the beef hummus, which was to die for.
Parfait, tout y était, et très bonne nourriture. Kefta, aubergines, falafels tres appréciés.
The good is incredible, the babalasagne is probably the best veggie lasagna you'll ever taste !
Un délice de saveur,et jolie présentation..merci
Can't recommend the tagine highly enough
on n'a pas recu le bon pain...
Grosse déception sur ma commande pour la première fois le pain challah était sec, trop cuit et je doute franchement qu'il soit frais du jour. Dommage !
I know that it is hard to make things look good for delivery but there was literally no efforts. Also the falafels were dried and hard. I really do not recommend for delivery
Poor service and attention to detail from this restaurant. I received an incomplete delivery missing the main dish. After I called the restaurant they resent the order, but it arrived frigid cold and still incomplete without any pita! Very disappointing experience.
Ordered 3 menus, all 3 arrived cold... Pulpo menu look like an entrance, for the price it's not appropriated, and the description tell also with mashed potatoes and there wasn't any... Last time that I ordered at this restaurant for me !
Très bon - comme si on était au restaurant!
Top du Top. Porc basse température = succulent. Hummus Shawarma aux pleurottes = meilleur Hummus que j'ai mangé. Falafel avec assortiment de pickles = Pickles maison du jour, Falafel bien assaisonnés de main de maître. Je recommande VIVEMENT. Livré à la clinique Bohler en pleine semaine, livraison arrivée à temps, tout chaud, tout bon!
As delicious as eating on site :)