Mad about Peru - Centre
42, Rue de Hollerich, L-1740 Hollerich (Luxembourg)
(38)

Attention!
This restaurant is temporarily closed, you can make an order anyway for a following date or time.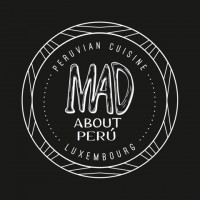 Mad about Peru - Centre
+352 621 786 325
42, Rue de Hollerich, L-1740 Hollerich (Luxembourg)
Peruvian
Delivery times
| | |
| --- | --- |
| Monday: | Closed |
| Tuesday: | 12:15-13:45 19:15-21:45 |
| Wednesday: | 12:15-13:45 19:15-21:45 |
| Thursday: | 12:15-13:45 19:15-21:45 |
| Friday: | 12:15-13:45 19:15-21:45 |
| Saturday: | 12:15-13:45 19:15-21:45 |
| Sunday: | Closed |
Users' reviews
Mean of the reviews
(38)
Quick delivery and delicious arroz chaufa de pollo
Mauvaise commande livrée.
Commande reçue sans la bière pourtant payée.
Service rapide, le plat QUINOTO CON HONGOS est très bon et copieux :)
La nourriture est bonne, mais c'est très peu pour son prix, surtout le ceviche, très peu et je le vois aussi cher pour son prix...
The lomo soltado is INCREDIBLE
Plats savoureux mais quantités beaucoup trop faibles;
ARROZ CHAUFFA AU POULET, LOMO SALTADO and Cuzqueñas was our first order. Everything was delicious and we can hardly wait to repeat. Great delivery service. Thank you.
Lomo Saltado is delicious! Great food!
My first order and what a treat. We ordered Ceviche Classique MAD, Ceviche Nikkei, Salade de Thon, Brochette de Poulpe and Lomo Saltado. All was very tasty and Lomo Saltado was to die for! Plus the order arrived exactly at 19.55 as requested (2 minutes earlier to be exact). Very happy.
Terrible service as always. I ordered Arroz and they send quinoa. Last time was the same, with q different plate. They send whatever other thing they want or have in stock. Also, order arrived 40 minutes before than the time I requested it. They don't read the orders properly?
To expensive for the quanty
We love Mad about Peru! Always very tasty, thank you!
Delicious and quality ingredients. Will certainly repeat.
AMAZING. VERY NICE SERVICE.
10/10 the food is amazing, I have never been able to find a restaurant in Luxembourg that serves authentic Peruvian food but this one I can only recommend
This was our first order and certainly not our last. Excellent food!
Best delivery. Never dissapoint
Délicieux! Je ne peux que recommander!
Excellent. Delicious. Amazing :)
Delicious dinner with peruanachos, ceviche, and lomo saltado. I will definetely order again! Muchas gracias.
Ordered YUCAS FRITAS A LA HUANCAINA and ARROZ CHAUFFA AU POULET - very fresh tasty dishes cooked to order - recommended
Absolutely delicious ! We ordered the starters for two: generous portion and arrived super crispy! For mains Octopus skewer and Lomo Stir Fry which were both cooked perfectly !!! We truly felt like eating at the restaurant, no drops in quality... even the presentation was good ! Support Mad about Peru ! 😋
The food was really very good and nice portions.
Une explosion de saveurs , des cuissons parfaitement maîtrisées et des produits de grande qualité ! Merci 🤩
Very tasty and well packed
sadly we order one dish without ognions and it came with anyways...