Infinity Burger
Infiniment bon !
42, Rue de l'Industrie, L-8069 Strassen (Luxembourg)
(25)

Attention!
This restaurant is temporarily closed, you can make an order anyway for a following date or time.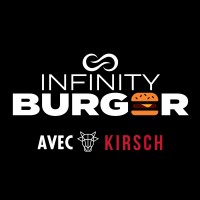 Infinity Burger
+352 27 56 14 00
42, Rue de l'Industrie, L-8069 Strassen (Luxembourg)
Burgers
Delivery times
| | |
| --- | --- |
| Monday: | 11:30-14:00 17:45-21:45 |
| Tuesday: | 11:30-14:00 17:45-21:45 |
| Wednesday: | 11:30-14:00 17:45-21:45 |
| Thursday: | 11:30-14:00 17:45-21:45 |
| Friday: | 11:30-14:00 17:45-21:45 |
| Saturday: | 17:45-21:45 |
| Sunday: | 12:00-14:00 17:45-21:30 |
Users' reviews
Mean of the reviews
(25)
The meat is good but a burger is not only meat.. the bread is twice the size of the burger and it's too dry. The French fries unfortunately arrived quite cold so it's impossible to judge them. I will not order again from Infinity, i'm sorry.
Génial ! Commande reçue rapidement et délicieuse
Super Restaurant, très bonne qualité👌🏼 Je peux que recommander! 😍
The meat of the burger was perfect. The way it was put together thou, not as such. The bread was poorly cut and the top of the burger was almost non existent. For a 17 Euro burger, the presentation was not great but overall that was a good burger. A bit pricey but good.
Le BBQ est trop bon merci
Veggie-Burger is an insult for the money they are asking. Fries were like rubber and oily, maybe due to the delivery in a closed styrofoambox. Meat was apparently too dry. But we got a bottle of wine, which makes up for it a bit.
Simplement très bon Burgers. Bien garni, goût parfait. Ayant déjà commandé plusieurs fois, je recommande vivement. Bravo
Le pain maison est authentique On a bien apprecié merci
This is not a burger. Fries are home made but very oily and burned.
Les meilleurs burgers !!!
Burger végétarien was really good! But the fries was a joke... i had less then 10 pieces and they were cold, overcooked and not eatable. And i asked for mayonnaise i received mustard...
We ordered two burgers and they were delicious, good meat and good ingredients and the bread is something else, I loved it! There was a misunderstanding with the restaurant when I first called to get some info and they realized about this when I made the order. They took ownership of the misunderstanding and were very professional and kind by offering us a bottle of wine and a dessert, many thanks for this, it was really appreciated! We will definitely order again
Livraison très rapide, infinity burger goûtu et consistant qui ne vous décevra pas ! Je recommande et recommanderai
Great burgers !!! Way better than ordering a fast-food thank you
burger overcooked and dry, bread sloppy, asked for jalapenos, there weren't any on the burger, still paid the 1€50 for them. Dissapointed with the mozzerella sticks, burnt and no cheese left inside.
Au TOP ! Délicieux! Je recommande. Bravo
Excellents Burgers, la qualité de la viande est remarquable avec un pain original 🤎
Fries : less than 10 barely cooked huge potato chunks. Don't know what happened there. Burger : Cucumber instead of ordered gurkins, (almost stale) bread almost comically undersized compared to the contents, making the whole almost impossible to eat. Meat is quite good though. Strange experience.