Lokaal
29, Boulevard Grande Duchesse Charlotte, L-1331 (Luxembourg)
(74)

Attention!
This restaurant is temporarily closed, you can make an order anyway for a following date or time.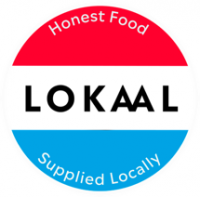 Lokaal
+352 621 533 501
29, Boulevard Grande Duchesse Charlotte, L-1331 (Luxembourg)
Healthy
Vegan
Vegetarian
Brunch
Breakfast
Delivery times
| | |
| --- | --- |
| Monday: | 09:00-19:30 |
| Tuesday: | 09:00-19:30 |
| Wednesday: | 09:00-19:30 |
| Thursday: | 09:00-19:30 |
| Friday: | 09:00-19:30 |
| Saturday: | Closed |
| Sunday: | 12:00-14:30 |
Users' reviews
Mean of the reviews
(74)
Love it! Thanks for cooking what you're cooking ;)
Love it too:-) every time.
Finalement une pate a manger le soir! Sans gluten et delicieus…. Hautement recommandé… je garde le delicious muffin de cannelle pour le petit-déjeuner ;-)
Great! The Sunday brunch box is just amazing! healthy, varied, tasty and great value for money. Keep up with the good work!
Excellent as always. Thank you!
Lokaal is my favourite vegan restaurant I order from. I think they really use quality ingredients and prepare their meals with love.
Good food and excellent service - thank you
Woooow! Lokaal food is amazing!! Such a great quality and super tasty. We had bao buns, burger, green peas soup and pizza. This is vegan food to the next level. Very impressive.
That's the only restaurant which never fails to satisfy my hunger. I'm non-vegan male….
Net ok, fir einfach eppes aaneres ze liwweren, ouni Recksprooch!
Enfiiiiiiin un resto qui propose des plats que je n'ai pas l'impression que j'aurais pu largement faire moi-même ! Je commençais à désespérer mais vous me donnez de l espoir :-) De la vraie cuisine avec des goûts subtils et originaux Un côté hyper naturel et sans abus de sel ( bah oui quand c bon pas besoin de masquer le manque de goût !) Bravo à vous !!! Vraiment !
Une explosion de saveurs, des ingrédients parfaitement maîtrisés et des produits de grande qualité ! Merci 🤩
Amazing food. We ordered the brunch menu and it was more than expected. Perfect for a weekend treat. Good value for money and quality products. Recommend
J'utilise Wedely depuis très longtemps et Lokaal est un vrai decouverte très agrèable pour moi. Depuis quelques semaines , je commande souvent de Lokaal et je suis vraiment très contente. PS: Je ne suis pas ni vegan, ni vegetarienne.
Depuis que je l'ai découvert, Lokaal est devenu mon restaurant préféré sur Wedely. Je rejoins tous les autres commentaires. On y retrouve beaucoup d'amour et le souci du detail dans tous leurs plats. La lasagne est juste un délice 😋 et leur « Better than meat buns », OMG, de la bombe !😱 Et que dire de leur carrot cake à part qu'il est juste divin !!! 😋😋😋 5 étoiles bien méritées 🙃
On sent la qualité des ingrédients, donc je recommande si vous cherchez un restaurant où vous mangerez correctement, sain et pas hors de prix, même si ce n'était pas non plus inoubliable. Par contre le burger, vous ne m'aurez pas fait changer d'avis sur les vrais steak pour le coup. Mais surtout c'est impossible de le manger correctement, le pain du dessous est complètement imprégné du jus de betterave ce qui n'est pas ragoutant, ni agréable. Si on essaye de manger son burger à la main, la moitié des ingrédients glissent à l'extérieur car trop de jus partout. La différence entre une jolie photo et la réalité à la dégustation.
It is the only restaurant that I ordered from since December. (and I order a lot because I'm laaazy) They have an amazing range, and everything is absolutely delicious! The menu changes a lot witch is a blessing and a curse, because I want to cry over the withe root celery soup with hazelnuts caramelized in maple syrup,(drooling just thinking about it) that is no longer on the menu, but at the same time the new burger I just ate is everything I ever wanted from life. Highly, highly, highly recommend!
Délicieux et parfaite réaction du restaurant suite à un soucis lors de la livraison !
The carrot cake is amazing ! Very satisfied. Thanks.
Amazing. We ordered almost everything from menu for friends gathering. Everything arrived hot, fast and tasty like OMG!! Pierogis with buckwheat and mushrooms were outstanding. Also portobello tenders, curry, cabbage rolls - so fresh and delicious. We had a wonderful dinner and joyful time, thank you Lokaal ❤️
Says Curry comes with rice, no rice and lukewarm. When I rang they said it was a mistake and the item hasn't come with rice for a year. Not worth the price.
Thank you for the Monday lunch! Ordered Italian flavoured pizza…the taste sent me to a nice terrace in Rome.
Je rejoins mon commentaire à celui des autres: un vrai délice, des plats faits avec amour, des portions généreuses, vraiment un énorme coup de coeur!!! Bravo à toute l'équipe. Je vous souhaite que du succès.
Outstanding. Simply outstanding. It's true what people say. It feels like mamma put all her heart in the meal. What I can also add: they treat every ingredient of the food with the respect. It's visible,
I recommend 100 %. Delicious.
Every time I order, It feels like someone's mom cocked a delicious meal and added lots of love also to the food. It can cure homesickness ❤️
I got saved by Lokaal for bringing my favorite curry at home while grounded by Covid. Tried the « better than meat buns » and strongly recommend them!
Super leckert Iessen! Et mierkt een dass et frësch a mat vill Léift gema ass. Giffen emmer erem bestellen. Eenzegen kléngen Minuspunkt ass, dass et deelweis bessi ze kaal war wou et ukomm ass, Mee fir de Räscht Top!
Food is good as usual, but unfortunately my note about one ingredient was not taken into account...
Lokaal's food feels like someone is saying 'I care about you'. Makes me happy every time I order. #very satisfied regular client
Great food, as usual:) thank you
Vraiment délicieux ! Livré à l'heure, tout parfait ! Nous avons commandé le plat du jour et les lasagnes. Très frais, bien copieux, nous nous sommes régalés. Et un grand merci pour le dessert et le fruit offerts. Le brownie était décadent, extra gourmand, un délice :-)
Great food, healthy and delicious!
Och wann ech keen Veganer sin, war et ganz gut. D'Tradidional lentil lasagna as ze recommandéieren!
Le restaurant Parfait 🙏 Je recommande à 100%, vous pouvez commander ce que vous voulez, tout est délicieux 🙏 10/10
PARFAIT et plus encore !! Des plats équilibrés, tous plus délicieux les uns que les autres, vegan à 98% ,une équipe très sympathique et commerçante: parfait !! Je recommande à 100% 🙏
Excellent food - thanks for the apple!
Merci fir den Dessert! Alles top, emmer sou lecker ⭐️
Perfekt! Immer lecker, frisch. Vielen Dank für die süße Überraschung
First order with Lokaal and we were very happy: both types of dumplings were so tasty!!! And we really appreciated the extra cake. Will definitely order again soon. Thank you Lokaal
The best food in Lux! This time we ordered mushroom pizza and asian noodles. Even though we received pizza margerita instead of the mushroom one - it was delicious. Please do not change anything, our whole family loves your dishes! The delivery is ALWAYS on time and food is still warm.