Ci Siamo
3, Avenue Gaston Diderich, L-1420 Luxembourg (Luxembourg)
(37)

Attention!
This restaurant is temporarily closed, you can make an order anyway for a following date or time.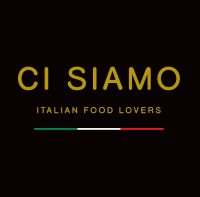 Ci Siamo
+352 26 44 16 16
3, Avenue Gaston Diderich, L-1420 Luxembourg (Luxembourg)
Italian
Pasta
Pizza
Delivery times
| | |
| --- | --- |
| Monday: | 10:45-14:00 18:00-21:45 |
| Tuesday: | 10:45-14:00 18:00-21:45 |
| Wednesday: | 10:45-14:00 18:00-21:45 |
| Thursday: | 10:45-14:00 18:00-21:45 |
| Friday: | 10:45-14:00 18:00-21:45 |
| Saturday: | 18:00-21:45 |
| Sunday: | 18:00-21:30 |
Users' reviews
Mean of the reviews
(37)
Best pizza on Lux IMO - neverdisapointed
La pizza était tellement salée que nous n'avons pas pu la manger ! Nous demandons le remboursement pour la pizza.
Quand on commande une pizza carpaccio, on s'attend à recevoir le carpaccio à part, au même titre que la roquette et le parmesan, et non pas à une énorme rondelle de viande de boeuf, non assaisonnée et bien cuite, étalée sur la pizza...
Correction, on a livré les 6 coca 10minutes plus tard, top service
Great pasta, fast delivery
Waouh ! Délice des papilles. Il y a la Mama aux fourneaux pour que ce soit si authentique et délicieux. Merci
Very good food. Kids love the pastas.
J'ai commandé de la roquette en extra et il n'y en avait pas.
Order FLOUK8 3 perfect pizzas and unfortunately 1 with a completely burnt base. Extra olives were missing too.
Delicious pasta, quick delivery!
its good, very big selection but they go kinda low on the sauce :
Ma commande n'a pas été livrée
Les plats reçus ne correspondaient pas à la commande
Friendly staff, amazing pizza.
Excellent. Ce soir, j'ai commandé une Tagliata di Manzo. Délicieux et emballé avec soin. Livraison rapide. Merci Ci Siamo!
la pizza est nulle, en plus j'ai demandé la pizza sans tomate et avec la tomate elle est arrivée.
S'il y avait eu un moyen de donner -5 comme note, je l'aurais donné. J'ai commandé une pizza parmigiana avec salami doux et vous m'avez envoyé sans salami doux et sans coppa di parma et en plus les frites étaient vieux et froid. La pire pizza du Luxembourg. Jamais Plus
Firstly, the order was not made correctly. Despite ordering piadine, we received pizzas; Despite ordering only one with mushrooms, we received both with mushrooms. [Especially unfortunate as the person who ordered without mushrooms has a strong aversion to them--making the food inedible]. We would have spit the food out into napkins, except they failed to give us any napkins/etc. FOR PIZZA, THEY GAVE US NO NAPKINS!!! Adding to that, the food is...sub-par at best. The crust is flavourless; the ingredients lackluster & dull. Finally, all of this after having to substitute a soda selection for a soda nobody will drink, largely because there is no way to simply remove the out-of-stock item. Food was mediocre, at best; with the lack of attention to detail & utter failures of service, this place is best avoided.
Bonjour, hier j'ai commandé des pâtes et de la panna cotta, ils ne m'ont apporté que des pâtes, mais ils n'ont pas rendu l'argent pour la panna cotta
Delivered on time and the pizza was delicious
Impeccable, la lasagne est juste une tuerie
Très bonnes pizza, arrivés super chaudes. Et les Panzerottini, succulents!! Ils pourraient même être un peu plus assaisonnés avec une herbe par exemple…nous les avons mangé avec de l'huile piquante, un délice !
All PERFECT as always, thank you very much !
Pizza Diavola is top, quick delivery
This time the pizzas where not with the topping what I payed, I missed Origano on both, and Mozzarella on one of them, pikant Salami was not pikant, and the dough was not crusty…for that price to less quality
the pizza was full of oil, burnt. I had ordered a 1.5L Coke and it didn't arrive. Disappointed.
Repas très très bon, livraison rapide et efficace
Very very good and fresh. Pizza xxl big enough for 4 ppl. I will order again, definitely!!!
Good pizza and fast delivery
Was excellent as always 👌
Really tasty pizza! Nutella pizza was the best