Il Mercato
155a, Route d'Arlon, L-8009 Luxembourg (Luxembourg)
(27)

Attention!
This restaurant is temporarily closed, you can make an order anyway for a following date or time.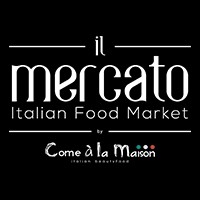 Il Mercato
+352 23 64 11 51
155a, Route d'Arlon, L-8009 Luxembourg (Luxembourg)
Italian
Pizza
Delivery times
| | |
| --- | --- |
| Monday: | 11:30-15:00 |
| Tuesday: | 11:30-21:15 |
| Wednesday: | 11:30-21:15 |
| Thursday: | 11:30-21:15 |
| Friday: | 11:30-21:15 |
| Saturday: | 12:00-21:15 |
| Sunday: | Closed |
Users' reviews
Mean of the reviews
(27)
Malheureusement je suis déçue de ma commande, non pas pour la qualité qui est au top mais parce que la pizza reçue ne correspondsait pas à ce que j'avais commandé: une pizza Marinara composée de tomates, huile d'olives, anchois, câpres er origano avec en supplément olives et mozzarella. Ma pizza contenait les suppléments mais ni câpres, ni origan, ni anchois!! Incompréhensible, le restaurant est en principe une maison correcte….
Très bonne pizza !je recommande 👍
Meilleure pizza au thon au Luxembourg
The lasagna was a bit burned
De nouveau ce n'est pas ce que j'ai commandé 🙄🙄🙄. En plus le vin blanc à température ambiante. DERNIÈRE FOIS POUR MOI. PAS UNE COMMANDE CORRECTE. Je ne recommande ABSOLUMENT PAS
Rapide et pizzas délicieuses, je recommande =)
Super génial, pas cher et livraison rapide.
Pizza très bonne. Mais comme d'habitude le restaurant ne lit pas les commentaires. 😡
Presque à chaque commande je ne reçois pas ce que j'ai commandé
Excellent pizza, great service!
Hello, I did not receive the bottle of wine that I ordered. I ordered a bottle of pinot grigio but was instead sent a bottle of prosecco. Can someone please rectify this?
Delivery was incomplete, a pizza was missing. Coca Cola bottles were not cold.
Excellent pizzas, crispy and juicy at the same time, with great toppings. Love it !
Un sogno ! Best pizza ever !
Great pizza ! Fast delivery.
Great pizzas, timely delivery.
La Foccaica était inmangeable, dur comme un pierre. Malheureusement les pizzas étaient ok, mais faites sans amour!
Very tasty pizzas. Timely delivery, with the added bonus that they deliver food all afternoon !
The pizza is delicious and the foccacia pugliese is quite big! Happy me! The arancini however are quite big but I thought I would get two of them as on the pictures, but you only get one.