Ninja House
43, Rue de Strasbourg, L-2561 Luxembourg (Luxembourg)
(121)

Attention!
This restaurant is temporarily closed, you can make an order anyway for a following date or time.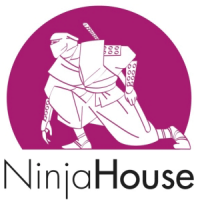 Ninja House
+352 26 18 75 10
43, Rue de Strasbourg, L-2561 Luxembourg (Luxembourg)
Asian
Japanese
Thai
Chinese
Delivery times
| | |
| --- | --- |
| Monday: | 10:30-14:15 17:30-22:00 |
| Tuesday: | 10:30-14:15 17:30-22:00 |
| Wednesday: | 10:30-14:15 17:30-22:00 |
| Thursday: | 10:30-14:15 17:30-22:00 |
| Friday: | 10:30-14:15 17:30-22:30 |
| Saturday: | 10:30-14:15 17:30-22:30 |
| Sunday: | 10:30-14:15 17:30-22:30 |
Users' reviews
Mean of the reviews
(121)
La grillade de canard était délicieuse.
Sushi war ganz ok, leider wurde das bezahlte Dessert nicht mitgeliefert und wir bekamen auch kein Wasabi mitgeliefert.
Great as always! One of the best sushi places in Luxembourg.
Udon noodles were great! Delivered hot and with sticks.
delicious thai green curry
ca va...., c'est dommage que la salade commadé qui devrait etre froide etait chaude... portion trop petite gingembre meme pas un petit cuilliere d'espresso complet 🤦‍♂️ Livraison rapide+
Soup, Rice and Noodles were good, but the shrimp wasn't tasty. Sorry.
Livraison rapide plat très bon
Ma commande est rejeté sans que je sache pourquoi c'est honteux
La soupe miso était excellente ! Nous avons pris les menu chirachi bowl malheureusement je n'ai jamais vu aussi peu de riz dans un bowl… Nous avions encore faim après dommage.. Malgré tout le poisson et l'avocat avaient bon goût !
Soups, edamame and California rolls were fine. Nigiri was so so. It arrived a little warm and I discarded the seiche without eating it.
Le poulet aux 5 saveurs est bien bon, même chose pour les tempuras et la soupe pékinoise Et les boules coco, un délice ! Tout est arrivé bien chaud Je recommande
Perfect very good quality and flavour
top quality, super tasty, always on time, I love it!
The delivery was fast, tasty and polite! thank you :)
Déçu. Morceaux de canard déjà roulés à l'avance et quantité de riz insuffisante par rapport au plat.
I'm a big fan of Ninja House but I have to go from 5 stars to 4 stars because they reduced the quality of their Wasabi and put it in a new packaging that is not as environmental friendly as the previous one.
Very good quality fresh food deliver on time
Very good sushi. Order arrived on time. Polite and professional
The only item in my order was wrong, had shrimps instead of beef
big portions and very tasty food.
The order was wrong, 2 out of 3 kinds of sushi were wrong, one less chopstick added and the preparation and delivery took over an hour.
Great food! The chicken with cashew nuts is to die for 😍 ordering again and again from them! And the delivery is always on time.
2ème fois avec ce restaurant et toujours aussi bon. Livraison impeccable !
Very good oriental food, with some very creative options!
Thanks for the Litchis and the Miso I didn't order, but for me the worst Sushi I ever had. By the way I didn't eat the Miso and Litchis.
Order for 3 persons. ONE wasabi envelope? Bad idea changing the wasabi in plastic cup for envelope.
Très bon et assez rapide. Merci
J'aime bien c'est tout fraîche
Food was tasty and we liked it. Unfortunately I found a 5cm piece of wire in my udon soup, which was something of a shock, therefore only 2 stars.